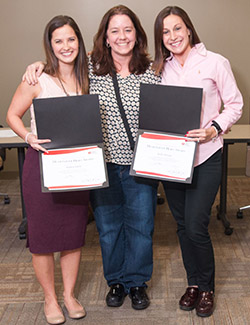 Andrea Duffey, a second-year physician assistant student, was attending a holiday party at a go-kart racing facility in December, when one of the employees turned toward her and shouted, "She's not breathing!"
Duffey had been standing about 20 feet from a go-kart that had spun off the track and wasn't moving.
Duffey ran toward the car and assessed the situation. The driver was suffering a heart attack, and had lost consciousness while driving. Duffey started chest compressions, and with the help of another party guest, a nurse, used an AED and CPR to revive the woman.
"I felt her take a breath against my compressions. We stopped CPR and watched, and she started to breathe on her own again. At this moment the paramedics arrived," she said. "I was pretty shocked about what had just happened. It seemed so surreal."
In February the Addison Fire Protection District presented Duffey with an American Heart Association Award for her actions on saving Sandy's life.
"The most rewarding part of the ceremony was meeting the woman and her family and seeing her for the first time since that evening. She was almost completely recovered, with no deficits in her memory or function," Duffey said. "Words cannot express how glad I am that I decided to act. I now encourage everyone more than ever to get certified in CPR and basic first aid. Your knowledge and decision to act can mean the world to someone one day."
While Duffey had performed CPR on three people during her clinical rotations, this incident was the first time she had performed it outside of a hospital setting and the first time being the one to assess the situation and make the decision to initiate CPR.
"I was surprised at how easily the training came back to me when the situation presented itself. I knew what to do without second-guessing myself – it seemed almost automatic. To me this spoke volumes to the quality of training that I had received," she said.