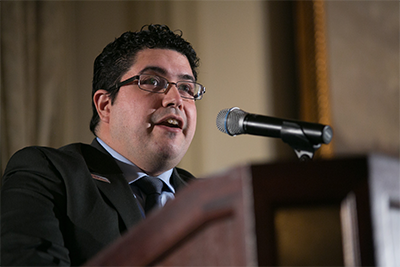 Luis Rivera, MD, a first-year resident in Family and Community Medicine was recently awarded a $25,000 scholarship from the National Medical Fellowships for his commitment to serve underserved populations in Chicago.
"I am so grateful to the National Medical Fellowships for choosing me," Rivera said. "There are so many great candidates; it's an honor to be included in a group so passionate about making positive changes in Chicago."
The Dr. David Monash/John Caldwell Scott Medical Student Scholarship Program works to provide financial support to medical students and residents committed to underserved populations of Chicago.
Dr. Rivera's connection to Chicago healthcare goes beyond his work in medical school: growing up on the south side of Chicago he witnessed the shortcomings of the healthcare system firsthand when his father was diagnosed with Parkinson's disease and they had a difficult time finding a doctor who they could connect with to provide the level of care needed.
"This experience opened my eyes to the very real need for more doctors in my neighborhood," Rivera said.
Rivera said that growing up, medical school had always been a dream, but supporting his family trumped the financial and time commitment required to pursue medical school.
"I didn't start right away because I was really discouraged," he said. "There weren't many people in my family or neighborhood pursuing medical school. I did what I thought was best at the time and started working to support my family."
Rivera worked for 11 years as an electrician at various area hospitals, including construction at Northwestern Memorial Hospital. While working at Stroger Hospital, he decided it was time take action.
"Working at the hospital every day around the doctors, medical students and residents really brought me face to face with this dream I had for so long," he said. "I kept thinking about it and decided I needed to look into my options."
Rivera received his medical degree from the University of Illinois at Chicago in 2014 and is currently a resident at the McGaw Medical Center of Northwestern University, working at the Erie Family Health Center.
"I was really interested in this particular residency because I love the mission behind the program. I love that this is an academic program based in the community, and that the faculty are focused on addressing health disparities in urban underserved communities," Rivera said. "I hope that one day I can take what I am learning here and bring it to the south side of Chicago, where there is still a great need for physicians."