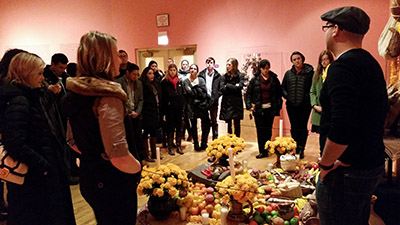 Students in the physician assistant (PA) program visited Chicago's Pilsen neighborhood on November 25 to learn about Mexican culture and the Día de los Muertos, or Day of the Dead, as part of their Behavioral/Preventive Medicine course.
"We've learned how important it is for health care providers to be culturally sensitive," said Martin Cahillane, a first-year PA student. "Practicing cultural sensitivity strengthens the relationship between the patient and provider, improves communication and ultimately leads to better health outcomes. By experiencing cultural neighborhoods like Pilsen, we're better prepared to serve patients who come from different backgrounds."
Students listened to Dolores Higgs, a professor at the National Autonomous University of Mexico, talk about Day of the Dead traditions and heard two healthcare providers, Luis Sanchez, PA-C, and Tina Richardson, MD, speak on women's health at the Cook County Jail over a meal at the Mi Tierra restaurant.
"While not every Chicano, or Mexican-American may celebrate Día de los Muertos, this experience reminds us that family plays an important role in a Chicano's life," said Laura Gonzalez, a first-year PA student. "When we are caring for this community, we can hopefully incorporate this knowledge appropriately to improve the outcome of our patient's care, as well as make our patients feel acknowledged, comfortable and confident in their healthcare goals."
After lunch, the group toured an exhibit of Day of the Dead shrines called ofrendras at the National Museum of Mexican Art. The shrines are set up in homes during the November 1-2 holiday to welcome the spirits of the deceased to visit with the family. On the tour, students learned about the symbols on the ofrendas that honor the person's loved ones such as earth, wind, fire and water.
"The colorful crepe banners, or papel picado, that people often associate with Día de los Muertos symbolizes the wind, which may rustle when the wind catches it, or when the loved one is visiting to eat the delicious food that is set out on the ofrenda," Gonzalez said.
Cosette Facktor, first-year PA student, said her favorite part of the day was the display of ofrendas: "I majored in Spanish as an undergraduate, so I knew a lot about this celebration previously, but I had never seen an ofrenda in person, and it was moving for me to witness how this group celebrates life and their loved ones."
Facktor said the experience would be helpful to her as a future medical professional.
"Learning about the Day of the Dead is important when thinking about death and dying, because it helps you see how death can be seen in a different light. The celebration of life, even when loved ones are lost, can be something to cherish and enjoy, rather than fear. As practitioners, we can help our patients celebrate a life in the face of death. We can use this perspective to help ourselves cope with a patient's death, and we must realize that for some patients and families, death is an opportunity to recognize a life," she said.