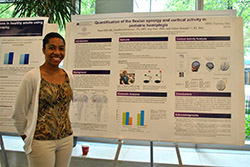 Physical therapy, engineering and neuroscience united at the fourth annual Movement and Rehabilitation Sciences (MRS) Training Day.
"All of these areas overlap in a very unique way at Northwestern," said Julius Dewald, PhD, chair of the Physical Therapy and Human Movement Sciences. "This event is an opportunity for researchers that work in different labs to see what else is happening here, from imaging to robotics to signal processing to wheelchair development."
The day included a poster session featuring students, postdoctoral fellows and young faculty representing a variety of scientific disciplines, followed by scholar and trainee presentations and a keynote address from a senior investigator who discussed his research career and provided career advice.
Nayo Hill, a third-year DPT-PhD (Eng) student, presented a poster on research that unites the fields of physical therapy and biomedical engineering.
Her goal was to see how the timing of a stroke-like brain injury—whether it occurs before or after birth—affects cortical activation and motor control. Specifically, she's interested in pediatric hemiplegia, damage on one side of the brain that causes movement impairments. To assess the pathway that turns brain action into movement, she used EEG electrodes to record brain activity during a reaching task.
"We're using engineering approaches to help motor control," said Hill, who did find a difference in pathway function after pre- and post-natal injuries. "We're trying to understand how these differences can lead to therapeutic interventions tailored to individuals. This is all about improving rehabilitation techniques so these kids can have better life outcomes."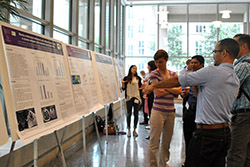 Research featured throughout the day could serve patients with a wide range of conditions involving movement, from stroke to whiplash injury to prosthetic usage.
Lynsey Duffell, a postdoctoral fellow in Physical Medicine and Rehabilitation, shared research on a new rehabilitation method to help spinal cord injury patients recover motor function.
Scientists at all levels were represented at the event, including Evan Kaspi, a high school intern at the Motion Analysis Center at the Rehabilitation Institute of Chicago. He displayed work that tested a method for determining if very young children with Cerebral Palsy are eligible for a surgery that treats muscle spasticity.
The gathering represented four training programs funded by the National Institutes of Health (NIH): the PhD in neuroscience with an emphasis on movement and rehabilitation sciences (NIUN-MRS); the unique dual DPT/PhD (Eng) program, which combines a doctoral degree in physical therapy with a PhD training in engineering; the Pathophysiology and Rehabilitation of Neural Dysfunction (PRND) T32 program; and the Interdisciplinary Rehabilitation Engineering Career Development (IREK12) K12 program. The latter supports scholars with engineering and other quantitative backgrounds on their way to becoming successful rehabilitation scientists.
PTHMS ranks among the top 10 U.S. physical therapy schools in the country by U.S. News & World Report and is a top three school for NIH funding. MRS Research Training Day, which occurred this year on Friday, August 22, is an annual occasion that provides a window into the distinct training environment at Feinberg.