Northwestern Medicine scientists have expanded the understanding of how a blood and bone marrow disease develops.
Myelodysplastic syndromes (MDS) are a group of diseases that affect bone marrow and lead to ineffective production of stem cells that become blood cells. Patients with MDS often have anemia – a decrease in red blood cells – and other side effects that increase the risk of leukemia.
"MDS is one of the significant health related challenges with the rapidly aging population worldwide," said Peng Ji, MD, PhD, '13 GME, assistant professor in Pathology and member of the Robert H. Lurie Comprehensive Cancer Center of Northwestern University.
Several genetic mutations are associated with the diseases, but the scientists focused on the most common: deletion of chromosome 5q. They determined that losing a protein located there called mDia1 leads to abnormal overexpression of the CD14 protein on granulocytes, a group of blood cells responsible for first line immune responses against pathogens or damaged cells. Ultimately, losing the protein contributes to the development of MDS.
"This is important because CD14 helps mediate the signaling pathways induced by pathogens or damaged cells," said Dr. Ji.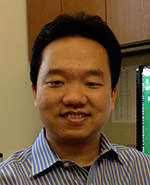 The findings were published in Blood.
Dr. Ji's lab used a toxic bacterial molecule called lipopolysaccharide (LPS) to stimulate immune responses in mice with and without mDia1. The mice without it developed MDS usually only seen in aged mice.
"MDS is becoming known as an autoimmune disease," said Dr. Ji. "Indeed, we found that the mDia1 null mice exhibited hypersensitive innate immune responses that could lead to MDS development."
The study also looked at data from patients with verifiable MDS, and observed the same CD14 overexpression on bone marrow granulocytes.
Currently, a drug called lenalidomide alleviates symptoms of MDS, but not all patients respond to it. The findings in this study could lead to additional therapeutic strategies, such as a CD14 inhibitor to work in combination with lenalidomide.
Additional research will try to find out the specific mechanism that allows granulocytes to over express CD14 in the absence of mDia1.
The study was supported by NIH grants DK062757-12 and R00HL102154 and an American Society of Hematology scholar award.