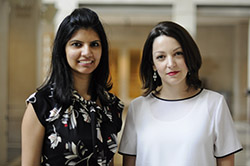 While conducting basic science research, Irena Antic became interested in why drugs and methods developed in the lab have a hard time reaching the people who need them.
Antic, a graduate student in the lab of Karla Satchell, PhD, professor in Microbiology-Immunology, will spend the summer helping guide Northwestern inventors as they pursue the commercialization of their products as one of two Northwestern University Feinberg School of Medicine students to receive the Innovation to Commercialization Fellowship (I2C).
Administered by the Innovation and New Ventures Office (INVO), the program pairs students with projects based on technologies invented by Northwestern faculty. I2C provides fellows with first-hand experience handling intellectual property, technology licensing and bringing inventions to the market in a supportive academic environment.
"I am honored to have received the I2C fellowship," said Antic. "This fellowship provides valuable insights for me. I've realized how complex the process of translating a technology into a product is and how many different skill sets are necessary to achieve this. I see it as an absolutely eye opening experience and would recommend it highly to basic science graduate students."
I2C fellow Michelle Oliveira Fernandes, a graduate student in lab of Warren Tourtellotte, MD, PhD, associate professor of Pathology and Neurology, will spend the summer working on projects related to diagnostic tools and medical devices.
"I chose inventions from the medical field so that I could use my background to understand the scientific intricacies of the inventions that make them unique," she said. "The fellowship is a bridge that brings science and business together in graduate school. I feel very fortunate to be a recipient of the fellowship and am grateful to INVO and the Driskill Graduate Program for providing the opportunity."
This is the first year Feinberg students have received I2C fellowships. They join seven other recipients from the McCormick School of Engineering, Kellogg School of Management and the Northwestern Law School.
"The I2C Summer Fellowship benefits the University and students by generating excitement about technology developed on campus as well as helping students develop the skills needed to be successful innovators and entrepreneurs," said Sonia Kim, PhD, manager for Marketing and Industry Partnerships in INVO. "INVO provides the educational and experiential environment, networking opportunities and exposure to various career paths during the fellowship."
Started in 2012, the I2C fellowship has supported 18 students, 35 faculty members and eight Northwestern startups. The fellowship is sponsored by The Graduate School, McCormick, Kellogg, Northwestern Law and Feinberg.
"This I2C fellowship is now in its second year because of generous support from The Graduate School, McCormick, Kellogg, Feinberg and Law schools, which highlights the respective deans' commitment to fostering innovation and entrepreneurship at the University," said Kim.