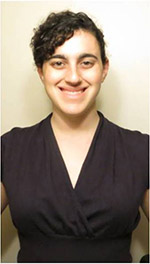 Celeste Mallama, a fourth-year PhD/MPH student in the Walter S. and Lucienne Driskill Graduate Training Program in Life Sciences, decided to take on a unique project that spans the fields of bacteriology and immunology. Working under the direction of Nicholas Cianciotto, PhD, professor in Microbiology-Immunology, Mallama studies the bacterium Legionella pneumophila, which causes a form of pneumonia known as Legionnaires' disease.
"The fact that I'm looking at both sides, the bacterium and the host, is what interested me about this project," she said. "There are a lot of projects that just look at the bacterium, but by incorporating the host, it gives the research more of a 'real life' feel."
Mallama's project focuses on the type II secretion system of Legionella and how it interacts with the host immune system. Secretion systems export proteins that allow the bacterium to be successful in infection. Her goal is to narrow down which immune pathways are stimulated when the bacterium lacks the type II secretion system in order to better understand which pathways are dampened in infection.
To accomplish this goal, Mallama works with tissue culture cell lines to see how the bacterium and host cells interact. She observes the stimulation of the immune system by measuring the cytokine output of the host cells. Cytokines, or signaling proteins, are generated by the host cell when the immune system is stimulated.
Mallama also uses other techniques such as western blots and animal models to further understand how Legionella interacts with the immune system.
Working in both bacteriology and immunology has presented challenges, but also opened the door for collaborations.
"Since our lab focuses mainly on bacteriology, I've had to reach out for help to other labs," Mallama said. "I have to go to labs in different areas of science and say, 'This isn't my area of expertise, so would you help me with this part of my project?' This has allowed me to learn new techniques and enabled me to bounce ideas off of other researchers."
A recent example includes learning a technique, siRNA gene silencing, to observe how immune receptors impact the ability of bacterium to replicate. Mallama reached out to a researcher in an immunology lab who showed her how to map out the experiment and create the controls.
"She proceeded to do the experiment with me and then went over the results to see what we could do next. It is really amazing how helpful people are here at Northwestern," she said.
What Mallama learns from her investigation could influence how other scientists look at the secretion systems of other bacteria.
"We are creating the building blocks and a base of knowledge that other people could use as a model for other diseases or to create therapeutics and novel antibiotics," she said.