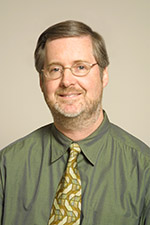 Scientists have shown that a pair of enzymes – one involved with DNA repair and the other involved with energy production – play an important role in protecting mitochondrial DNA from damage caused by oxidative stress.
Also known as reactive oxygen species (ROS), oxidative stress activates cellular signaling important for survival. However, high levels of ROS cause the genetic damage and cell death that leads to aging, carcinogenesis and various degenerative diseases.
Within a cell, DNA is located in both the nucleus and the mitochondria. Although the mitochondria have long been known as the cellular powerhouse, they also play a crucial role in regulating cell life.
"This discovery shows that mitochondrial DNA is an important target of oxidative stress, which in turn determines whether or not the cell will die in a regulated manner known as apoptosis," said David Kamp, MD, GME'84, professor of Medicine-Pulmonary and Critical Care and Cell and Molecular Biology. "A DNA repair enzyme (Ogg1) as well as an enzyme involved in mitochondrial energy production (Aco-2) each play an important role in protecting the mitochondrial DNA from oxidative damage and the down-stream aftereffects."
The findings were recently published in the Journal of Biological Chemistry.
"Our lab will attempt to better understand the detailed molecular mechanisms both upstream and downstream from mitochondrial DNA damage," said Kamp, a member of the Robert H. Lurie Comprehensive Cancer Center.
The lab will use animal models of pulmonary fibrosis, the development of excessive scar tissue in the lungs, to assess the in vivo relevance of ROS.
By exploring how Ogg1 chaperones Aco-2, Kamp will attempt to develop a small molecule that will enhance their defensive characteristics.
"Future studies exploring the broader implications of these findings as well as the relevance in human diseases will also be necessary," Kamp said.
The work was done in collaboration with colleagues at Northwestern Medicine, including research fellow Seok-Jo Kim, PhD, as well as Vilhelm Bohr, MD, PhD, at the National Institute on Aging.
The study was supported by National Institutes of Health grant RO1 ES020357 and a Veterans Affairs Merit Award.