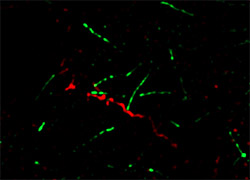 When Dipal Patel started working in the lab of Kathy Green, PhD, professor in Pathology and Dermatology, four years ago, she found two interacting proteins that may be a hotspot for mutations that cause Arrhythmogenic Right Ventricular Cardiomyopathy (ARVC), a disease associated with sudden cardiac death during athletic events.
"No one knows how this disease comes to fruition because the disease itself is still being characterized and the mutations are still being discovered," said Patel, a sixth-year Medical Scientist Training Program student. "We are hoping that our research evaluates how specific mutations cause the disease."
Green's lab investigates desmosomes, a type of cell-cell junction that maintains the structure of tissues such as the skin and the heart. Patel studies a protein in desmosomes called desmoplakin and the mutations that occur with this protein. She found that desmoplakin binds to a microtubule protein, EB1, and began looking at how the two proteins interact to evaluate the role that this action plays in disease development.
She discovered that mutations in desmoplakin impair the interaction of these proteins and cause cells to lose the ability to maintain electrical connections with other cells.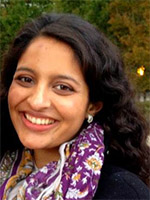 "In cardiac disease, you need ions to flow through cardiac cells so that the heart contracts properly," said Patel. "Our hypothesis is that the disease mutations in desmoplakin impair the interactions necessary for normal electrical function in cell membranes."
Disruption in electrical signaling between cells can cause defects in the heart being able to beat properly, which leads to cardiac diseases such as ARVC.
Patel explains that while many patients have a mutation linked to the disease there is no way of knowing its severity.
"Currently, if an athlete has a mutation in a desmosome protein, their physician won't be able to tell them whether or not it will cause them to have an arrhythmia event, so they are told they shouldn't play sports anymore," she said. "It would be really great if we could tell if specific mutations were more likely to cause disease in that person."
In her latest study, Patel observed a panel of different mutations and found that some of them were more pathogenic, or disease causing, in the cell system than others. Her findings correlated with the outcomes of patients in clinical studies.
Ultimately, Patel hopes that characterizing the mutations will help physicians decide the risk of the patient engaging in athletic activities.
"If you analyze the mutations you could tell patients if they should stop playing sports or if they should just keep an eye on it," she said.