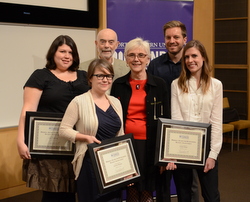 Two students and two alumni received awards at the Second Annual Driskill Day, held on Tuesday, September 17.
The event celebrates the Walter S. and Lucienne Driskill Graduate Training Program in Life Sciences (DGP), which received a $10 million gift from the Walter S. and Lucienne Driskill Foundation in 2011. The program is comprised of 14 departments, including three basic science and 11 clinical departments. Currently, 202 students are enrolled.
"Today we are awarding four Driskill scholars for their outstanding research accomplishments, but today is also a day to recognize and applaud all of the Driskill students at Northwestern University," said Nicholas Cianciotto, PhD, director of DGP and professor in microbiology-immunology. "Your hard work and dedication truly enriches the research enterprise here at the medical school."
DGP faculty members nominated students for the award, and the program committee chose four students to recognize based on the quality and broad impact of their research. The award recipients were:
Outstanding Current Student Award
Outstanding Graduate Award
Laty Cahoon, PhD'12, completed her thesis in the lab of Hank Seifert, PhD, John Edward Porter Professor of Biomedical Science and associate chair of microbiology-immunology. Cahoon's work investigated the mechanisms behind genetic variations in gonorrhea.
Laura Sena, PhD'13 and third-year medical student, completed her thesis in the lab of Chandel. Sena studied the role of mitochondrial reactive oxygen species, or reactive molecules containing oxygen, in adaptive immunity.
The students and graduates each presented a short talk on their projects. A reception followed the awards ceremony.