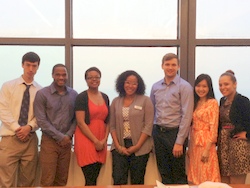 Two Northwestern University Feinberg School of Medicine students and one alumnus received awards from National Medical Fellowships, Inc. (NMF) through its David Monash/John Caldwell Scott Medical Student Scholarship Program. An award for underrepresented students in medicine, the fellowships will support community service projects in underserved Chicago communities. 
"I feel honored and excited about this opportunity to get involved in the community," said Arianne Cordon-Duran, a second-year medical student. "The scholarship was an unexpected surprise but one that I am very happy came along."
Cordon-Duran and Dovie L. Watson, a third-year medical student, were two of six Service Scholars who will receive $5,000 to conduct a community service project for a minimum of 200 hours. 
Cordon-Duran will use the award to help subsidize her work at the Near North Health Service Corporation, where she will document the launch of the new Patient-Centered Medical Home (a healthcare setting that facilitates partnerships between patients, their physicians, and patient's family), evaluate its current implementation, and propose suggestions for expansion. 
"This project will not only give me invaluable insight as I pursue a career in primary care, but will hopefully provide Near North with tools that can be used to improve the health of community members," she said. 
Matthew L. Dominguez, MD'13, now a resident at University of Illinois College of Medicine, was one of four Residency Scholars who will receive $25,000 each, with at least 80 percent to be used in debt reduction assistance. Residency Scholars have completed medical school in Chicago, have matched as residents in the Chicago area, and exhibit a commitment to underserved populations. 
"This program represents an excellent opportunity to recognize the efforts of our students and to reinforce the importance of being involved in community service," said John E. Franklin, MD, MSc, associate dean for minority and cultural affairs.
NMF is a nonprofit organization dedicated to increasing the number of underrepresented minority physicians and other professionals in the healthcare workforce. 
The Chicago Community Trust partnered with National Medical Fellowships to create the Dr. David Monash/John Caldwell Scott Medical Student Scholarship Program. This service-learning program is designed to increase the number of qualified medical providers who have a commitment to improving access to quality healthcare in medically underserved communities of Chicago.