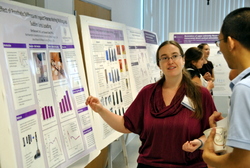 Investigating the amount of muscle loss after stroke, Lindsay Garmirian may one day help design a therapy that could aid 650,000 Americans every year. 
"We know that there is damage to the nerves that control the upper extremities after a stroke but we don't know the long-term effects of this damage on muscle," said Garmirian, a fifth-year DPT/PhD (Eng) student. "I am working to quantify how much muscle mass decreases as well as how much muscle degrades into fat." 
Garmirian was one of 25 presenters during a poster session that kicked off the third-annual Movement and Rehabilitation Sciences (MRS) Training Day on Tuesday, August 27. 
The Department of Physical Therapy and Human Movement Sciences (PTHMS) began MRS Training Day three years ago with a T32 grant from the National Institutes of Health (NIH). The event brings together students, postdoctoral fellows, and young tenure-track faculty from across the disciplines of engineering and neuroscience, allowing them to interact with peers and mentors from Northwestern University's Chicago and Evanston campuses. 
This year's event also included individuals who have received K12 awards from the recently funded Interdisciplinary Rehabilitation Engineering Career Development Program (IREK12) in Movement and Rehabilitation Sciences. The IREK12 consists of a consortium of leading institutions in the field, including Northwestern, the University of California at Irvine, the University of North Carolina at Chapel Hill, and North Carolina State University. The program's mission is to recruit and train scholars with engineering and other quantitative backgrounds to become successful rehabilitation scientists in basic, translational, and/or clinical research.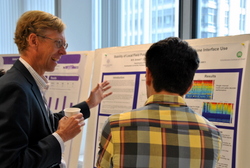 "The proximity and close collaboration of Northwestern University Feinberg School of Medicine and the Rehabilitation Institute of Chicago provides a unique environment for understanding, evaluating, and treating movement disorders," said Katherine Steele, PhD, an assistant professor of mechanical engineering at the University of Washington and IREK12 scholar. "MRS Training Day provides a forum for showcasing some of the unique research that results from this relationship, while also building future collaborations and offering attendees the opportunity to receive feedback from a diverse group of engineers, clinicians, and scientists." 
Steele was one of three IREK12 scholars to present at the event, preceding four trainee presentations from members of the T32-funded DPT/PhD (Eng) and Pathophysiology and Rehabilitation of Neural Dysfunction programs, and the PhD in Neuroscience with Specialization in Movement and Rehabilitation Science program. 
David Reinkensmeyer, PhD, professor of mechanical and aerospace engineering and biomedical engineering at UC-Irvine, concluded the event with a keynote presentation focusing on robot-assisted rehabilitation and rehabilitation engineering as a career choice. 
"Think of what you are getting to do in developing a system that potentially and hopefully will help people; it's just really a wonderful career," said Reinkensmeyer, co-principle investigator of the IREK12 program with Julius Dewald, PhD, chair of PTHMS. "When I first started I just wanted to build devices, and I had a mentor who always asked me, 'What's the rationale?' 
"People make a lot of assumptions in rehabilitation about things that work and things that don't work, and I think just checking those assumptions is a very valid career endeavor." 
Ranked among the top 10 U.S. physical therapy schools in the country by U.S. News & World Report, PTHMS has made MRS Training Day an annual event featuring student presentations and providing a window into the distinct training environment at Feinberg.