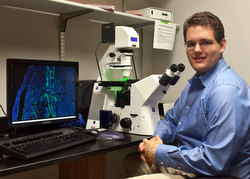 During their first-year of medical school, Northwestern University Feinberg School of Medicine students submit a proposal for the Area of Scholarly Concentration (AoSC), a four-year research project that complements their basic science and clinical training. Students will spend a minimum of four weeks each summer working on their research.
"As part of the new curriculum, medical students are required to do a research project, and it can run the gamut of biomedical research," said Richard Green, MD, course director and professor in medicine-gastroenterology and hepatology. "We want to encourage students to have research opportunities because it is important in training investigative and critical thinking skills."
The first class of students required to complete the AoSC began their research this summer. Proposed projects include clinical investigation, translational medicine, global health, community and family health, medical humanities, and the medical social sciences.
Austin Culver, a rising second-year student, always had an interest in cardiology. As a biomedical engineering major in the Honors Program in Medical Education (HPME), he worked in the lab of Tsutomu Kume, PhD, associate professor in medicine-cardiology and molecular pharmacology and biological chemistry .
"Cardiovascular research appealed to me because it is, in some ways, a self-contained system, similar to many of the problems we studied in engineering," Culver said. "The Kume lab looks at vascular biology from the perspective of embryonic development. How do these systems form from very primitive starting points and how do endothelial cells organize themselves into vessels, specifically arteries, veins, and lymphatics?"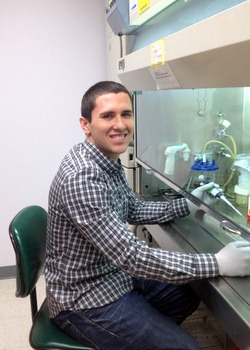 These questions fascinated Culver and he decided to continue this work as his AoSC. His project focuses on better understanding the role of the genes Foxc1, Foxc2, and Notch1 in the embryonic development of the lymphatic system.
"The first two years of medical school are mostly basic science. We are in the classroom and learn this distilled collection of all the research that has led up to our current sphere of medical knowledge," Culver said. "Having early exposure to research gives us, as future physicians, the ability to think critically about how we will apply our basic science knowledge to clinical problems."
Rising second-year Eduardo Bustamante is taking a molecular approach to understanding interstitial cystitis pelvic pain for his AoSC. He is working in the labs of David J. Klumpp, PhD, associate professor in urology and microbiology and immunology, and Anthony J. Schaeffer, MD'68, chair of urology.
His project looks into toll-like receptor 4 (TLR 4), a protein designed to detect bacteria such as E. coli in the bladder, and how that pathway might induce pain.
"Research allows us to push the envelope on what we know," he said. "To conduct research, you need to be able to efficiently synthesize information from class and identify gaps in the current understanding of a topic. You can then ask a novel question and formulate an experiment to test it."
Along with their peers, Culver and Bustamante will present their projects at the AoSC Poster Presentation Day this fall. Second-year students will continue to work on their projects at least three hours per week throughout the year. The mentored project will culminate with the submission of a thesis at the end of their fourth year.