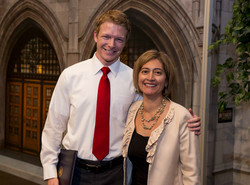 Zachary Bay, MD'13, was pleasantly surprised when Sandra Sanguino, MD, MPH, associate dean for student programs and career development, awarded him the Frederick and Harriett Stenn Fund for Humanism in Medicine at Honors Day, a new tradition at Northwestern University Feinberg School of Medicine.
Over the past four years, Bay has shown a high level of commitment to working on behalf of underserved populations, participating in global health projects and raising money for those affected by the January 2010 earthquake in Haiti, as well as donating food from medical school events to the homeless and volunteering in community clinics.
"It feels amazing to graduate and make it through all four years," Bay said. "One of the reasons why I want to be a doctor is to help others. It is natural for me to help people who need it and I enjoy serving the underserved population."
The senior received one of 17 awards given out at the inaugural Honors Day ceremony, held May 22. Eric G. Neilson, MD, vice president for medical affairs and Lewis Landsberg Dean, opened the afternoon with his vision for the new event.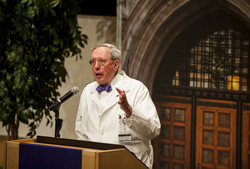 "I realized that we had scattered our honorific moments throughout the calendar year and thought it more appropriate to gather everybody together at one time, in one place to recognize special students and faculty," Neilson said.
Paul Devlin, second-year medical student and student body president, introduced the Harry N. Beaty Honors Day Speaker, Gaurava Agarwal, MD, instructor in psychiatry and behavioral sciences, who was chosen by students for the honor.
"Dr. Agarwal was selected because of the outstanding role model he has been to students in their interactions with him in third-year psychiatry clerkship and also as the leader of the personal awareness and self-care component of the new curriculum," Devlin said. "He is an excellent teacher and kind mentor to us all."
Agarwal said he felt privileged to have the opportunity to celebrate these students on Honors Day. He spoke about the moment he gave up the stethoscope to specialize in psychiatry and the importance of the trust and confidence of patients.
"We are here to recognize this huge milestone as students join us in a profession that we love. It is their decision to preserve this profession we honor today," he said.
Student and Faculty Awards
Honors were handed out to faculty and staff throughout the ceremony. Recipients included:
George H. Joost Outstanding Teaching Awards

Larry Cochard, PhD,

 associate professor in medical education and 

cell and molecular biology

, for the first-year structure-function class.

Marianne Green, MD, associate dean for medical education and competency achievement, for first-year patient, physician, and society courses.
Julie Stamos, MD, assistant professor in pediatrics-infectious disease, for third- and fourth-year clinical coursework.

Michael M. Ravitch Award for Problem-Based Learning, Rebekah Burns, MD, fellow in pediatrics-emergency medicine.
American College of Physicians Award, Jordan Kenik, MD'13, for outstanding performance in the junior medicine clerkship.
Department of Medicine Chairman's Award, Senthil Selvaraj, MD'13, for outstanding senior student going into medicine.
Department of Obstetrics and Gynecology Chairman's Award, Katherine Swanson, MD'13, for outstanding performance in the third-year obstetrics and gynecology clerkship.
Department of Pediatrics James A. Stockman III Award, Jennifer Hoffmann, MD'13, for excellence in pediatrics and child health.
Department of Psychiatry and Behavioral Science Medical Student Chairman's Award, Rocio Acera Pozzi, MD'13, for outstanding student in psychiatry.
Department of Radiology Award, Anthony Esparaz, MD'13, for best overall performance in radiology by a fourth-year medical student pursuing a career in radiology.
Excellence in Emergency Medicine Award, Kimberly Everett, MD'13, for outstanding student in emergency medicine.
Excellence in Neurology Award, Maya Srikanth, MD'13, for outstanding student in neurology.
Frederick and Harriett Stenn Fund for Humanism in Medicine, Zachary Bay, MD'13, and Steven Schuetz, MD'13, for demonstration of humanism and compassion in the practice of medicine.
John P. Phair Award, Hannah Imlay, MD'13, for excelling in the infectious disease rotation in both the intellectual and human sides of medicine.
Jonathan Philip Reder Award, Gathi Abraham, MD'13, for outstanding leadership and extracurricular accomplishments by an honors program graduate with exceptional involvement in InVivo.
Julius Conn Jr., MD, Award, Candace Gragnani, MD'13, for outstanding performance in the surgery clerkship.
Kenneth M. Viste, Jr., MD'66, Student Service Recognition Award, Paul Devine Bottone, MD'13, in recognition of outstanding service and contribution to Feinberg.
Neil Stone Award for Northwestern Medical Students, Rocio Acera Pozzi, MD'13, in recognition of commitment to professionalism and compassion in medicine.
Phi Rho Sigma Dennis Award were given to the following students for outstanding performance in junior year clerkships:

Josh Abecassis, MD'13
Leah Ansell, MD'13
Candace Gragnani, MD'13
Michael Heller, MD'13
Margaret Sarezky, MD'13
Senthil Selvaraj, MD'13
Joelle Straehal, MD'13
Ronak Vashi, MD'13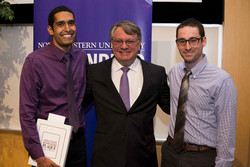 "Everyone in our class has worked so hard, so it is nice to come together to celebrate our achievements and successes," said award recipient Jennifer Hoffmann. "I was glad so many faculty and family members of graduates came to this day to share the moment."
Following a reception, Honors Day students and faculty members joined the senior class for a luncheon at the Ritz-Carlton. A separate Medical Student Training Program Graduation Reception was held in the evening celebrating students earning both their medical and graduate degrees.