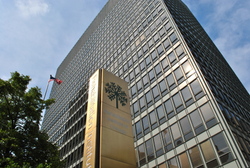 A new agreement between the Department of Physical Therapy and Human Movement Sciences (PTHMS) and the Rehabilitation Institute of Chicago (RIC) leverages the strengths of both organizations to promote innovation. 
Going forward, the two organizations will more closely collaborate across clinical, academic, and research endeavors to advance the fields of physical therapy, physical medicine, and rehabilitation. For RIC patients, the joint commitment will result in even more leading-edge research being translated into evidence-based clinical care. 
Under the agreement, PTHMS and RIC researchers will have greater access to clinicians, de-identified data, and potential trial participants, allowing them to better pursue investigative questions and develop innovative science-based devices, technologies, and treatments. 
"RIC's legacy as a thought leader in physical medicine and rehabilitation results from bringing the finest minds in science and patient care together," said Joanne Smith, MD, RIC president and CEO. "Northwestern's faculty members in PT and human movement sciences are critical partners as we push the envelope on what's possible for the most complex and debilitating injuries and diseases worldwide. For many years, the joint research and collaborative educational programs between us have produced innovations, so it is gratifying to see our historic relationship leveraged to create even more success."
Affiliated with the McGaw Medical Center, the agreement will make RIC and PTHMS the only residency partners with RIC for physical therapy specialties, provide an opportunity for more Feinberg students to learn at the nation's top-ranked physical medicine and rehabilitation hospital, and offer faculty appointments to RIC therapists training PTHMS students and physical therapy residents. 
"Partnerships like this continue to advance our standing as an exceptional institution, one where academic excellence and intellectual diversity augment the future of medicine," said Eric G. Neilson, MD, Feinberg's vice president for medical affairs and Lewis Landsberg Dean. "By expanding access for our students, and by extending to clinical and research endeavors, this agreement ensures our efforts to advance the fields of physical therapy, physical medicine, and rehabilitation for many years to come."