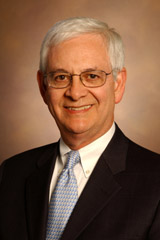 Scientists have linked mutations in 11 genes to aggressive prostate cancer, according to the largest-ever study of its kind recently published in JAMA Oncology.
Roughly one out of every eight American men will be diagnosed with prostate cancer at some point in their lifetimes, according to the American Cancer Society. As the second leading cause of cancer death in American men, prostate cancer will kill one in 41 men diagnosed, according to the organization's estimates.
Prostate cancer treatment is often customized based on the results of genetic testing, which can identify if the cancer will require chemotherapy or is a less aggressive type that can be managed with regular check-ups. The results of this study will help identify high-risk patients and treat them more effectively, said William Catalona, MD, professor of Urology and a co-author of the study.
"When a prostate biopsy is done, clinicians may find that they have sampled the least aggressive parts of the tumor and missed a more aggressive diagnosis," said Catalona, who is also a member of the Robert H. Lurie Comprehensive Cancer Center of Northwestern University. "So it's very useful to know if the patients have a germline genetic mutation that predisposes them to having aggressive disease."
In the study, which was led by investigators at the Keck School of Medicine of the University of Southern California, exome sequencing was conducted for more than 17,500 prostate cancer patients. The study drew upon data from 18 previous studies conducted in the U.S., Europe and Australia.
After comparing the genetic data of 9,185 men who developed aggressive prostate cancer versus 8,361 who did not, scientists linked mutations in 11 genes to a higher risk of developing deadly prostate cancer. Several of the new genes identified were not previously included in genetic screening tests, and several others were included but were not known to be predictors of aggressive disease.
The results will help guide treatment for prostate cancer patients and could inform family planning for carriers of high-risk genes, Catalona said.
"Men diagnosed with prostate cancer, if they are found to be carriers of these genes, that would affect their management of active surveillance versus radical treatment with surgery or radiation," Catalona said. "For example, one of the genes associated with DNA repair deficiencies and aggressive cancer is BRCA2, and we know those patients will respond to platinum-based chemotherapy or to new so-called 'PARP-inhibitor' drugs. Additionally, men who are carriers of this gene have children at higher risk for cancer, including breast and ovarian cancer. This is important in terms of family planning and cancer risk management."
One drawback of the study is that it only sampled men of European descent, Catalona said, and additional studies are underway to analyze the exomes of patients from different ancestry groups.
"These results need to be confirmed in Hispanic, Asian and African heritage people," Catalona said. "In one of the studies Northwestern is participating in right now, we are studying data for about 900 cases of African American men with prostate cancer to better understand the genetic risk."
The study was supported by National Cancer Institute grants R01 CA196931 and R00 CA246063. Catalona's participation in these projects was supported by the Northwestern-based Specialized Program of Research Excellence (SPORE) in Prostate Cancer P50 CA180995.