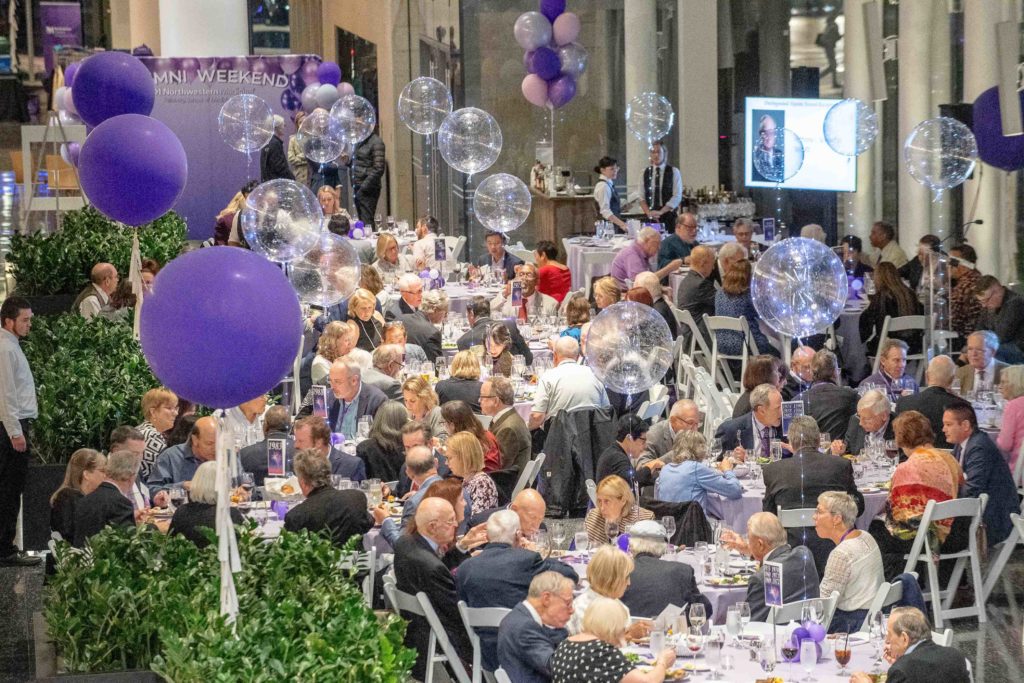 For Alice Yeh, '93 MD, returning to Feinberg for Alumni Weekend was an emotional, full-circle moment in her career as a surgeon.
"When I left Feinberg, I had gotten my degree and was just going out into the world. It brings up emotions just talking about it," said Yeh, who returned to Chicago this weekend for the first time in the 30 years since she graduated. "I'm near the end of my career, and I have retirement on the horizon. I wanted to come back and see where I was when I first started. This is a very fulfilling moment for me."
It was during her time at Feinberg when Yeh was inspired to go into surgery, she said. One of her mentors at the time let her scrub into an open-heart surgery: When she peered over the drape, she saw a patient's beating heart for the first time. In that moment, she came to understand the importance of the specialty she would go on to devote her career to, she said. Now, Yeh practices surgical oncology at the Kaiser Permanente South San Francisco Medical Center.
"I'm very proud of where I trained and it's exciting to connect with my roots," Yeh said of Feinberg. "I'm hoping in my future I can give back to the place that has invested so much in me."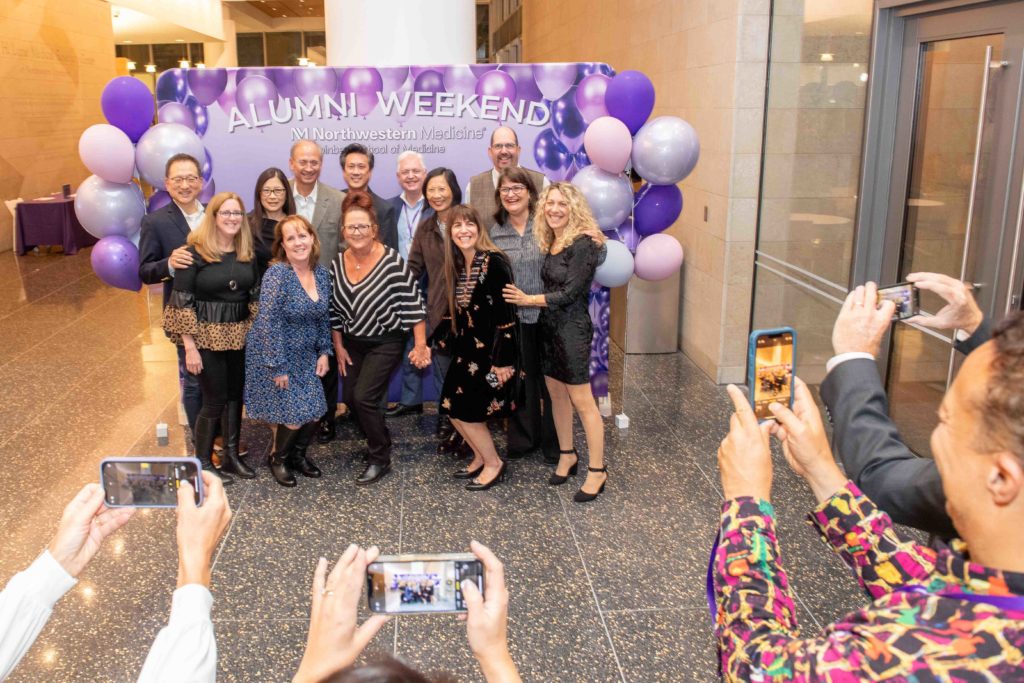 Yeh was one of the more than 400 alumni and guests who returned to Feinberg on October 13 and 14 to reconnect and reminisce with former classmates about their experiences at Feinberg and learn about the medical school's latest achievements.
As a member of the Half Century Club — alumni who have been graduated for 50 years or more — Tom F. Keys, '63 MD, said he was excited to visit with classmates and offer his wisdom to current students.
"There are not that many of us that are here from the class of 1963, but I've already met most of them and it's just fun reflecting on what you did, where you share your memories," Keys, now a retired infectious disease specialist, said. "I think the reason that I'm here is that I feel very strongly about medical education, making sure that our young people get a broad base and a reality check about what it's like to be a good doctor."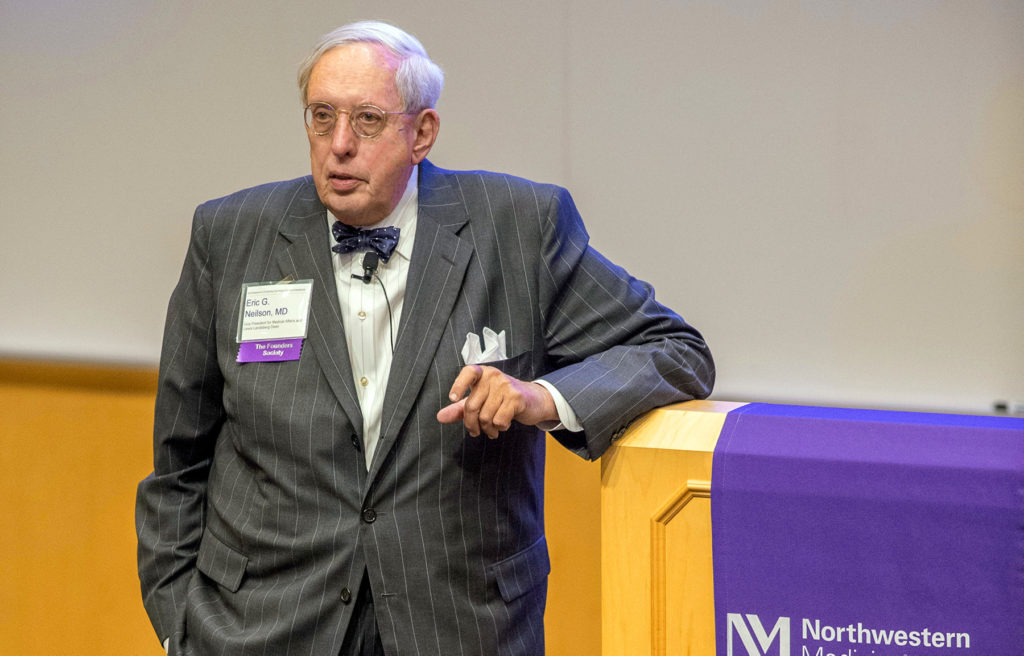 During the weekend, alumni attended various social and educational events, including class dinners, tours of Chicago attractions, and tours of campus facilities, including the Northwestern Simulation Center and the Louis A. Simpson and Kimberly K. Querrey Biomedical Research Center.
Chandra Jadhwani, DPT, who graduated in '86 from Feinberg's Doctor of Physical Therapy Program and currently practices in Illinois, said she particularly enjoyed the walking tour of Chicago, during which she learned more about the history of the various hospitals and medical centers in Chicago.
The weekend's activities also included educational forums and lectures led by Feinberg faculty who discussed topics ranging from pathogen genomics and the biology of aging to the latest developments in artificial intelligence and digital technology in medicine.
Following lectures on Friday afternoon, alumni and current Feinberg students mingled for a mentoring lunch, which was organized based on medical specialties.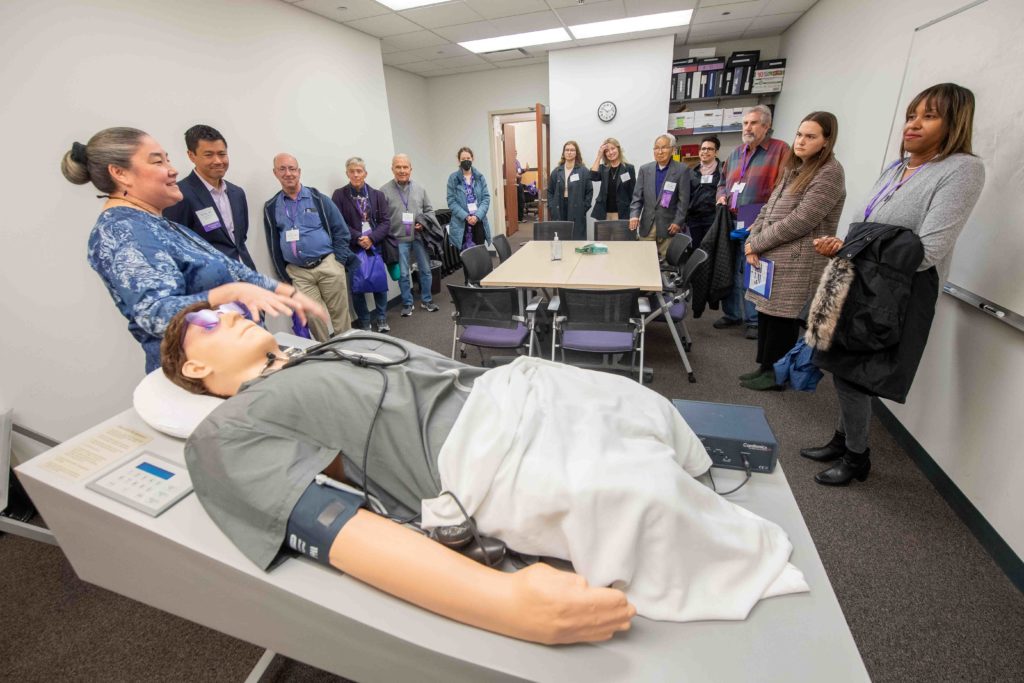 "I wanted to come back this weekend to see some old classmates and pay homage to the medical school that gave me a wonderful career," said Martin G. White, '60 '63 MS MD, who celebrated his 60th reunion and shared his experiences in nephrology with current students during the lunch. "For a while now, I've been involved with teaching and encouraging young people to advance in their careers. I hope they appreciate this wonderful school and the generosity of those who support it."
Nearby at Chicago's historic Drake Hotel, alumnae gathered for the annual Women in Medicine Tea, which included a panel discussion featuring alumnae from various class years who shared their own professional journeys and advice about navigating career advancement and work-life balance.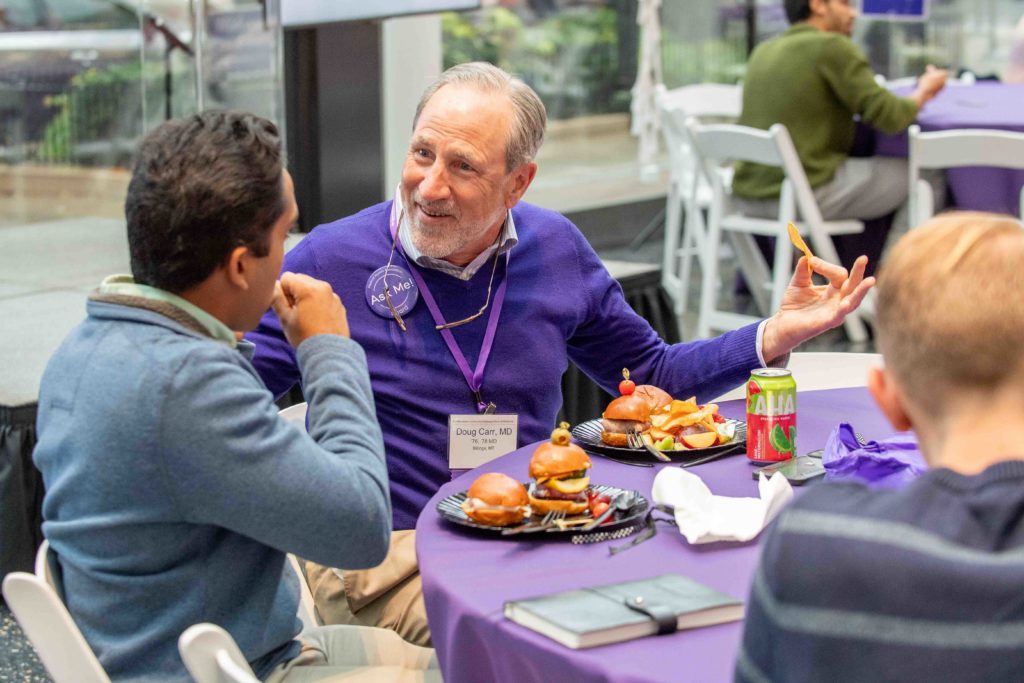 The session was moderated by Shelly Vaziri Flais, '99 MD '02 GME, clinical assistant professor of Pediatrics in the Division of Community-Based Primary Care, who encouraged attendees to embrace non-traditional career trajectories and give themselves grace when it comes to balancing a career and family.
"When I got back from maternity leave, my boss at a family practice pulled me into his office and said 'I need you to work more, and if you can't, I'm going to hire someone who will,'" Flais said. "It was devastating at the time. But it ended up being a wonderful thing for me. I had twins and had become very passionate about helping other families with twins, which led me to publish my first parenting book."
The day was concluded with remarks from Eric G. Neilson, MD, vice president for Medical Affairs and Lewis Landsberg Dean, who gave an overview of the state of the medical school during "Conversations with the Dean."
"I'm delighted to give our alumni an update on what's happening and where things are heading," Neilson said. "In 2023, Feinberg is almost a billion-dollar enterprise. It has a very large research portfolio, now over 700 million dollars."
Neilson went on to update alumni on the medical school's recent achievements, which included Feinberg's involvement in the Chan Zuckerberg Biohub Chicago and ranking among top medical schools in the country.
On Friday evening, attendees gathered for an all-alumni reception and dinner, which included a salute to the milestone reunion classes, ranging from the class of 1973 to 2013.
During the dinner, this year's Distinguished Alumni Award was presented to Anthony J. Schaeffer, '68 MD, the Herman L. Kretschmer Professor of Urology, whom Neilson lauded as an expert in his field.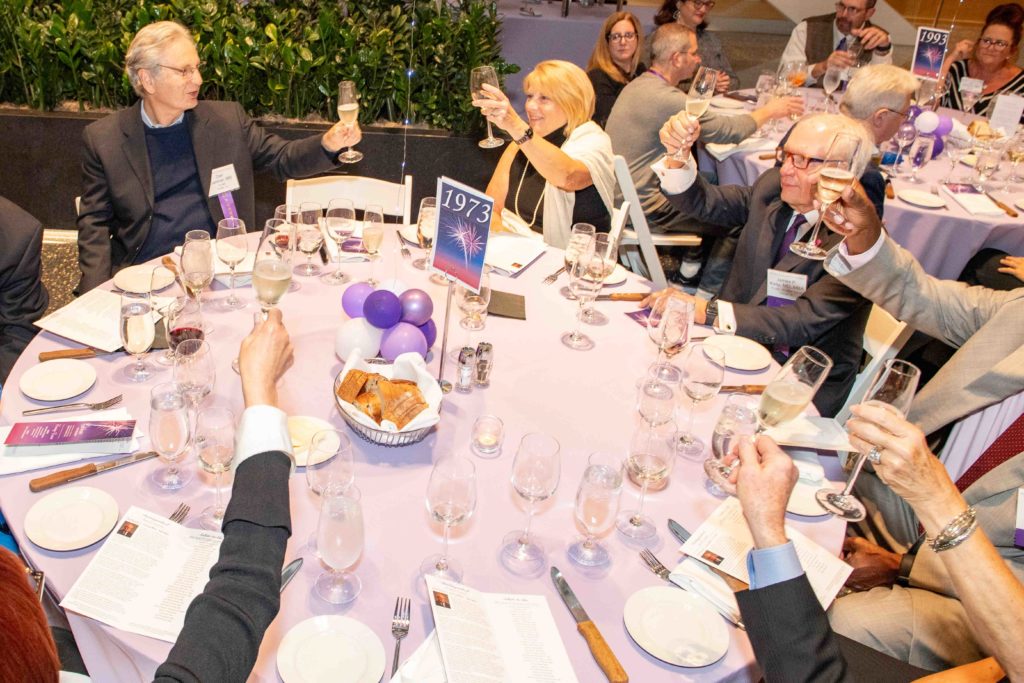 Schaeffer, who has published more than 400 peer-reviewed research articles, dedicated his career to understanding urinary tract infections, inflammation and incontinence. He was the first to describe the systemic changes of bacteria that cause UTIs in women and developed novel management techniques.
"Tony joined Northwestern's Department of Urology and he quickly rose through the ranks and he led as department chair for 25 years. He's been the recipient of many prestigious honors… but if you ask Tony, he'll say his proudest accomplishment is his family," Neilson said.