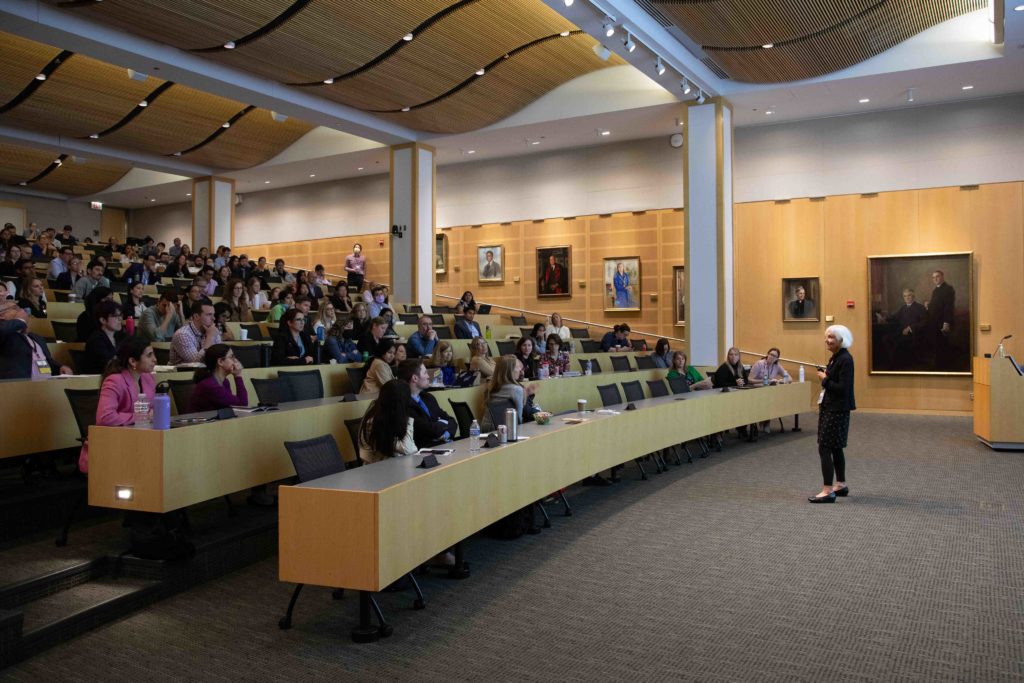 Faculty, staff, trainees and students gathered to share knowledge and participate in workshops examining the future of medical education during Feinberg's 13th annual Medical Education Day, held September 27.
An opportunity for sharing best practices in medical education, the daylong event connected experienced faculty, novice educators and students to learn about relationship building, the use of emerging technology in teaching and how to employ an equity mindset in teaching approaches.
Centering the mentor-mentee relationship when giving feedback can support wellness and foster a positive learning environment, said Joan Sargeant, PhD, professor of Medical Education at Dalhousie University, who was this year's Medical Education Day keynote speaker.
"We are really excited to have our keynote speaker, Dr. Joan Sargeant, join us today as an expert in feedback and coaching. It's a topic that's important and valuable and is something that we feel like we have an opportunity to improve upon here across campus," said Mary McBride, MD, MEd, professor of Pediatrics and of Medical Education and director of the Feinberg Academy of Medical Educators (FAME). "Elsewhere during the day, we'll learn about generative AI and how to use ChatGPT. I'm also excited to celebrate our medical education faculty and their achievements today."
Sargeant discussed her research on mentorship styles and how coaching, as opposed to feedback alone, can encourage improved performance from students and trainees.
"Through my working group, we've come up with this notion that feedback cultivates insight into current performance, whereas coaching promotes future performance," Sargeant said. "Instead of feedback being this negative thing, the idea of coaching is sharing information and seeing how you can best use it in a way that puts a positive swing on it."
By building strong mentor-mentee relationships and giving critique in a way that doesn't undermine a mentee's self-esteem, mentors can help learners become the best they can be, Sargeant said.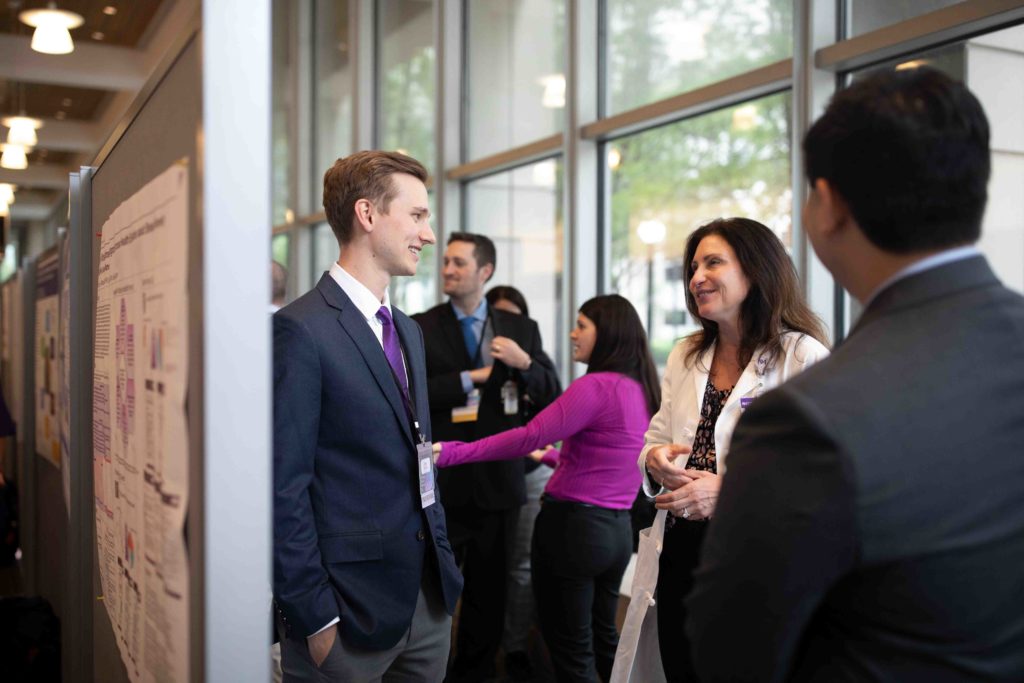 As awareness of the negative impacts of implicit bias and racism in healthcare continues to grow, so must training designed to combat it, said Jennifer Trainor, MD, '95 GME, professor of Pediatrics in the Division of Emergency Medicine and associate chair for Education in the Department of Pediatrics.
"We hypothesized that a lack of confidence and self-perceived ability may impact a provider's willingness to exhibit allyship and anti-racism," said Trainor, who helped lead a workshop on utilizing simulation learning to address implicit bias and racism in healthcare.
During the workshop, faculty, residents and students weighed in on simulated scenarios modeled after real situations involving bias and racism. After brainstorming responses, workshop attendees were equipped with conversation scripts to address bias in a clinical setting.
Jennifer Mann, MD, assistant professor of Pediatrics in the Division of Hospital-Based Medicine and Arielle Dover, APRN, a nurse practitioner at Ann & Robert H. Lurie Children's Hospital of Chicago, also led the workshop.
Currently, there are no mandated requirements for disability education across the medical education pipeline, said Trisha Kaundinya, a fourth-year MD/MPH student at Feinberg who presented a virtual training module she helped to develop on providing equitable healthcare to people with disabilities.
"When we don't have these comprehensive requirements that are standardized across students and institutions, it allows for incomplete education to prevail and opportunities for hidden biases," said Kaundinya, who is co-founder and co-president of the Disability Advocacy Coalition in Medicine, a national coalition of health professional trainees dedicated to sustainably dismantling ableism in medicine. The national organization has an active chapter at Feinberg and more than seven other institutions. "Knowing there was this need, our group came together and wanted to try and address this gap with training."
Funded by a grant from the Gold Humanism Society, Kaundinya and her collaborators — fourth-year medical student Elizabeth Adams and MD/PHD student Samantha Schroth — developed the module to encourage clinicians to examine how biases can manifest in healthcare settings.
Another workshop led by Emma Anselin, MD, '22 MPH, assistant professor of Pediatrics in the Division of Hospital-Based Medicine, underscored the importance of incorporating community health education into medical student training curriculum.
"There's a general consensus that what impacts the health of our patients largely happens outside of the clinical setting and happens in the community — in the social and economic environments they are exposed to," said Anselin. "And so, there's broad agreement that we should be teaching medical students to address the social determinants of health."
By cultivating relationships with community members and developing a project to address specific health issues within those communities, medical students led by Anselin were able to build various skills around public health topics, she said.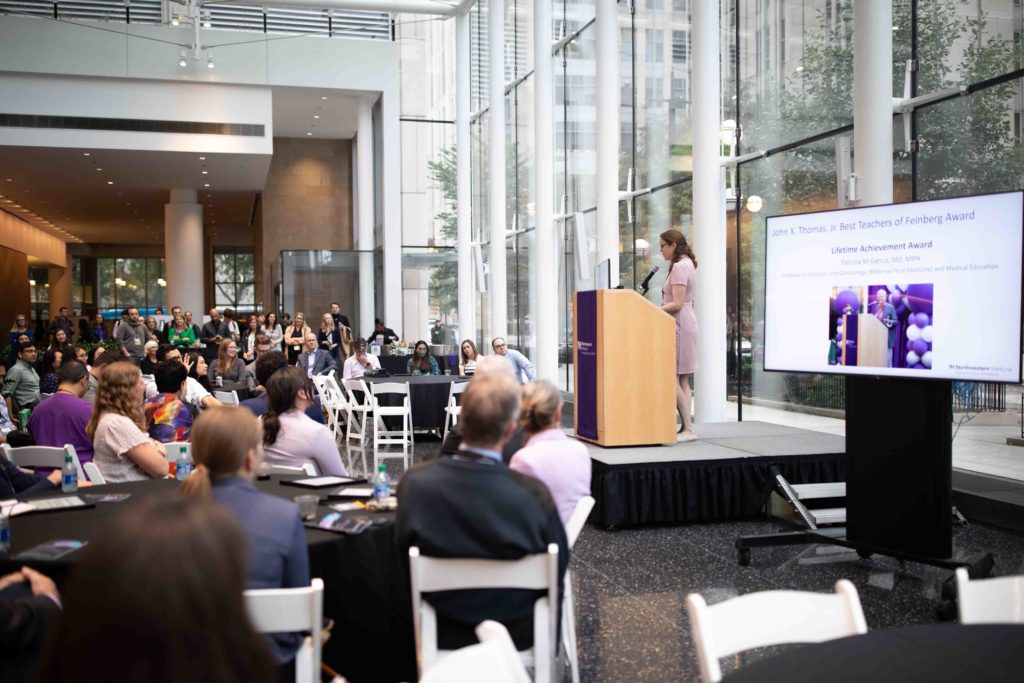 The day ended with an awards ceremony, as several faculty members were recognized with the John X. Thomas, Jr. Best Teachers of Feinberg Award. The ceremony also celebrated recently promoted faculty, new members of FAME, as well as outstanding faculty, residents and fellows.
The Student Innovation Projects Award was presented to fourth-year medical student Kayla Giger for her development of new MD student curriculum component focused on indigenous populations.
John X. Thomas, Jr. Best Teachers of Feinberg Award Winners