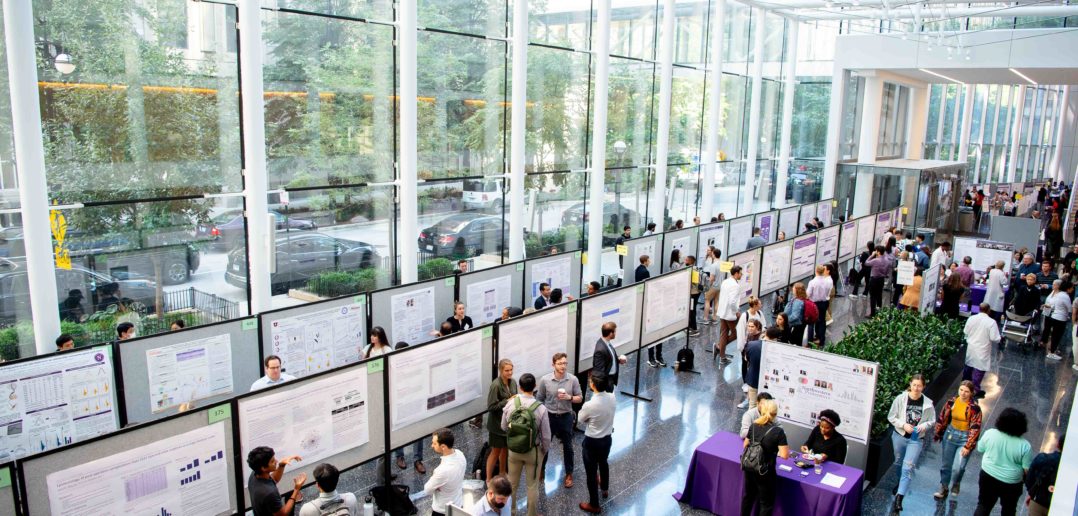 Feinberg investigators, students, trainees and faculty gathered to celebrate discovery and presented scientific research posters and abstracts at Feinberg's 17th annual Lewis Landsberg Research Day on Thursday, Sept. 14.
Rex Chisholm, PhD, vice dean for Scientific Affairs and Graduate Education, welcomed attendees to the celebration and presented the Medical Faculty Council Mentors of the Year and Tripartite Legacy Faculty Prize in Translational Science and Education awards to three Feinberg faculty members.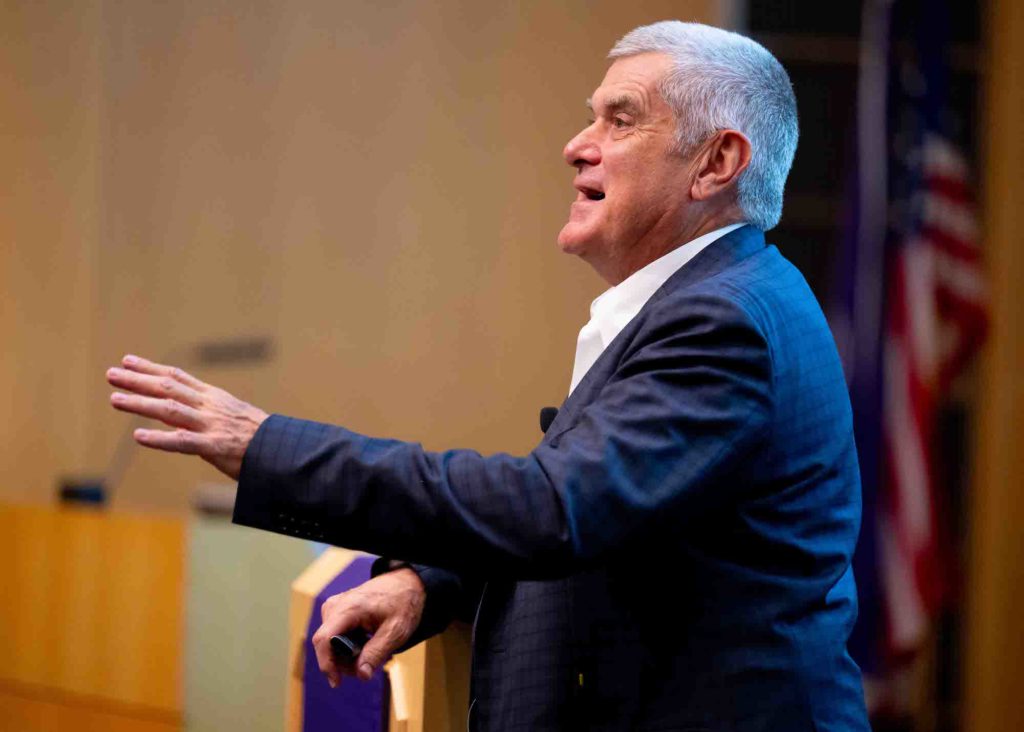 "Research Day is one of the highlights of the scientific year on the Feinberg calendar, and it's a great opportunity for us all to share the fantastic science that we're all participating in and an opportunity to form new collaborations," said Chisholm, who is also the Adam and Richard T. Lind Professor of Medical Genetics and a professor of Cell and Molecular Biology and of Surgery.
The keynote address was delivered by Craig B. Thompson, MD, former president and chief executive officer of Memorial Sloan Kettering Cancer Center from 2010 to September 2022. Thompson continues to oversee the Craig Thompson Lab at Sloan Kettering, which studies cellular metabolism and its role in disease and cancer.
"There's nothing more exciting than a using a teamwork-based approach to see if what can be broken can actually be corrected using modern drug discovery and clinical trial science, and the ultimate goal is to get ahead of disease and prevent it," Thompson said.
Following the keynote, attendees explored more than 460 research poster presentations held across campus at the Louis A. Simpson and Kimberly K. Querrey Biomedical Research Center, the Robert H. Lurie Medical Research Center and the Northwestern Memorial Hospital Feinberg Pavilion.
Attendees had the opportunity to not only browse different posters and abstracts, but also speak with investigators of all career stages to learn more about their work.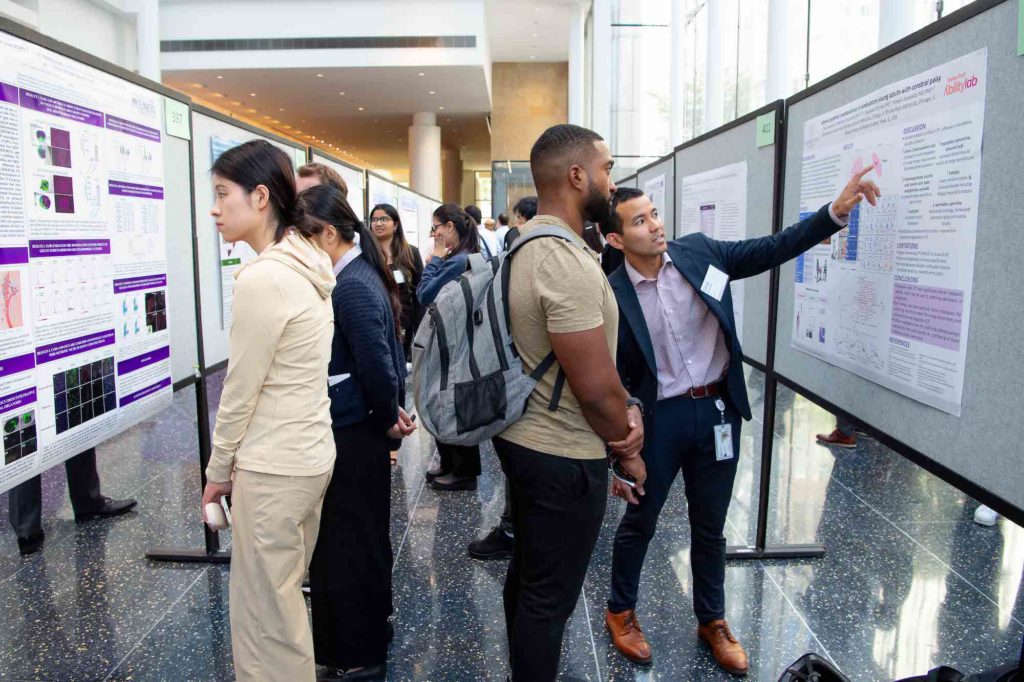 Prophecy Agyare, a research study coordinator for the Center for Applied Health Research on Aging, presented her research project which explored how social and economic instability can impact physical function and mental health outcomes in middle-aged adults.
Her study, which included 379 middle-aged patients at ambulatory health centers across Chicago, found that patients who identified as socially instable were more likely to have chronic conditions, depression and anxiety symptoms, greater fatigue and worse physical function than patients who did not.
"We were looking at middle-age life factors, so things that one does in your daily life, like sleep, diet, stress and exercise, which contribute to memory and cognitive skills," Agyare said. "Looking at factors during your middle age is really important because if we can see what is associated with cognitive decline earlier on in life, it can help people who are doing research on Alzheimer's or dementia to address these things during middle-age, which can encourage more preventive care."
For her research project, third-year medical student Rachelle Liu aimed to identify perceived determinants of food allergies among children and adults in the U.S. Liu and her team administered a cross-sectional survey to patients and caregivers, resulting in nationally representative data for more than 38,000 children and 40,000 adults. According to their results, in adults and children with a physician confirmed food allergy, the determinant most perceived to be associated with development of a food allergy was eating too much of the allergenic food, followed by genetics and family history, antibiotic use and eating too little of the allergenic food.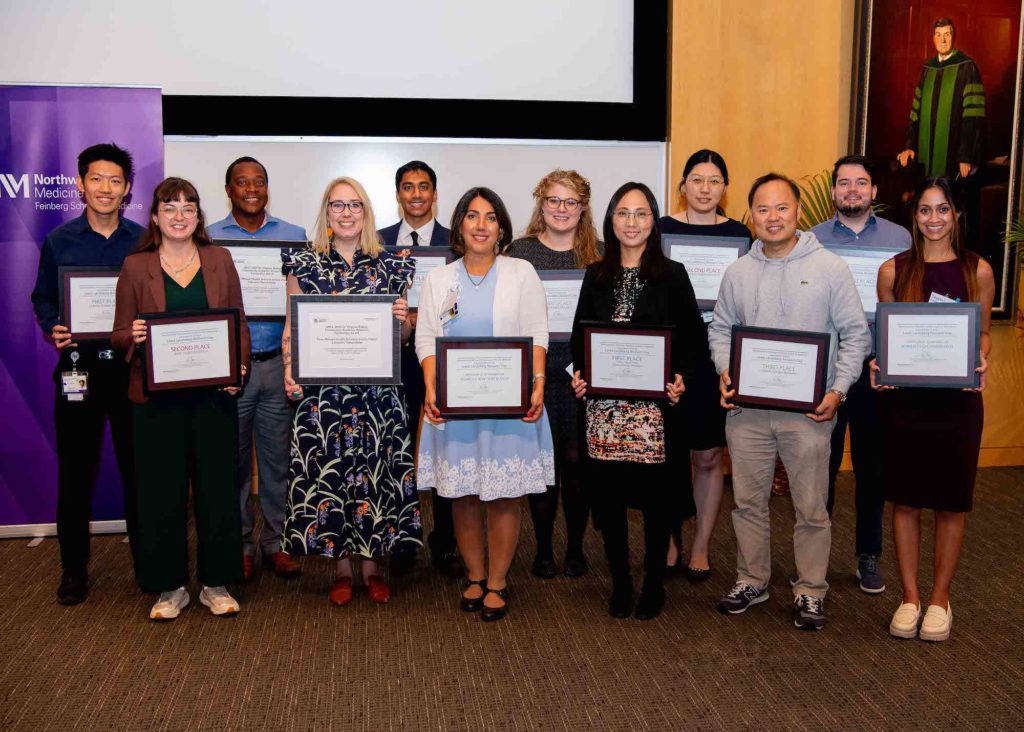 "I think it's really important to understand what people think so we can guide future education, the messaging around future treatments, current therapies, how parents introduce food to their children… it's really a foray into thinking about what people think," Liu said.
Ivan De La Riva-Morales, MD, a resident in pathology, presented his research project which investigated the histological and biochemical alterations of orchiectomy specimens in transgender patients who have undergone gender-affirming orchiectomies, or surgical removal of the testes.
By studying histological sections from gender-affirming orchiectomies performed at Northwestern Memorial Hospital from 2018 to 2022, his team found that all testes from gender-affirming orchiectomies exhibited significantly reduced spermatogenesis and did not contain any known biomarkers for testicular cancer.
"There is no evidence of neoplasms or increased risk of neoplasms in these cases, and there is no strong correlation between the types of [hormone]therapies and the degree of testicular atrophy," De La Riva-Morales said.
Poster Competition Winners
Basic Science
First Place – Connor Lantz, "Apoptotic Cell Engulfment and Digestion in Macrophages Triggers Synthesis of Bioactive Lipids to Promote Regeneration"
Second Place – Maureen Haynes, "Identifying Mechanisms Regulating Transendothelial Migration of Neutrophils in the Lungs During Acute Airspace Disease"
Third Place – Kathryn Jackson-Jones, "Functional study of N6-methyladenosine (m6A) machinery in HIV infection of primary CD4+ T cells"
Clinical Research
First Place – Charles Wang, "Diameter of Lower Esophageal Sphincter Defines Presence of Pediatric Hiatal Hernia"
Second Place – Yishu Qu, "Accelerated Epigenetic Aging is Associated with Hepatic Fat and Imaging-Diagnosed Non-Alcoholic Fatty Liver Disease"
Third Place – Qiang Zhang, "Dynamic development of ESR1 mutations in circulating tumor DNA (ctDNA) is associated with prognosis of patients with metastatic breast cancer"
Public Health and Social Sciences
First Place – Hyungkyung Kim, "Does high self-control accelerate epigenetic aging in low-income adolescents?"
Second Place – Kranti Rumalla, "Social Determinants of Health and Joint Pain and Physical Limitation in Patients with Arthritis"
Third Place – Rebecca Lovett, "Twelve Year Physical Function Trajectories and their Determinants among Older Adults: Findings from the LitCog Study"
Award for Excellence in Women's Health Research in Basic Science
Atieh Hajirahimkhan — "Licochalcone A as a risk reducing agent against luminal and non-luminal breast cancers"
Award for Excellence in Women's Health Research in Clinical or Public Health Research
Tejasvi Peesay — "Racial And Ethnic Disparities In Preterm Birth Among Individuals With Hypertensive Disorders Of Pregnancy In The United States, 2020-2021″
Alliance for Research in Chicagoland Communities' (ARCC) Annual Award: Teen Mental Health Services within Public Libraries Partnership. This is a partnership between the Oak Park Public Library (lead: Robert Simmons, MA) and Northwestern University (lead: Ashley Knapp, PhD, assistant professor of Psychiatry and Behavioral Sciences and of Preventive Medicine).
This community-research partnership has taken innovative action in working together to design and implement digital tools for teens within library settings. The Oak Park Public Library (OPPL) is a social service system for seven communities within and west of Chicago and has recently expanded its social services to include mental health. During this expansion, the OPPL and a Northwestern research team developed a partnership out of the shared mission of providing accessible, evidence-based mental health services to teens residing in Chicago and surrounding suburbs, with a focus on teens from historically underrepresented racial and ethnic (HURE) communities and those who most experience health inequities.
Tripartite Legacy Faculty Prize in Translational Science and Education: David Cella, PhD, professor of Medical Social Sciences, director of the Center for Patient-Centered Outcomes within the Institute of Public Health and Medicine and the Ralph Seal Paffenbarger Chair Emeritus in the Department of Medical Social Sciences.
Medical Faculty Council Mentors of the Year: Judith Moskowitz, PhD, MPH, professor of Medical Social Sciences, and Daniela Ladner, MD, MPH, the John Benjamin Murphy Professor and vice chair of research and innovation in the Department of Surgery.