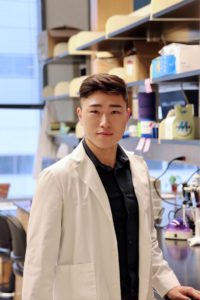 After graduating from undergrad at Cornell University in 2020, Brian Lee became a student in Feinberg's Medical Scientist Training Program (MSTP). Lee, now a second-year MSTP student, works in the laboratory of Leonidas Platanias, MD, PhD, the Jesse, Sara, Andrew, Abigail, Benjamin and Elizabeth Lurie Professor of Oncology and the director of the Robert H. Lurie Comprehensive Cancer Center of Northwestern University.
Under the guidance of Platanias and Diana Nora Vaz Saleiro, PhD, research assistant professor of Medicine in the Division of Hematology and Oncology, Lee investigates how specialized signaling proteins called interferons can be enhanced to recruit all arms of the immune system to fight against cancer.
Lee was also the lead author of a recent study recently published in Frontiers in Oncology, which found that rituximab, an anti-CD20 monoclonal antibody, combined with a traditional chemotherapy regimen improved survival in patients with B-cell lymphoma from 30 to 60 percent. Lee said that his work also honors the life and legacy of his late mentor, Kristy Richards, MD, PhD, who recruited Lee to work in her lab when he was a student at Cornell and inspired him to pursue cancer research.
Read a Q&A with Lee below.
Why did you choose Feinberg?
Listen to Lee below:
Leadership from MSTP, Feinberg and its research community has truly shown that individuals define an institution. They're genuinely invested in my future, both personally and professionally, and that has allowed me to put my best foot forward in pursuing my aspirations. They have supported me in more ways than I can fairly enumerate, but I'll say that this research would not have seen through to its completion without their support.
Can you tell me about the motivation behind your current study and the significance of your findings?
Nearly 30 years ago, rituximab, the world's first monoclonal antibody drug for cancers, was combined with chemotherapy and completely transformed the clinical landscape of blood cancers, nearly doubling cure rates for B-cell lymphomas, which is the leading cause of adult blood cancers. However, nearly half of patients still remain uncured and despite nearly 30 years since this landmark combination was introduced, there has been no change in first-line treatment.
In this paper, we discovered how to unlock the synergy between immunotherapy and chemotherapy to kill cancers with greater potency than the clinical paradigm, using combinations that are already FDA-approved and showed no increased toxicity in phases one, two and three clinical trials. Therefore, these findings could potentially advance treatment for the disease where treatment has seen no improvement in nearly 30 years by using combinations that already meet the clinical standard of care.
Your paper builds on the work of your late mentor, Dr. Kristy Richards, MD, PhD. How did she inspire you to pursue cancer research and complete your recent study?
For most of my life, I had a different lifelong aspiration, which was culinary school. I actually went to Cornell because they had a very good program there. However, in my freshman year of college, I took an introductory biology course where I met Dr. Kristy Richards, and she encouraged me to pursue medicine and nurtured my passion for it. Every semester and summer throughout the entirety of college and medical school, I pursued this project.
Unfortunately, just as I saw the clinical and scientific breakthrough in my work back in 2019, my mentor tragically lost her life to cancer. With that, the lab closed down and all of its funding dissipated. However, with the support of my undergraduate institution, my mentors, Feinberg and the public, both in Chicago and beyond, the research miraculously carried on at a time when no amount of scientific expertise could sustain it.
Although it's difficult to see that she's no longer here, how I see it now is that I'll move on with Kristy rather than from her because the lessons that I've learned about science and medicine have forever changed the way that I approach my work: to persevere with scientific fearlessness and medical compassion.
What advice would you give to prospective students?
I think medicine is very vast and complicated, requiring your very best self, both personally and professionally. I don't think there's one way to do medicine. I think the right way is to lean into your strengths and passions, pursue what you believe in, and maximize the way you help others. In that intersection I think lies one of the most priceless and timeless gifts of medicine: purpose.