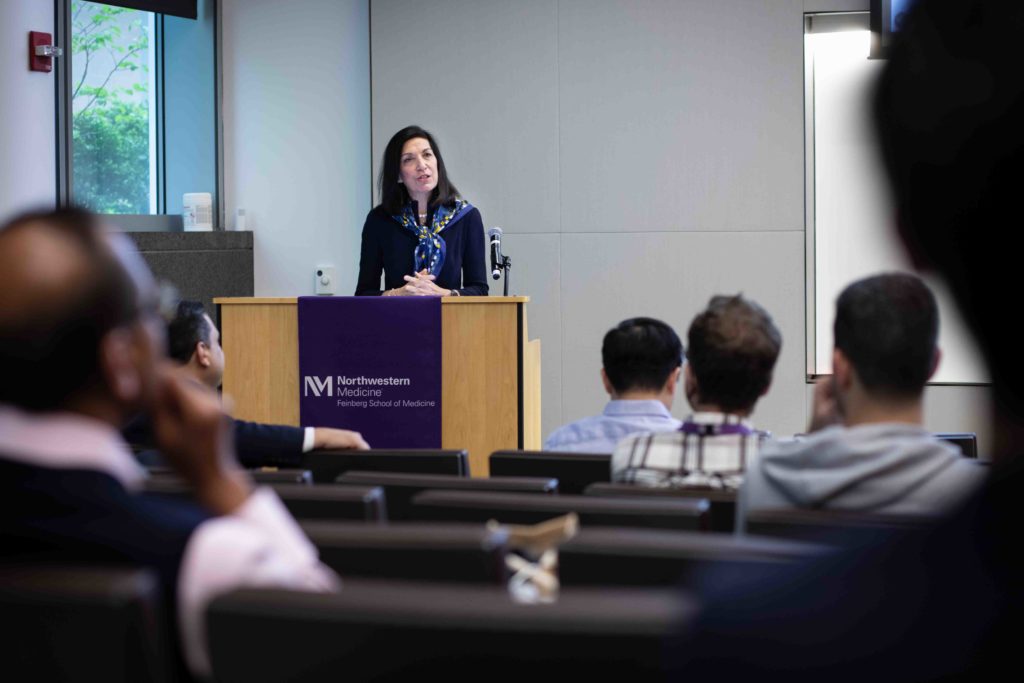 Huda Yahya Zoghbi, MD, the inaugural winner of the 2016 Mechthild Esser Nemmers Prize in Medical Science at Northwestern University, returned to Feinberg on Monday as part of the Simpson Querrey Institute for Epigenetics Distinguished Lecturer Series.
A professor in the departments of Pediatrics, Molecular and Human Genetics, Neurology and Neuroscience at Baylor College of Medicine, investigator at the Howard Hughes Medical Institute and director of the Jan and Dan Duncan Neurological Research Institute, Zoghbi has dedicated her career to uncovering the genetic roots of rare neurodegenerative and neurodevelopmental diseases that affect her patients.
Zoghbi's lecture, "From the Clinic to the Bench and Back: Adventures in the Genetics of Neurological Disorders," detailed her groundbreaking work on Rett syndrome and other neurological disorders.
"I went into this science being really driven by patient experiences," Zoghbi said to a packed auditorium. "During my residency, I met two young girls with Rhett in one week in the same month that the syndrome was just reported in the Annals of Neurology. We all read it and recognized that our patient at this hospital had Rhett syndrome. When you see two in one week, you realize there have to be more."
Among Zoghbi's scientific findings, which have been featured in more than 350 scientific publications, was the identification of MECP2 as the gene responsible for Rett syndrome, a rare genetic neurological disorder that leads to severe impairments affecting nearly every aspect of life. Her discovery was the first to prove that the disease has a genetic origin and paved the way for research into the genetics of other neuropsychiatric disorders, such as autism.
Following that discovery, Zoghbi and her collaborators further showed that MECP2 duplication syndrome, one of the most common genomic rearrangements in males leading to autism and early death, could be largely reversed in mice by restoring MECP2 protein levels.
"Since then, we've done a lot of work recognizing how important the levels of this protein are, and we decided to see what regulates it," she said. "This was important to inform us about the missense mutation in human patients, that even a slight change in this protein can give a patient features of Rhett. This is also an opportunity; If you can get the protein levels closer to normal, we see a reduction in the motor problems and seizures that are most devastating to patients."
Zoghbi's latest work involved physically and mentally training mice with Rhett syndrome to see which tactics would improve memory and learning. Her findings indicate that frequent physical and behavioral therapy may benefit human patients with the disease.
"Physical therapy once a week does not work for the Rhett brain," Zoghbi said. "But perhaps if these children can get occupational therapy multiple times a week, coupled with speech therapy or other therapies throughout the day, we can improve outcomes for these children with Rhett syndrome."