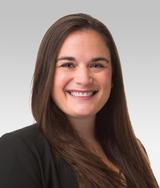 Patients with endometrial cancer who received the immunotherapy drug pembrolizumab in addition to chemotherapy had longer progression-free survival compared to chemotherapy alone, according to the results of a recent clinical trial published in the New England Journal of Medicine.
Endometrial cancer, affecting the lining of the uterus, is the most common type of gynecological cancer in women, according to the American Cancer Society. It's estimated that more than 60,000 new cases of uterine cancer are diagnosed each year in the U.S.
"Endometrial cancer is one of the few cancers with rising incidence and mortality, and those patients with metastatic or recurrent disease can be very difficult to treat," said Emily Hinchcliff, MD, MPH, assistant professor of Obstetrics and Gynecology in the Division of Gynecologic Oncology and a co-author of the study. "Immunotherapy, a class of drugs that leverage a patient's immune system to fight cancer, either as a single agent such as pembrolizumab or in combination with other drugs, has efficacy in endometrial cancer following progression on chemotherapy. However, this study was designed to determine if the combination of immunotherapy with chemotherapy in the first-line setting could improve outcomes."
In the current study, 588 patients with advanced-stage or recurrent endometrial cancer were given either pembrolizumab or a placebo along with chemotherapy throughout the course of their treatment. After treatment, investigators found that patients given pembrolizumab experienced higher median progression-free survival: 13 months, compared to eight months for patients who received a placebo, according to the study.
Patients with mismatch repair-deficient disease — a condition marked by gene mutations which produce dysfunctional proteins — benefitted the most from the combination treatment, Hinchcliff said.
"This study demonstrated that in patients with measurable disease or stage IV or recurrent endometrial cancer, the addition of pembrolizumab significantly improved the chance of progression-free survival," said Hinchcliff, who is also a member of the Robert H. Lurie Comprehensive Cancer Center of Northwestern University. "Specifically, of patients with mismatch repair deficient disease — a subset of endometrial cancer — 74 percent remained progression-free at 12 months compared to only 38 percent in the group that did not receive pembrolizumab. The impact of pembrolizumab was still significant, though less marked, for those without mismatch repair proficient disease."
The results of the study are already being incorporated into clinical practice, Hinchcliff said.
"The next step is bringing this to patients; Following the presentation and publication of these results, our field is already working to adopt these therapies into our practice," Hinchcliff said. "The remaining questions surround how this combination should be used for the mismatch repair proficient tumors, and how using immunotherapy in the upfront setting will impact treatment decisions later in a patient's disease course."
The study was supported by grants U10CA180868 and U10CA180822 from the National Cancer Institute. Funding was also provided by Merck through a cooperative research and developmental agreement with the National Cancer Institute.