Precious Akanyirige, a fourth-year student in the MD/MPH degree program, has been awarded the 2023 Excellence in Public Health Award, given by the U.S. Public Health Service.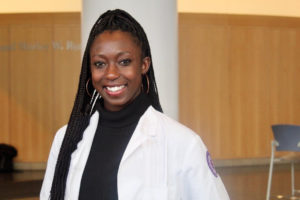 This national award is given to medical students who have made significant contributions to the U.S. Public Health Service's mission to "protect, promote and advance the health and safety of our nation," and who help address public health issues in their community.
Akanyirige was named this year's award recipient for her work analyzing access and policies related to opioid use disorder as well as her investigation into the link between marijuana use and cardiovascular disease, both of which are part of the Surgeon General's Priorities and the Healthy People 2030 initiative.
"I wanted to work with a public health field that was related to anesthesia, my future specialty," said Akanyirige, who recently matched into anesthesiology at McGaw Medical Center of Northwestern University. "The project is twofold: The first part is an environmental scan of what treatments are available and what policies we have in place regarding opioid use disorder in Chicago and Illinois. And then the second portion, which is in the works, is trying to establish a partnership between Illinois Medicaid and the Northwestern Buehler Center, allowing Northwestern to analyze Medicaid policy and outcomes specifically related to people who are receiving care for opioid use disorder. We want to be able to analyze these policies and see what's working, what's not working, and how we can continue to improve them for Illinois residents."
Akanyirige also previously served as a Fogarty Global Health Fellow, where she worked to assess patient-reported experience of outpatient cardiology care among patients with cardiovascular disease in Tanzania.
"Precious's accomplishments throughout her medical school and public health training have been rooted in promoting health for all. She has demonstrated intellectual rigor through her scholarly presentations and numerous peer-reviewed publications," said Mita Goel, MD MPH, professor of Medicine in the Division of General Internal Medicine. "In particular, she has conducted outstanding research in numerous areas, including examining evidence-based policies to treat opioid use disorder and the relationship between marijuana use and cardiovascular disease. She has also amassed considerable experience practicing public health fieldwork, including addressing food insecurity among individuals receiving mental health and substance use treatment in Chicago and traveling to Tanzania as a Fogarty Global Health Fellow to enhance patient-centeredness in cardiovascular care. All these qualities make her incredibly deserving of the U.S. Public Health Service Excellence in Public Health Award."
As she looks forward to her residency, Akanyirige said she hopes to continue her public health work.
"I've been set up very well by Northwestern, by the graduate school and especially by my mentors," Akanyirige said. "My mentors have guided me and given me so much support. I had an idea and they helped me to connect with others and be immersed in my field. This is a reminder that there is very important work that needs to be done in public health. It's great to win this award, but this is not an endpoint for me. It's encouragement for me to continue to grow in my public health knowledge and to incorporate it in my future career."