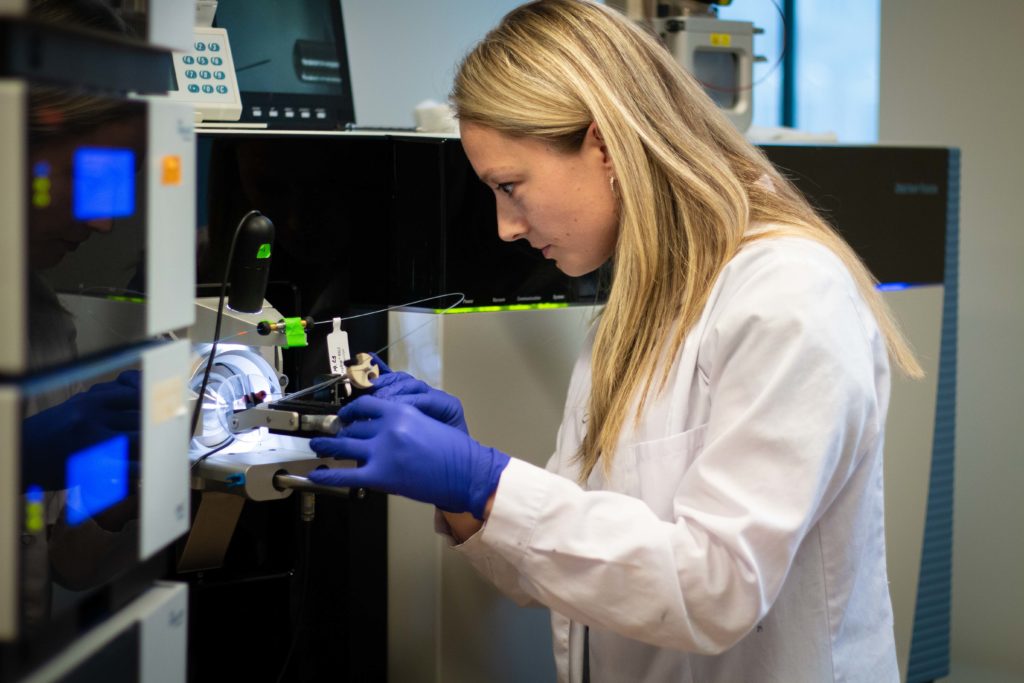 For Ewa Bomba-Warczak, PhD, pursuing a career in science once seemed like a far-off dream.
Growing up in a small village in Poland surrounded by farmland, Bomba-Warczak never expected that her decision to pursue undergraduate studies at the University of Illinois at Chicago would set her on a path towards investigating the role of long-lived mitochondrial proteins in neurons as a postdoctoral research associate in the laboratory of Jeffrey Savas, PhD, assistant professor in the Ken and Ruth Davee Department of Neurology's Division of Behavioral Neurology.
Bomba-Warczak's previous research revealed a subset of mitochondrial proteome persists for months in mammalian brains.
"These long-lived mitochondrial proteins caught my attention because we generally think of mitochondria as highly dynamic organelles that are continually remodeled and refreshed" Bomba-Warczak said. "Since neurons are post-mitotic, they must survive the lifespan of the animal. Therefore, this continuous replenishment of mitochondria has been considered as essential in maintaining a healthy organelle network that can support lifelong neuronal homeostasis. So, to see that some of these proteins persist in the brain for months was unexpected."
Currently, Bomba-Warczak is employing metabolic stable isotope pulse-chase labelling and high-resolution shotgun mass spectrometry to track and characterize the mitochondrial long-lived proteins throughout their lives in mice brains.
"Since mitochondrial dysfunction contributes to myriad of neurodegenerative diseases, better understanding of the mitochondrial long-lived proteins may lead to new potential therapeutic targets for several neurological disorders including Alzheimer's and Parkinson's diseases," Bomba-Warczak said.
Bomba-Warczak recently received the Maximizing Opportunities for Scientific and Academic Independent Careers (MOSAIC) award to continue her work characterizing these extremely long-lived proteins in mouse brains and investigating whether current pharmacological treatments known to affect mitochondrial function also affect the long-lived proteins.
The MOSAIC award, given by the NIH's National Institute of Neurological Disorders and Stroke, is designed to facilitate the transition of promising postdoctoral investigators from diverse backgrounds into independent, tenure-track or equivalent research-intensive faculty positions. She will receive up to two years of postdoctoral funding, followed by three years of funding after she secures a full-time faculty position.
"This award is really an honor," she said. "I'm an immigrant, a first-generation college graduate and a mom of two kids. This award is a validation that my work is interesting and impactful to the field of mitochondrial biology and underscores that you can be a scientist and a mom at the same time – even if it takes a little bit more time to get there."