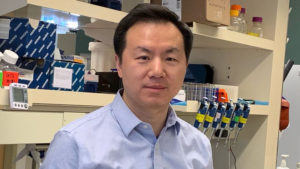 A team of scientists has identified a new cell type implicated in the development of the most common type of malignant childhood brain tumor, according to a study published in Nature.
Medulloblastoma affects roughly 500 children each year in the U.S. and represents 20 percent of all childhood brain tumors, according to the American Brain Tumor Association.
In the study, investigators performed single-cell analyses of developing fetal cerebella to better understand the different types of cells and how they are organized in the brain.
Scientists then compared the RNA from fetal cerebellar cells to RNA data from the Children Brain Tumor Tissue Consortium; they found that higher levels of transitional progenitor cells — organ-specific decedents of stem cells — were associated with more aggressive types of medulloblastomas.
Two proteins in particular, HNRNPH1 and SOX11, appeared to influence the production of these transitional progenitor cells and promote the expression of other cancer-causing genes, according to the study.
The discoveries will aid in understanding the origin and development of medulloblastomas, said Feng Yue, PhD, the Duane and Susan Burnham Professor of Molecular Medicine and a co-author of the study.
"Through single-cell multiomics analysis and computational approaches, this study identified the regulatory network and the key players for the most lethal subtype of the medulloblastomas," said Yue, who is also a professor of Biochemistry and Molecular Genetics, of Pathology and director of the Center for Cancer Genomics at the Robert H. Lurie Comprehensive Cancer Center of Northwestern University. "We also demonstrated how HNRNPH1 and SOX11 further control the expression of oncogene MYC through long-range interactions."
Additionally, the genes identified in the study could serve as future targets for treatment.
"This new progenitor cell population is highly valuable for disease prognosis and the subtype-specific regulators and pathways discovered in this study could help identify potential therapeutic vulnerabilities in this lethal cancer," said Yue, who is also the director of the Institute for Artificial Intelligence in Medicine Center for Advanced Molecular Analysis.
The study, which was a collaborative effort between multiple hospitals and universities, was supported in part by grants from the Cincinnati Research Foundation ARC award, CancerFree Kids Foundation, Pray-Hope-Believe Foundation, TeamConnor Childhood Cancer Foundation, and the Cure Starts Now Foundation.