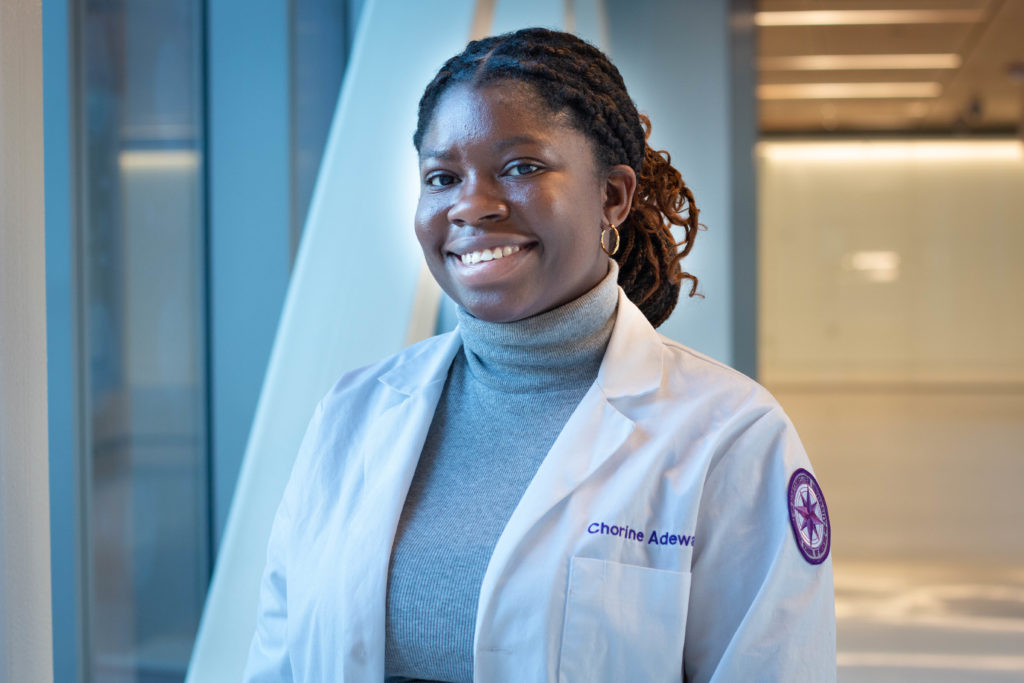 Chorine Adewale, a second-year medical student, says she has long been interested in social determinants of health.
Beginning her studies at the University of Chicago, where she looked at health disparities in LGBTQ and Black communities, Adewale recently had the opportunity to analyze a large dataset from Howard Brown Health as part of her T35 Summer Research project at Feinberg.
Why did you choose Feinberg?
Listen to Adewale below:
I chose Feinberg due to the program's commitment to developing physicians that are equipped to advocate for patients and improve health outcomes by becoming knowledgeable in multiple areas.
So for me, I think looking beyond biological knowledge is important in creating compassionate and well-rounded clinicians. I really appreciated the inclusion of threads like Health and Society and Business of Medicine in the curriculum, as well as the emphasis on research, and discovering the whole process of disseminating and creating knowledge on your own. I think that those realms of Feinberg's curriculum and process of developing clinicians really does us a great service.
What are your research interests?
For me, research is really all about improving health outcomes for people who have been overlooked and marginalized either in the past or currently. When I attended the University of Chicago for undergrad, a lot of my research there was focused on either LGBTQ health and the disparities around HIV, or looking at African American health and health disparities that exist in that realm. So for me, it's always been about health disparities.
Tell me about your current research project.
Over the summer I got the chance to participate in Northwestern's T35 Summer Research Program and that gave me a chance to work under Dr. Lauren Beach, Research Assistant Professor in the department of Medical Social Sciences. And that's when we developed the research project that I am currently still working on.
Prior to my being paired with Dr. Beach, they had created a large data set from Howard Brown Health, a federally qualified health center that specializes in LGBTQ and HIV-positive health care. Since we had that large data set to work from, I wanted to look at health disparities that exist in a condition called metabolic syndrome.
Metabolic syndrome is a constellation of five risk factors that are associated with developing chronic diseases, such as diabetes or cardiovascular disease.
One of the risk factors in that constellation is HDL cholesterol. So while we were looking at the diagnostic criteria for metabolic syndrome, we discovered that the risk level for HDL cholesterol is determined by sex.
Due to the focus and mission of Howard Brown Health, we had a significant representation of transgender and non-binary people in our dataset. Upon further research, we found out that there are no established guidelines for how to assign risk HDL levels to non-cisgender individuals.
So due to that, we added a question to our original project, which was initially just to see what disparities exist in metabolic syndrome along sociodemographic lines. Our new aim was to determine how analyzing transgender and non-binary patients using both sex-based thresholds would affect their ability to meet the HDL risk level.
And what did you discover?
We found that in our data set assessing transgender and non-binary people using the female HDL risk criteria resulted in an additional 45 out of 175 transgender and non-binary people meeting the HDL risk level as opposed to if we have used the male HDL risk criteria.
That was about a quarter of the analytic sample that we had. We feel that that is a significant jump and the lack of established guidelines regarding HDL risk levels for trans and gender non-conforming people could potentially lead to incorrect or missed metabolic syndrome diagnoses.
In relation to our original question, which was about social determinants, we did find that social determinants associated with lower socioeconomic status and minoritized status, such as being uninsured, having government-sponsored insurance, being homeless, and being black or Hispanic, were associated with increased odds of meeting the criteria for metabolic syndrome diagnosis in our study population.
What's the next step for this project?
First, it's to get this information back to Howard Brown Health so that they are equipped with more information about their patient population. Another finding that we looked at when we were assessing the database was that there was only 2.9 percent of 98,000 patients that were in the file that had complete data. To us, that means that some people aren't being fully screened, and that primary care needs to be more emphasized for all communities regardless of their sexual orientation or gender identity. So first steps are to disseminate that back to Howard Brown, as well as to get this to a community advisory board that specializes in transgender health to get feedback on the research. And then after that, we will write this up in a paper.
What advice would you offer to prospective medical students?
As a prospective medical student, go where you can grow. I think it's really easy to seek comfortability or something familiar, especially when you're embarking on such a long journey and a journey that can be difficult. In order to be the best physician, as well as for your own personal development, it's important to go to a place that pushes you out of your comfort zone. Additionally, you want a place that has space and resources to accommodate changes in your interests as you grow. One reason why I chose Feinberg is because there's such a diversity in thought here. There are so many people at the forefront of their fields that are willing to take people under their wing.