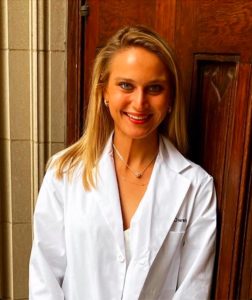 While growing up, Madeline Owen remembers visiting Chicago frequently for Irish dance competitions and deep-dish pizza. Little did she know that one day she would call Chicago home to pursue her medical education career.
Originally from Columbus, Ohio, Owen attended the University of Notre Dame for her undergraduate studies and majored in neuroscience and behavior on the pre-med track. Now a second-year medical student at Feinberg, Owen has her sights set on specializing in orthopedic surgery.
Recently, she presented her research, which explored gender differences in hip arthroscopy outcomes for femoroacetabular impingement syndrome, at this year's American College of Surgeons Clinical Congress in San Diego.
Read a Q&A with Owen below.
Why did you choose Feinberg?
Listen to Owen below:
Through the interview process, I think it became clear that students are not just students here, that they're really given the opportunities and the responsibilities early on to become caring clinicians, to really become inquisitive researchers and to be humble learners, as well. Beyond that, Feinberg was very strong in its female mentorship, especially within surgical specialties, and as a woman interested in surgery, I felt that it was important to see people like myself in roles that I hoped to one day fulfill.
What are your clinical and research interests?
I started having an interest in orthopedic surgery at a young age. Math was a strength of mine growing up, and I was attracted to the similar sense of logic and problem solving in orthopedic surgery. It's really grown into more of a passion as I've been exposed to a field with a very diverse patient population.
I think this field is always moving forward and it's really at the heart of continued education. I was attracted to its ability to substantially improve patients' quality of life in the span of a few hours and give patients the opportunity to live the way that they hope to live every day. Seeing patients walk out of the clinic with a smile on their face is an opportunity that would be a privilege to have.
You recently presented your research at this year's American College of Surgeons Clinical Congress. Tell me more about it.
I work with mentors Dr. Vehniah Tjong and Dr. Michael Terry, who are in orthopedic surgery and sports medicine. Along with resident and fellow mentors, we worked together on a project examining gender differences in hip arthroscopy outcomes for a syndrome called femoroacetabular impingement syndrome, which is essentially pinching of the hip.
We performed a large-scale systematic review and analyzed over 200,000 patient outcomes and diagnoses, and examined gender differences in prevalence, outcomes, and complications of arthroscopy for femoroacetabular impingement syndrome (FAIS). We found gender differences in the different morphologies of FAIS and similar outcomes after arthroscopic surgery, suggesting that surgery was beneficial for both genders.
I had the opportunity to present this research at the American College of Surgeons Clinical Congress in San Diego. It was an incredible opportunity not just to present the research that we had worked so hard on, but to collaborate with peers and see such great mentorship in the surgical fields, as well.
Were any of your findings particularly surprising to you?
We were surprised that men had a higher prevalence of what's called mixed-type impingement. I think it revealed what is challenging about this topic, which is it's a relatively new diagnosis when we're talking about the field of orthopedics as a whole. There is quite a bit of variation in how we define different morphologies of this diagnosis and how they're recorded. It was definitely an interesting finding, and one that emphasized opportunities for further research in this field and for large-scale, high-quality directly comparative studies, which is something that we may have an opportunity to undertake with databases in the future.
What advice would you give to prospective medical students?
If there's anything I could tell aspiring medical students, one would be to make the time to stop and take a breath once in a while. This is definitely a marathon and not a sprint, so find joy in the process and embrace the journey.
The second would be to make the time and take the energy to really show up for your friends and family. They are your support systems. They will be there for you through thick and thin, and just as much as people need doctors, doctors — even those in training — need people, too. Stay motivated, stay passionate, but don't lose sight of your values.