Sunny Abdelmageed is a third-year medical student at Feinberg. She was born in New York, but recently lived in Atlanta. She attended the University of Georgia for her undergraduate studies.
Abdelmageed has always been interested in the brain and has conducted research related to neurosurgery and pediatrics. She is interested in research projects that seek to improve outcomes and preserve brain function for patients. Additionally, she was involved in founding Feinberg's South Asian Medical Student Association.
Why did you choose Feinberg?
Listen to Abdelmageed below:
A main factor that made me choose Feinberg was its commitment to improving health disparities in the community around them. They do a lot of community-centered research, which means they actually go out and talk to the community and work with members to figure out which is the best way to help them, and I think that's putting advocacy back into people's hands, which I appreciate.
Tell me about your Area of Scholarly Concentration project.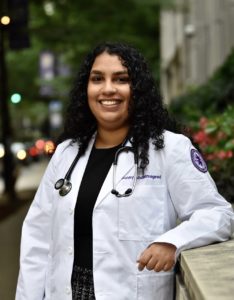 I examined the relationship between infant intraventricular hemorrhages (IVH) and functional outcomes working with Grace Lai MD, PhD, and Sandi Lam, '98 MD, vice chair for pediatric neurological surgery in the Department of Neurological Surgery. Premature infants are at a particularly increased risk of IVH, which can lead to brain damage, but even as premature births have declined, the incidence of hospitalization for IVH has increased.
Using patient data from Lurie Children's Hospital, we found that greater ventricular dilation — a measure of IVH severity — was associated with worse functional outcomes as defined using a pediatric cerebral performance scale. Basically, intervening earlier through either temporary or permanent cerebrospinal fluid drainage can lead to better neurodevelopmental outcomes.
Tell me about your involvement in the South Asian Medical Student Association.
I was part of starting the South Asian Medical Student Association (SAMoSA) with a few of my peers in 2021. Many other medical schools across the country have a SAMoSA and so we found that by talking to other medical students, there was an interest in creating one at Feinberg. The association provides students the opportunity to connect with peers of South Asian ancestry and to have a space to connect and celebrate holidays like Holi and Diwali. We have some new board members this year, too, who have exciting ideas about getting involved with research in particularly South Asian populations as well like the MASALA study.
What advice would you give to prospective students?
Be very intentional. I think that medical school can be very difficult, and success is reliant on the choices that you make. Reflect on what you want and where you want to be because it's difficult. So being intentional about why you want to go into medicine, what you're hoping to get out of it, and what you feel like your purpose in life is can be important and helpful when things get tough. There have been days when I am studying a lot and trying to remember why I got into this into the first place, and knowing my purpose truly helps to get me through.