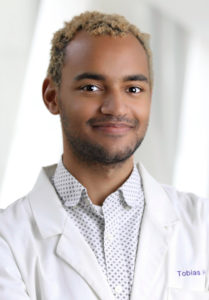 Tobias Holden is a fourth-year student in the Medical Scientist Training Program (MSTP) currently earning his doctorate in health and biomedical informatics. Holden grew up in South Carolina and attended Yale University for his undergraduate studies, majoring in biology.
Holden was recently the lead author of a paper published in the journal BMC Public Health. In the study, Holden and his collaborators, who included Northwestern Medicine investigators Melissa Simon, MD, MPH, the George H. Gardner, MD, Professor of Clinical Gynecology, and Jaline Gerardin, PhD, assistant professor of Preventive Medicine in the Division of Epidemiology, used mathematical modeling to determine the impact of structural racism and health disparities on COVID-19 mortality rates in Illinois.
Read a Q&A with Holden below.
Why did you choose Feinberg?
Listen to Holden below:
I felt an immediate connection to Northwestern and Feinberg, and I found it really easy to picture myself calling Chicago home for seven to eight years. As an applicant, I could tell there was a really strong culture of research here with enough diversity for me to rotate on projects that spanned my wide range of interests. I specifically remember listening to the Breakthroughs podcast episodes highlighting the work of Mercedes Carnethon, Kiarri Kershaw and Melissa Simon, and felt assured that research on health disparities was ongoing and valued here at Northwestern.
What are your research interests?
I'm interested in applying simulation and modeling to study diseases that are primarily linked to environmental exposures, whether that's a pathogen, or a mosquito, or lead. I love that mathematical models can be used to explore disease dynamics at the population level, and also to probe the underlying mechanisms driving them.
When I joined Dr. Gerardin's lab for a rotation, I thought I would be working on malaria modeling, which is the main focus of the team and my dissertation. But this was in April of 2020, and the group had just been asked by the governor to work with other labs around the state and the Illinois Department of Public Health (IDPH) to model COVID-19. So, we did!
Tell me more about your paper.
Early in our partnership with IDPH, glaring racial disparities in COVID-19 burden became apparent, and we joined a working group that formed to focus on data equity and health disparities. Because of my own passion for racial justice and Dr. Gerardin's commitment to the work, we started tracking some of the metrics highlighted in the paper and reporting them back to the state department of public health on a biweekly and monthly basis.
The process of working on the paper reinforced the importance of being really secure in your understanding of the data that you start with, and that's probably true regardless of what you're working on. Also, collaboration is key; We had to work together with researchers – here at Northwestern and from community advocacy groups across Illinois – to get insight on health disparities research methods and sociocultural context for the many diverse communities across the state.
What advice would you give to prospective medical students?
Feinberg's an excellent place to do research as a medical student, whether you're in the MSTP program or not. When I say there is a strong culture of research, I mean that all medical students do some form of research while they're here and some spend an extra year to focus on it. If you're considering doing both, the combined training through the MSTP is really excellent.
I would also say when it comes to choosing which type of program you'll pursue, where you'll be or what you'll work on, it's so important that you like the people you work with and that you feel supported by them. Find an environment where you are surrounded by people you can learn from and who also value what they can learn from you.