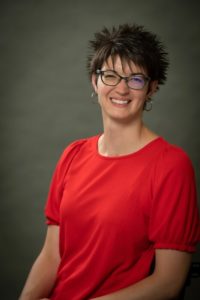 Samantha Schroth, an MD/PhD candidate in the Medical Scientist Training Program (MSTP) at Feinberg, has received the prestigious Presidential Fellowship at Northwestern University. The Presidential Fellowship is funded by the President of the University and awarded by The Graduate School. This highly competitive award is the most prestigious fellowship awarded by Northwestern.
All recipients become members of the Northwestern Society of Fellows (which includes former members and distinguished faculty members).
Schroth is currently in her fifth year at Feinberg, having completed her first two years of medical school and is finishing her third year in the lab. Her research examines how to better understand mechanisms by which immune cells, specifically dendritic cells, function to promote tolerance to a transplanted organ. She is an active board member of the Disability Advocacy Coalition in Medicine, an interprofessional student organization that seeks to improve disability-related education across a variety of health professional training programs.
Read a Q&A with Schroth below.
Where are you from and where did you attend undergrad?
I'm originally from Greenville, WI which is a small town about 40 minutes south of Green Bay. I guess you could say I'm a "Midwesterner for life" since my undergraduate schooling was at the University of Minnesota – Twin Cities, and now here I am in Chicago.
What are your clinical or research interests?
Clinically, I'm not certain what type of medicine I'll practice given I have yet to complete my clerkships (but I have a few guesses of where I'll end up). In terms of research, I'm fascinated by the immune system. While our knowledge of the cellular players, influence of the microenvironment, and even signaling pathways has expanded dramatically in the last two decades, there are still so many open and exciting questions. It's compelling to be involved in science that can have such a sweeping impact on the way we think about disease and illness, but perhaps more importantly, how we work to promote health.
How did you get into this area of research?
I initially enrolled in the MSTP program at Feinberg thinking I was going to do my PhD in neurology. I always found the brain to be fascinating and my own personal experience with a spinal cord injury just added another layer of interest. Yet, during my first year of medical school I fell in love with the complexity, challenge and seemingly endless unanswered questions of the inner workings of the immune system. My work in heart transplantation and dendritic cells was somewhat serendipitous after a final lab rotation, and the rest is history.
Tell me about the Disability Advocacy Coalition in Medicine, and how you got involved in this organization.
The Disability Advocacy Coalition in Medicine, also known as DAC Med, was started by two of my medical student colleagues (Elizabeth Adams and Trisha Kaudinya) whom I now consider close friends. They had reached out to me in the early phases of DAC Med's inception as I had done some work in disability advocacy in medicine during my pre-clinical years and it has been my honor and privilege to remain involved. We're currently planning our second annual national (virtual) conference and have seven additional DAC Med chapters at other schools across the country, and the organization is not even two years old!
Ultimately, DAC Med seeks to combat ableism and create a culture of disability inclusion in medicine, whether that's through teaching how to be a culturally competent provider for patients with disabilities or supporting current and future providers with disabilities. I think one of the coolest aspects of DAC Med is that it's interprofessional, meaning we engage with students in a variety of health professional programs including occupational therapy, physical therapy, audiology, orthotist, prosthetist and even speech therapy. Care for patients, especially patients with disabilities, requires communication and collaboration across multiple disciplines, so I love that we model that within the DAC Med organization.
What has been your most rewarding experience at Feinberg?
Honestly, it's really hard to choose just one experience. I think in this moment reflecting on the past five, practically six, years it's realizing just how much I've grown not only as a student of medicine, but as a scientist, an advocate and as a person. The Feinberg community of classmates, faculty, and mentors have been profoundly important in supporting me as I've pursued my passions and recognizing where I started (in skills, knowledge, etc.) and realizing where I'm at is pretty cool. Granted, I know I have a lot more to learn, which is exciting in and of itself!
You recently won the 2022 Bank of America Shamrock Shuffle Wheelchair Division —what was that experience like?
Oh goodness, so I got into running while I was in college as a stress reliver and was heartbroken after my spinal cord injury thinking I wouldn't be able to race again. But lo and behold, I was very mistaken as I was introduced to adaptive sport and wheelchair racing which ultimately played a big role in my recovery and is currently one of my favorite things to do. There's nothing quite like the adrenaline that comes with flying down the streets of Chicago, especially when those streets are ones you've come to know and love. I prefer long distance races (I'm actually training for Chicago Marathon now), but the shuffle was the first race I did when I moved to Chicago so every year holds a special place in my heart. All that to say, it was a whole lot of fun.
What advice would you give to prospective medical and/or MSTP students?
I would say to not be afraid to continue to pursue your passions, even and especially if they don't feel directly related to medicine or science (because they probably actually are). I love how the MD/PhD program has taught me to think critically and ask questions in a different and better way – there's always something to learn, a way it can be improved, and someone to share that knowledge with. Being able to apply these skills not only to my scientific lab work but also my desire to knock down barriers and increase access and inclusion of persons with disabilities has been fulfilling in ways I can't even describe.