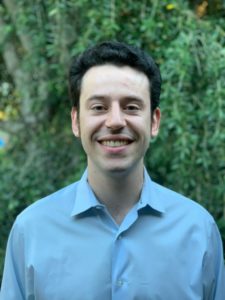 Stas Fridland is a rising third-year medical student at Feinberg. Originally from San Francisco, Fridland completed his undergraduate studies at the University of California, Santa Cruz, where he majored in biomolecular engineering.
For his Area of Scholarly Concentration (AOSC) project — an intensive independent research project each medical student at Feinberg completes during their second-year — Fridland examined correlations between intratumor heterogeneity and patient candidacy for immunotherapy in squamous cell lung carcinoma, a type of lung cancer commonly caused by smoking.
Read a Q&A with Fridland below.
Why did you choose Feinberg?
Listen to Fridland below:
When I was on the interview trail applying to a medical school, I got introduced to many fantastic institutions with prolific faculty, endless resources and incredible accomplishments. But, it was the supportive community at Feinberg that really made it stand out. The medical career path is not an easy one, and anyone who decides to pursue medicine is going to encounter challenges and obstacles at some point. So, it was important to me that the medical school I chose would provide support and guidance during my most challenging times. Two years in, I know that I made the right choice.
What are your research and clinical interests?
My research interests began when I was an undergrad. I went to UC Santa Cruz and studied biomolecular engineering, and the program is very genomics, genetics and sequencing heavy. I think that stemmed from the fact that UC Santa Cruz was really proud of its contribution to the Human Genome Project. That really permeated throughout all the courses I took, and I got to see the value of sequencing. After graduating, I worked for a few biotech companies, and I got to use a lot of the sequencing techniques I learned in college to contribute to the development of future therapies. I was then able to see how the data coming out of my experiments affected pre-clinical decision-making.
Coming into medical school, I wanted to learn as much as I could about the ways that this sort of data can impact decision-making in the clinic. I fully expect that sequencing is going to continue being used in the medical field. It's only going to become cheaper, more information rich and more integrated in clinical decision making, and I want to be a part of that. I want to be able to use this rich trove of data to make more accurate, effective and personalized decisions.
Tell me more about your AOSC project.
For my project, I studied the relationship between genetic diversity present within solid tumors and clinical outcomes. Previous work had showed that genetically diverse tumors are able to resist treatment more often than homogeneous tumors. I worked with a publicly available dataset through The Cancer Genome Atlas, and I found that this isn't always the case and that in some cancer subtypes — like squamous cell lung carcinoma — the opposite is true.
It was an interesting finding, but not that surprising given that cancer as a whole is a very diverse disease. As we get more data and more information about the type of cancer that any given patient has, we can come up with treatments that are more specific and more effective. We need to transition from general to subtype-specific observations.
Any next steps for your research?
With what I've learned, I'd like to move on to looking at the role of these molecular biomarkers in tracking treatment response. I think that in the not too distant future they are going to be a lot more readily used — almost as often as routine blood work is used today.
Currently, patients are put on a treatment regimen and over a period of several weeks they move through that regimen, and only at the end of this period will they be evaluated for treatment response. I think that if you can evaluate patients sooner, you can intervene sooner in the cases where patients aren't responding to treatment. You can save them precious time and spare them the horrible side effects that many cancer treatments cause. I think using molecular biomarkers can really help identify patients who will respond sooner, better and to more specific treatments.
What advice would you give to prospective medical students?
Having taken time off before coming to medical school, I was much more comfortable approaching faculty. I was also more comfortable with expressing my interests since I'd had the time to explore and solidify them. My advice would be: Don't be afraid to reach out to PIs, mentors or doctors who are working on things that you're interested in. In my case, I was lucky to find a PI who enabled me, gave me projects and fed my curiosity.