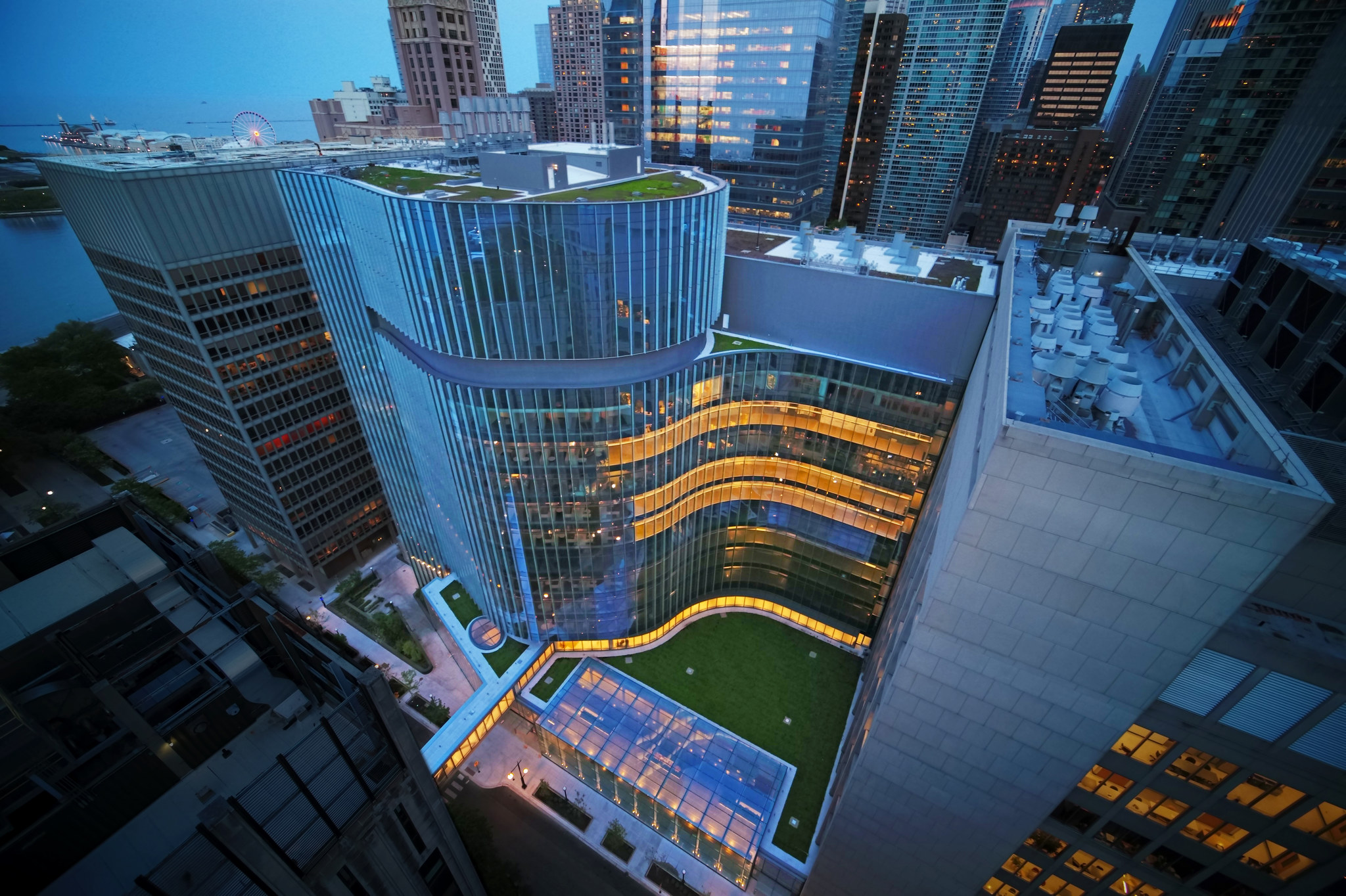 Northwestern University Feinberg School of Medicine experienced a year of exceptional growth, perseverance and collaboration. From a notable year of honors and awards to unprecedented research discoveries, the medical school has yet again charted a course that demonstrates its stature as a world-class academic medical center. Feinberg received more than $610 million in research funding and awards in 2021, representing 68 percent of all research dollars at Northwestern University, and rose to 15th in the U.S. News & World Report rankings of best medical schools. Northwestern was also selected as the new home for the Journal of Clinical Investigation, and Elizabeth McNally, MD, PhD, to be the journal's next editor-in-chief.
As the COVID-19 pandemic continued into its second full year, Feinberg faculty, staff, and students have worked tirelessly to adapt and adjust to the unpredictable, all while advancing the state of the art in understanding the disease, its impact, and its treatments.
Exceptional students continue to be attracted to Feinberg, leading to one of the most distinguished class of incoming medical students in the school's history. Securing full eight-year accreditation by the Liaison Committee of Medical Education (LCME) this year also represented the successful culmination of a two-year process that assessed every aspect of the medical school's education programs.
Northwestern University investigators have developed a new injectable therapy that harnesses "dancing molecules" to reverse paralysis and repair tissue after severe spinal cord injuries. In the new study, published in Science, investigators administered a single injection to tissues surrounding the spinal cords of paralyzed mice. Just four weeks later, the animals regained the ability to walk.

---

Herpes type 1 is sealed with a kiss for a lifetime. More than half of U.S. adults are carriers of HSV1 (herpes simplex virus type 1) which hibernates in the peripheral nervous system and can never be eradicated. A new Northwestern Medicine study published in Nature has uncovered the virus's sneaky strategy for infecting the nervous system, opening a path to long-needed vaccine development for both HSV1 and its close sibling HSV2.

---

team of investigators has discovered that the underexpression of a specific metabolic enzyme is a common and adverse epigenetic modulating feature in clear cell renal cell carcinoma (ccRCC), according to a recent study published in Proceedings of the National Academy of Sciences. The findings demonstrate that functional deficiency of the enzyme, succinate dehydrogenase (SDH), is a common feature of ccRCC, which accounts for 80 percent of all kidney cancers, and is not just limited to .05 to .5 percent of kidney cancers with SDH germline mutations, as currently classified by the World Health Organization (WHO).

---

T-cells respond to buildups of alpha-synuclein, the aggregated protein clumps that are a feature of neurodegenerative diseases including dementia with Lewy bodies and Parkinson's disease (PD), according to a Northwestern Medicine study published in Science. This autoimmune response proves harmful, and inhibiting signaling pathways that trigger the response may represent a future therapeutic target, according to David Gate, PhD, assistant professor in the Ken and Ruth Davee Department of Neurology and lead author of the study.

---

A novel combination treatment may increase the ability of monoclonal antibodies to control viral infection in patients diagnosed with HIV, according to a Northwestern Medicine study published in Science Translational Medicine. "This really demonstrates that that we should combine broadly neutralizing antibodies with other immunostimulatory agents, especially those that may impact immune response. If we want to use broadly neutralizing antibodies to cure, we need to find the right combination," said Elena Martinelli, PhD, MPH, research professor of Cell and Developmental Biology and senior author of the study.

---

Northwestern Medicine scientists have developed an antibody that they believe can be used to treat muscular dystrophy, findings that were published in Science Translational Medicine. "We believe this can become a therapy for muscular dystrophy, including the many different forms of muscular dystrophy," said senior study author Elizabeth McNally, MD, PhD, director of the Center for Genetic Medicine and the Elizabeth J. Ward Professor of Genetic Medicine. "Given the success with so many other antibodies in treating chronic human diseases like rheumatoid arthritis and psoriasis, we are very optimistic this antibody can translate into the human disease setting."

---

Northwestern Medicine investigators have discovered that a subset of proteins in mitochondria of brain and heart cells are long-lived, supporting the long-term stability of mitochondrial complex architecture. The study, published in the Journal of Cell Biology, was led by Jeffrey Savas, PhD, assistant professor in the Ken & Ruth Davee Department of Neurology's Division of Behavioral Neurology, of Medicine the in Division of Nephrology and Hypertension, and of Pharmacology.

---

Inefficient cardiac repair after heart attacks is partially driven by a maladapted response to a low oxygen environment by immune cells, according to a Northwestern Medicine study published in the Journal of Experimental Medicine. Inhibiting this pathway could be one way to promote better heart repair after heart attack, according to Edward Thorp, PhD, associate professor of Pathology in the Division of Experimental Pathology and senior author of the study.

---

A novel therapy engineered by Northwestern Medicine investigators improved progression-free and overall survival for patients with newly diagnosed malignant gliomas, according to results from a recent phase I clinical trial published in The Lancet Oncology. In the study, investigators evaluated the safety of a novel therapy called NSC-CRAd-S-pk7 in patients newly diagnosed with malignant gliomas. NSC-CRAd-S-pk7 is an oncolytic adenovirus delivered by neural stem cells, or progenitor cells from the central nervous system that cross the blood-brain barrier to deliver therapeutic molecules to cancer cells.

---

Inhibiting a specific protein complex in SARS-CoV-2, the virus that causes COVID-19, may be a promising therapeutic target for treating the disease, according to a Northwestern Medicine study published in Proceedings of the National Academy of Sciences (PNAS). Similar to other RNA viruses, the genome of the SARS-CoV-2 contains a "capping" modification which stabilizes and improves viral translation as well as protects the virus from degradation by the host's immune system and allows it to proliferate.

---

Scientists have long known the brain's hippocampus is crucial for long-term memory. Now a new Northwestern Medicine study published in Science Advances has found the hippocampus also plays a role in short-term memory and helps guide decision-making. The findings shed light on how the hippocampus contributes to memory and exploration, potentially leading to therapies that restore hippocampal function, which is impacted in memory-related aging and neurodegenerative diseases such as dementia, the study authors said.

---

Northwestern Medicine studies published in Nature Cell Biology and Molecular Cell are improving the understanding of epigenetic mechanisms in cancer development and progression, as well as pinpointing genes that drive the development of cancers, which may help identify patients who will benefit from immunotherapy. The research was led by Qi Cao, PhD, associate professor of Urology and a member of the Robert H. Lurie Comprehensive Cancer Center of Northwestern University.

---

Itch is a hard symptom to measure — particularly for the 10 million U.S. children with atopic dermatitis, also known as eczema. They can't always verbalize or quantify their suffering via a survey or scale. But now there is a soft, wearable sensor that actually quantifies itch by measuring scratching when placed on the hand developed by Northwestern University scientists, and published in Science Advances. While it was tested in patients with atopic dermatitis, it can be used in any condition that causes itch. The novel sensor can support clinical trials for new treatments, track treatment response and monitor for disease worsening — all in the home setting.

---

The failure of lung epithelial cells to complete transition from a stem cell-like state into a fully differentiated state causes lung fibrosis, according to a Northwestern Medicine study published in Proceedings of the National Academy of the Sciences (PNAS). Administering a small molecule to mice with lung fibrosis helped complete this cellular transition in both young and old mice, suggesting it could become part of therapy in the future, according to Alexander Misharin, MD, PhD, assistant professor of Medicine in the Division of Pulmonary and Critical Care and co-senior author of the study.

---

A Northwestern University-led team of scientists has developed a novel skin-mounted sticker that absorbs sweat and then changes color to provide an accurate, easy-to-read diagnosis of cystic fibrosis within minutes, according to a study published in Science Translational Medicine. While measuring chloride levels in sweat to diagnose cystic fibrosis is standard, the soft, flexible, skin-like "sweat sticker" offers a stark contrast to current diagnostic technologies, which require a rigid, bulky, wrist-strapped device to collect sweat.

---

Mitochondria play a key role in the formation of the lymphatic vasculature, according to a study published in Science Advances. The organelle controls a key autoregulatory feedback loop operating during lymphatic endothelial cell (LEC) fate specification, sensing LECs' metabolic needs and local tissue environment. This mechanism may be present in other organ systems as well, according to Guillermo Oliver, PhD, the Thomas D. Spies Professor of Lymphatic Metabolism and senior author of the study.

---

An age-related accumulation of a signaling molecule may be one culprit behind older adults' vulnerability to viral pneumonias, according to a Northwestern Medicine study published in the Journal of Clinical Investigation. The molecule, called hyaluronan, caused macrophages in the lung to become "older," decreasing the immune cells' proliferation in response to infection. Lowering levels of hyaluronan could reverse this phenomenon and merits more study, according to Scott Budinger, MD, the Ernest S. Bazley Professor of Airway Diseases, chief of Pulmonary and Critical Care in the Department of Medicine and co-senior author of the study.

---

An early clinical trial in individuals with the deadly brain cancer, glioblastoma, showed an experimental spherical nucleic acid (SNA) drug developed by Northwestern University scientists was able to penetrate the blood-brain barrier and trigger the death of tumor cells. This study, published in Science Translational Medicine, is the first time a nanotherapeutic has been shown to cross the blood-brain barrier when given through intravenous infusion and alter the genetic machinery of a tumor to cause cell death. The drug crossed the blood-brain barrier, dialed down the level of a cancer-causing gene and promoted tumor cell death.

---

Blocking enzyme methylation, which helps brain tumor cells proliferate by promoting cell mitosis, could improve cancer therapies, according to a Northwestern Medicine study published in Molecular Cell. The findings suggest that a drug blocking this pathway could be combined with other brain tumor treatments to increase their effectiveness, according to Shi-Yuan Cheng, PhD, professor in the Ken and Ruth Davee Department of Neurology Division of Neuro-Oncology and senior author of the study.

---

Bacteria or viruses like influenza that cause pneumonia can spread across large regions of the lung within hours. In the modern intensive care unit, these bacteria or viruses are usually controlled either by antibiotics or by the body's immune system within the first few days of the illness. But in a study published in Nature, Northwestern Medicine investigators have shown how COVID-19 pneumonia is different.

---

Homer1, a protein that's important for neural plasticity and learning, is part of a large network of proteins in the brain that help ensure new connections are wired correctly, according to a Northwestern Medicine study published in Molecular Psychiatry. These findings are good news for scientists searching for treatments for psychiatric disorders, according to Peter Penzes, PhD, the Ruth and Evelyn Dunbar Professor of Psychiatry and Behavioral Sciences, professor of Physiology and Pharmacology, and senior author of the study.

---

A novel wireless device may improve real-time monitoring of blood flow and oxygenation in the brain for neonatal and pediatric patients, according to a Northwestern Medicine study published in Proceedings of the National Academy of Sciences (PNAS). Flexible, soft and no larger than a band-aid, the innovative device was developed by a multi-disciplinary team of investigators led by John Rogers, PhD, the Louis Simpson and Kimberly Querrey Professor of Materials Science and Engineering, Biomedical Engineering, and Neurological Surgery.

In October 2021, Northwestern University Feinberg School of Medicine received a full eight-year accreditation by the Liaison Committee of Medical Education (LCME), the nationally recognized accrediting authority for medical education programs leading to the MD degree in the United States. The recent accreditation efforts culminated a two-year reaccreditation process that began in the summer of 2019 and included a comprehensive self-assessment of Feinberg's performance across the LCME's 12 overarching standards and 93 elements, an independent student survey and a virtual site visit in April 2021.

---

After more than a year and a half of upheaval caused by the COVID-19 pandemic, which led to a significant restructuring of medical education, critical lessons learned from the experience were shared at Feinberg's 11th annual Medical Education Day, held Friday, October 8. The pandemic led to several significant adaptations to the delivery of medical education. The restrictions forced didactic educators to quickly adapt curricula for remote learning, and clinical educators to incorporate distancing and masking requirements into clinical education. Now, as vaccines have made in-person education viable again, lessons learned during the pandemic may forever change medical education, making it more flexible and accessible than ever before.

---

PhD students from around the world recently arrived on the Chicago campus to join the Driskill Graduate Program in Life Sciences (DGP), Northwestern University Interdepartmental Neuroscience (NUIN) program, Medical Scientist Training Program (MSTP), Clinical Psychology PhD Program and Health Sciences Integrated PhD Program (HSIP).

---

Senior medical students and residents joined together to learn about and practice advanced physical diagnosis skills during a recent workshop on September 15. The workshop was led by Shivani Patel, MBBS, MS, a health system clinician in Pediatrics in the Division of Cardiology, and a pediatric cardiologist at Ann & Robert H. Lurie Children's Hospital. The workshop is part of a series of advanced physical diagnosis workshops organized by the Augusta Webster, MD, Office of Medical Education (AWOME) in partnership with the graduate medical education programs of the McGaw Medical Center of Northwestern University.

---

On September 10, the 36 new students in Feinberg's Physician Assistant Program Class of 2023 received their white coats during an official ceremony held in the Hughes Auditorium.  

---

As part of their recent Introduction to the Profession Module, first-year medical students had the opportunity to shadow Northwestern Memorial Hospital healthcare professionals. The program, now in it's ninth year, gives new medical students first-hand exposure to clinical settings while observing a variety of long-serving medical staff. "The focused hospital experience is an afternoon activity where students are matched with healthcare professionals of all backgrounds at Northwestern Memorial Hospital. It's an integral part of Introduction to Profession week where students begin to see the importance of teamwork and interdisciplinary care at Northwestern Medicine," said Joshua Hauser, MD, associate professor of Medicine in the Division of Hospital Medicine, who led the module.

---

The annual Founders' Day ceremony this year welcomed first- and second-year medical students to campus. The celebration, held on August 6, honors Feinberg's founders and marks the official start of the academic year. The event celebrates the 162 new members of the Class of 2025, who celebrated the occasion with their families and the second-year medical students who presented the incoming class with their white coats. Because last years' Founders' Day event was cancelled due to the COVID-19 pandemic, the Class of 2024 was also honored and given a chance to put on their white coats for the first time together.

---

Feinberg's 162nd commencement ceremony was held virtually on May 24 to accommodate public health measures in place due to the COVID-19 pandemic. Eric G. Neilson, MD, vice president for Medical Affairs and the Lewis Landsberg Dean, introduced the ceremony and welcomed graduating medical students, faculty and family and friends of students to the virtual ceremony. "You're entering a brave new world of managing priorities, a world where keeping people as healthy as we can becomes a collective responsibility of science and the medical profession," Neilson said.

---

Fourth-year medical students were honored for their clinical and academic achievements at a virtual Graduate Recognition Ceremony on May 21. The ceremony opened with remarks from Sandra Sanguino, '93 MD, MPH, '96, '97, GME, senior associate dean for Medical Education, who welcomed faculty and graduating students to the event. "The resilience, care and compassion this class has demonstrated during these challenging times has truly been inspirational," Sanguino said.

---

Despite changes necessitated by the COVID-19 pandemic, several Northwestern Medicine pipeline programs have continued to thrive, helping young people from communities traditionally underrepresented in medicine to learn about and get valuable experience in health and medicine. Including Northwestern Medicine Scholars, NU Docs and the Health Professions Recruitment and Exposure Program (HPREP), these programs have remained popular and are an important element in the medical school's commitment to building and supporting a diverse healthcare workforce.

---

With the nationwide COVID-19 vaccination effort underway, many of Feinberg's medical students have volunteered to help administer vaccines to patients at Northwestern Medicine healthcare sites across Chicago.

---

Feinberg faculty, residents and students recently participated in the Student National Medical Association's (SNMA) Annual Medical Education Conference, a cornerstone gathering for current and future medical students from minority populations traditionally underrepresented in medicine. The Northwestern team was coordinated and led by Linda Suleiman, MD, assistant dean of medical education and director of Diversity and Inclusion at the McGaw Medical Center of Northwestern University.

---

Admitted students recently attended virtual Second Look, a month-long series of online informational sessions about the medical school's curriculum and community and opportunities to speak with current students and faculty. This year's event, hosted annually by the Office of Admissions, was held virtually from March 12 to April 9 due to the ongoing COVID-19 pandemic.

---

On Friday, March 19, fourth-year students eagerly monitored their email inboxes to learn about the next step on their medical journey. On Match Day, an annual tradition held on the third Friday of March, all fourth-year medical students across the country learn — at the exact same time — where they will train as residents for the next three to seven years. Students viewed their match online and celebrated virtually, following public health measures restricting public gatherings due to the COVID-19 pandemic.

---

An ordinary night of picking up takeout for dinner took an unexpected turn for Alyssa Martinez, a second-year student in the Doctor of Physical Therapy (DPT) program, when she put her newly acquired medical skills to use to help save a man's life.

---

Northwestern University Feinberg School of Medicine has been selected to serve as the home of the Journal of Clinical Investigation (JCI) for its next five-year term, and Elizabeth McNally, MD, PhD, the Elizabeth J. Ward Professor of Genetic Medicine and director of the Center for Genetic Medicine, has been elected as the journal's next editor-in-chief. She will be the first woman to hold the title of editor-in-chief in JCI's nearly 100-year history.

---

Northwestern University Feinberg School of Medicine has been recognized as one of the best research-oriented medical schools in the nation, rising three spots to rank an all-time high of 15th, according to the latest U.S. News & World Report rankings. This is the 14th year in a row Feinberg has placed in the top 20 of research-oriented medical schools, and several departments ranked highly among the specialty-specific rankings.

---

Susan Quaggin, MD, the Charles H. Mayo, MD, Professor and chief of Nephrology and Hypertension in the Department of Medicine, has been elected as a fellow of the National Academy of Inventors (NAI). She joins the academy's roster of fellows selected for prolific innovations that have made an impact on the quality of life, economic development or welfare of society.

---

Northwestern University Feinberg School of Medicine has been awarded a grant from the Walder Foundation via the COVID-19 Fund to Retain Clinical Scientists (FRCS) competition, designed to support policies and practices at U.S. medical schools to advance research productivity and retain early-career clinician investigators experiencing family caregiving challenges due to the COVID-19 pandemic.

---

Satish N. Nadig, MD, PhD, the P.K. Baliga, MD, Chair in Solid Organ Transplantation, and director of the living donor and pediatric transplantation programs at the Medical University of South Carolina (MUSC), has been named the Edward G. Elcock Professor of Surgical Research and chief of Organ Transplantation in the Department of Surgery at Northwestern University Feinberg School of Medicine.

---

Elizabeth McNally, MD, PhD, the Elizabeth J. Ward Professor of Genetic Medicine; Melissa Simon, MD, MPH, the George H. Gardner, MD, Professor of Clinical Gynecology; and Guillermo Ameer, ScD, the Daniel Hale Williams Professor of Biomedical Engineering at the McCormick School of Engineering and professor of Surgery in the Division of Vascular Surgery, have been elected to the National Academy of Medicine (NAM).

---

Deborah Smith Clements, MD, the Nancy and Warren Furey Professor and chair of Family and Community Medicine, and professor of Medical Education, has received the Illinois Academy of Family Physician's (IAFP) Distinguished Service Award. The award is bestowed only occasionally, recognizing lifetime contributions to the specialty of family medicine.

---

Yvette Wong, PhD, assistant professor in the Ken and Ruth Davee Department of Neurology's Division of Movement Disorders, has received the National Institutes of Health (NIH) Director's New Innovator Award. The award supports early-career investigators conducting unconventional and innovative research projects in the biomedical, behavioral or social sciences.

---

D. James Surmeier, PhD, the chair and Nathan Smith Davis Professor of Neuroscience, has been named the winner of the 2021 Tripartite Legacy Faculty Prize in Translational Science and Education. The Tripartite Legacy Faculty Prize is given annually to a faculty member who has demonstrated excellence in research that emphasizes translational approaches, teaching and mentoring, and leadership. The award is sponsored and supported by the Office of the Dean and is made possible through the generous support of family members and friends of Geoffrey Kent, MD, PhD.

---

Northwestern University Trustees and alumni Patrick G. Ryan and Shirley W. Ryan have made a historic gift to name and endow the Robert J. Havey, MD Institute for Global Health at Northwestern University Feinberg School of Medicine. The Ryans' gift will ensure that the institute has resources in perpetuity to improve the health of billions of people in low- and middle-income countries worldwide.

---

Northwestern Medicine physician-scientist Amy Heimberger, MD, the Jean Malnati Miller Professor of Brain Tumor Research, was named by President Biden to the National Cancer Advisory Board, which plays an important role in guiding the director of the National Cancer Institute (NCI) in setting the course for the national cancer research program. She is one of seven clinicians and researchers named to the prestigious board.

---

Stephanie Eisenbarth, MD, PhD, the associate chair of research in the Department of Laboratory Medicine and assistant director of the Clinical Pathology Residency Program at Yale University, has been named chief of Feinberg's Division of Allergy and Immunology in the Department of Medicine and director of the newly formed Center for Human Immunobiology, effective January 2022.

---

Sachin Patel, MD, PhD, the James G. Blakemore Professor of Psychiatry and Behavioral Sciences and director of the Division of General Psychiatry at Vanderbilt University Medical Center, has been named chair and Lizzie Gilman Professor of Psychiatry and Behavioral Services at Northwestern University Feinberg School of Medicine, and psychiatrist-in-chief at Northwestern Memorial Hospital's Norman and Ida Stone Institute of Psychiatry, effective January 2022.

---

Several Northwestern Medicine hospitals have been recognized by U.S. News & World Report in its 2021-22 Best Hospitals rankings. Northwestern Memorial Hospital has again been recognized as one of the top hospitals in the country, ranking 10th on the prestigious Best Hospitals Honor Roll, the only hospital in Illinois to receive top-ten honors.

---

Donald Lloyd-Jones, MD, ScM, the Eileen M. Foell Professor and chair of Preventive Medicine, is the newly elected president of the American Heart Association (AHA). Lloyd-Jones is the fourth Feinberg faculty to ascend to the helm of the AHA, along with Clyde Yancy, MD, MSc, the Magerstadt Professor and vice dean for Diversity and Inclusion, Robert Bonow, MD, the Max and Lilly Goldberg Distinguished Professor of Cardiology and the late Oglesby Paul, MD.

---

The Institute for Global Health (IGH) has established the Center for Pathogen Genomics and Microbial Evolution (CPGME), which will apply lessons learned during the COVID-19 pandemic to the tracking and prevention of future threats, as well as investigate the ongoing problem of antibiotic-resistant infections. Egon Ozer, MD, PhD, '08 '12 GME, assistant professor of Medicine in the Division of Infectious Diseases and director of the new center, said that understanding the genomics of pathogens is just as important as studying the genomics of humans in preventing disease.

---

Three members of the Feinberg faculty have been elected members of the American Academy of Arts and Sciences, one of the nation's oldest and most prestigious honorary societies: Elizabeth M McNally, MD, PhD, Thomas McDade, PhD, and Catherine Woolley, PhD, are among this year's class of more than 250 artists, scholars, scientists and leaders in the public, non-profit and private sectors.

---

Diane B. Wayne, '91 MD, the Dr. John Sherman Appleman Professor of Medical Education and professor of Medicine in the Division of General Medicine and Geriatrics, has been selected to receive the 2021 SGIM Career Achievements in Medical Education Award, from the Society of General Internal Medicine (SGIM) for their lifetime contributions to medical education and research.

---

Several Feinberg faculty members have been elected to two prominent medical societies: the American Society for Clinical Investigation (ASCI) and the Association of American Physicians (AAP). Peng Ji, MD, PhD, '15 '17 GME, associate professor of Pathology in the Divisions of Experimental Pathology and Hematopathology, and Jaehyuk Choi, MD, PhD, the Ruth K. Freinkel, MD, Research Professor, have been elected to the ASCI. Scott Budinger, MD, the Ernest S. Bazley Professor of Airway Diseases and chief of Pulmonary and Critical Care in the Department of Medicine, William A. Muller, MD, PhD, the Janardan K. Reddy, MD Professor of Pathology, and Dimitri Krainc, MD, PhD, chair and Aaron Montgomery Ward Professor of Neurology, were elected to the AAP.

---

In 1946, after the end of World War II, Paul Magnuson, MD, then chair of the Department of Bone and Joint Surgery at Northwestern's medical school, came up with a novel idea that forever changed American medicine. To help the thousands of wounded U.S. service men and women who returned home to heal just as the Veterans Administration was in the midst of a doctor shortage, Magnuson proposed a bold plan: Staff VA hospitals with medical school faculty and resident trainees. Thus, academic affiliations were born, and this year, Northwestern, the Veterans Health Administration and medical schools across the country are marking 75 years of partnership.

---

Susan Quaggin, MD, the Charles H. Mayo, MD, Professor and chief of Nephrology and Hypertension in the Department of Medicine, has been elected president of the American Society of Nephrology (ASN).

---