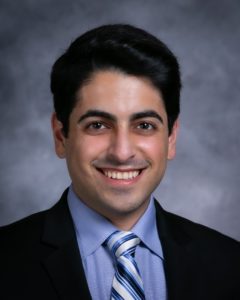 Hooman Azad, a student in the MD/MPH degree program, has been awarded a 2021 Excellence in Public Health Award from the U.S. Public Health Service.
This national award is given to medical students who are public health champions advancing the U.S. Public Health Service mission to "protect, promote and advance the health and safety of our nation" and who are helping address public health issues in their community. Since 2012, the award has been given by the U.S. Public Health Service to visionary medical students nationally who are advancing initiatives to improve social justice.
Throughout his medical school and public health training, Azad has focused his clinical and research efforts on projects that have significant public health implications.
"As the director of the dual MD/MPH degree program at Northwestern University, I have witnessed firsthand how Hooman has successfully and tirelessly committed himself to advancing the public health priorities defined in both Healthy People 2030 and the National Prevention Strategy through research, applied public health work and voluntary clinical commitments," said Mita Goel, MD MPH, associate professor of Medicine in the Division of General Internal Medicine and Geriatrics.
"His impact has far exceeded that of many faculty, as he has disseminated his findings through peer-reviewed research, scientific presentations, and community-based presentations on topics including injury and violence prevention, impact of COVID-19 on pregnant women, best practices for health promotion programming. Beyond his formal public health activities, Hooman has also demonstrated his commitment to improving the health of the communities where he lives and works through his service work at Community Health and Feinberg's Committee for Justice and Equity," said Goel, who is also the director of Population Health and Equity Education at Feinberg.
Azad became interested in violence prevention and accident prevention during a summer course on pediatric injury prevention and was the first author in a study on negligence laws and firearms deaths in children.
"I became interested in the topic of firearm violence; it was an important public health crisis where research helps guide policy, and where policy creation is active and in need of scientific exploration," Azad said. "Especially in the past several years, there has been significantly more interest in firearm violence research, and I wanted to explore the topic in a way that would be meaningful, from both research and policy perspectives."
---
Listen to the Breakthroughs podcast to hear more about Azad's research into reducing firearm deaths in children:
---
"It was truly the highest honor to be recognized by the United States Public Health Services for my work in public health," Azad said. "Throughout my time at Northwestern, I have always aimed to complete research, extracurricular activities, and curricular work that incorporate public health and the impacts of structural biases on healthcare. Hearing about my nomination for the award came as a great surprise – I had not expected to get this award, and it was very validating to see that my education and work over the past 4 years has had some level of impact."
After graduating in May, Azad will pursue his residency at Columbia University to train in Obstetrics and Gynecology.
"I hope to continue my work, both in firearm violence prevention and in public health research, as I train at Columbia for my residency and during my career," he said.
Read a Q&A with Azad below.
Where are you from, and where did you complete your undergraduate studies?
I grew up in the Washington, D.C., area, and spent most of my childhood in Northern Virginia. I went to Duke for my undergraduate studies, where I completed a degree in biophysics while preparing for medical school. Outside of school, I spent a lot of time exploring acting and singing — both as hobbies, and as ways to share other people's stories in a compelling manner.
What led you to pursue a dual MD/MPH degree?
When I came to Northwestern, the opportunity to complete an MD/MPH degree seemed like a great way to round out my clinical education. To me, while there is great value in scientific advances, one of the things that has plagued the field of medicine is the ability to share those advances with all people in our country — especially those without consistent access to healthcare. As an example, while insulin is a lifesaving drug for people with diabetes, the inability to access insulin for many people significantly diminishes its usefulness. As a future medical practitioner, I wanted to feel confident not only in the science of medicine, but also in the policies, structures and business in the medical field which are so critical in ensuring widespread access to high-quality healthcare.
What led you to choose Obstetrics and Gynecology as your specialty?
My decision to pursue Obstetrics and Gynecology is really three-fold. First, I had that "moment" during my third-year rotation, when I realized that I didn't think I would be happy doing anything but OB/GYN. But past that, OB/GYN offers the opportunity to develop long-term relationships with patients — and to share life-changing moments with your patients – most happy, but some devastating. I think the third thing that I really value about OB/GYN are the myriad opportunities for public health work. Whether it is abortion care, intimate partner violence prevention, or access to contraception, being an OB/GYN in many ways requires its practitioners to be knowledgeable about and engaged in public health work.
What are your career goals beyond residency?
I'm still very open in terms of what I want to pursue within OB/GYN. I have enjoyed everything I have done in OB/GYN, and I love the idea of being a generalist. At the same time, there are several subspecialties that are incredibly important and would be exciting fields to train in. Regardless of specific clinical specialty, I know that I want my career to encompass both education and public health work. I hope to remain in an academic medical center — working with medical students and others to help disseminate new and exciting changes in the field of OB/GYN. As a public health practitioner, I hope to use both research and advocacy to effect policy which helps improve the health of all people.
How did your experience at Feinberg prepare you for your journey in both medicine and public health?
Feinberg's medical school curriculum is thorough in all fields of medicine, with a strong focus on public health. As an M1 and M2, I learned the building blocks of both medicine and public health, and as an M3 and M4, I was able to put this into action, being encouraged to advocate for my patients on a day-to-day basis while pursuing research and other interests.
What has been your most rewarding experience as a student at Feinberg?
I think my most rewarding experience as a student at Feinberg has been Off the Record. This was a theatrical program that I developed with one of my colleagues to share narratives about life experiences. Our goal was to give voice to stories that often go unheard – like intimate experiences with racism and sexism, or devastating medical diagnoses. We collected these stories anonymously from our peers at Northwestern and acted them out on stage. I think this gave the opportunity both to share important experiences of people close to us (while protecting their identities) and to support each other through difficult situations. This was a space for learning and discussion as well, with our audience hearing, at times, very personal stories about grief and loss. I am reminded constantly on rotations of the importance of these stories in empathizing with patients and advocating on their behalf.
What advice would you give to your peers who are interested in pursuing public health research?
I think my first piece of advice would be to find something you are interested in and just ask, ask, ask. Opportunities for research are plentiful, and enthusiasm and preparedness can go a long way. In terms of deciding interests, classes can help explore, as can talking to advisors and trusted mentors. When in doubt, I think that asking for guidance early is helpful in achieving the goal of completing public health research. There are plenty of different ways to do it, and the experience is both educational for you, and helpful to the researcher to get more of your collective work published!