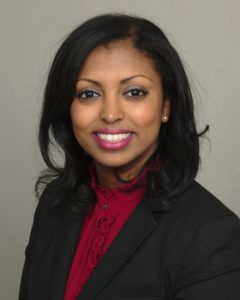 Feinberg faculty, residents and students recently participated in the Student National Medical Association's (SNMA) Annual Medical Education Conference, a cornerstone gathering for current and future medical students from minority populations traditionally underrepresented in medicine. The Northwestern team was coordinated and led by Linda Suleiman, MD, assistant dean of medical education and director of Diversity and Inclusion at the McGaw Medical Center of Northwestern University.
The conference, organized around the theme, "Redefining Obstacles as Opportunities to Transcend," was held virtually April 1-4.
Suleiman, who is also an assistant professor of Orthopaedic Surgery, addressed attendees during the opening ceremony, sharing that her personal journey to becoming a resident — and now faculty — at Northwestern was made possible by her involvement with SNMA as a medical student.
"This organization is very near and dear to me," Suleiman said. "We will continue to support SNMA, whether it is virtual or in person."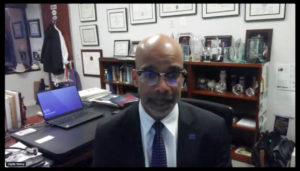 The event celebrated SNMA's 57th year of "diversifying the face of medicine" and honored the organization's late founding member, Alice Gullattee, MD, a pioneering psychiatrist and devoted civil rights activist who was also the first president of SNMA.
The conference covered topics on leadership in healthcare, health policy, health disparities, as well as activism in underserved communities. It addressed the issue that the COVID-19 pandemic has highlighted what has long been known: that social determinants of health and disparities in healthcare impact communities in the U.S. and globally.
In his remarks during the opening plenary, Clyde Yancy, MD, MSc, the Magerstadt Professor and vice dean for Diversity and Inclusion, emphasized the importance of exercising power, privilege and allyship in working toward the greater good in medicine.
"We as physicians, and you as future physicians, must draw on our social status and cultural authority to press for healthcare worker diversity, inclusion and equity," said Yancy, who is also chief of Cardiology in the Department of Medicine.
"Race and racism are the topical themes of your coming of age as a professional, just like they were at my coming of age 50 years ago. You truly represent the next generation of physicians, but more important than that, you represent the next generation of allies. And that is how real diversity happens, when you take your power and your privilege and enable the next person," Yancy said.
Daniel Balcarcel, MD, instructor of Pediatrics in the Division of Advanced General Pediatrics, said that the Ann & Robert H. Lurie Children's Hospital of Chicago and Northwestern's pediatric residency program was fortunate to hold a virtual recruitment session that attracted more than a dozen prospective applicants from across the country. The session facilitated connections and relationships between Northwestern faculty and prospective applicants that he hopes can strengthen Northwestern's community.
"Northwestern's involvement in SNMA demonstrates its commitment to increasing minority representation in medicine and also strengthens our community through relationship-building and increased diversity of perspectives," Balcarcel said.
Balcarcel, a first-time attendee of the conference, also said that he was impressed by the strong sense of community and enthusiasm of everyone he interacted with.
"There was an unbelievable turnout from programs across the country which demonstrated to me the strong push in the medical community to increase representation of people of color in medicine by supporting and fostering medical students," Balcarcel said.
Eseohi Ehimiaghe, MD, a resident in Obstetrics and Gynecology, attended one of the information sessions hosted by Northwestern and said there were excellent opportunities for attendees to ask lots of questions and hear from several people in real time during the panel settings. She added that she also liked that the virtual format allowed the opportunity to attend several sessions and bounce between them.
Salem Argaw, a student in Feinberg's MD/MPH degree program, participated in one of the recruitment chat rooms and said it was a wonderful opportunity for her to share her experience at Feinberg with prospective students.
"It is vital for Northwestern to remain active within such organizations because it offers prospective students access to current students who look like them and come from a similar background," Argaw said. "It allows prospective students to receive candid advice on aspects related to medical school, as well as an opportunity to develop one's network. Similarly, it is an important opportunity for medical students to connect with residency programs and build their network. These venues allow for increased representation making our learning and future work environments better for each of us and for our patients."