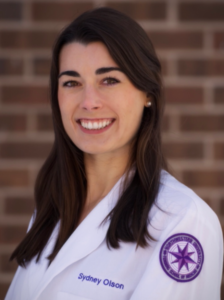 Sydney Olson, a second-year medical student, is originally from Minneapolis and majored in biology with a minor in global health at the University of Wisconsin-Madison. She was also the lead author of a study recently published in JAMA Surgery in which her team utilized a large CT imaging dataset to determine the rate and patterns of growth for abdominal aortic aneurysms.
Her team found that the pattern of growth for 70 percent of patients was linear, which may help clinicians improve care management plans and overall patient outcomes. Olson was also featured in a recent JAMA Surgery podcast episode where she discussed the paper and her team's findings.
Read a Q&A with Olson below.
Why did you choose Feinberg?
I was really drawn to Feinberg because of the heavy research focus, which is something I knew I wanted to be part of my medical school years and my career. Feinberg's Area of Scholarly Concentration (AOSC) program was really appealing since it protects this time and gives medical students all of these resources to encourage research. The Feinberg curriculum is also really conscious about how many hours we're asked to be in the classroom versus how many hours we have for direct patient contact in our early years.
What are your research and clinical interests?
My current research interests focus on improving patient outcomes after surgeries. At Northwestern, I've been working with the Northwestern University Transplant and Outcomes Research Center (NUTORC) under the mentorship of Dr. Daniela Ladner. I was really drawn to NUTORC and Dr. Ladner's work based on the goals of trying to improve the delivery of surgical care with the interest of creating better outcomes and experiences for the patients. I've also done work with the Surgical Outcomes and Quality Improvement Center (SOQIC) under the mentorship of Dr. Mehul Raval.
Tell me more about your recent research paper.
This paper is from my work with the University of Wisconsin. Another benefit I've seen in Feinberg's curriculum is the flexibility, which has allowed me to keep working my job with the University of Wisconsin throughout my medical training. I know at a lot of other medical schools, I wouldn't have the time to do that, but I've been able to keep up my connection to the research group I worked with during my four years of undergrad.
The research that led to the JAMA Surgery paper was conducted through the AortaCore vascular surgery imaging core lab at the University of Wisconsin. We receive CT scans sent in from different clinical sites around the country and around the world to be analyzed at this central imaging core. The research that led to the study on aneurysm growth rates came out of a multi-center randomized clinical trial assessing the ability of doxycycline, a common antibiotic, to slow the growth of abdominal aortic aneurysms. About one million people in the United States have an abdominal aortic aneurysm and we don't have any currently approved medical therapies; it's kind of a "watch and wait" situation and then surgical intervention is indicated once the aneurysm gets too big. Although the doxycycline trial did not show an effect on changing aneurysm growth rates, we were able to collect a huge dataset of patient CT scans.
My project used this dataset of serial CT surveillance of aneurysms over two years to get a better description of what typical aneurysm growth looks like and to use this information to try and inform how often we ask patients to come back to the hospital for imaging, and to manage patient and clinical expectations of typical growth rates and growth patterns.
Why is having such a large imaging dataset important for improving surgical outcomes?
The big picture is that there was a lot of uncertainty around how fast aneurysms grow. If an aneurysm is a certain size, the possibility of it spontaneously rupturing is one of patients' biggest fears. So, this study allowed us to determine the typical growth rate of an aneurysm, which had been reported by other studies but not in a prospectively collected dataset with consistent CT imaging read by a central core lab. Using the CT imaging and having a single person reading thousands of these images made our measurements really rigorous. Based on that, we found that the average growth rate of an aneurysm is 0.19 centimeters per year, which is a small number.
I was particularly involved in characterizing the growth patterns of the aneurysms. There had been this previous expectation that aneurysms grew randomly. To assess this hypothesis, I looked at the 250 patients included in our analysis and was tasked with classifying and describing the individual growth patterns. I think the most exciting finding from the study is that 70 percent of our patients had linear growth, whereas the previous expectation we had is what is called "staccato growth," or intervals of fast growth followed by no growth. But we showed that staccato growth only happens in three percent and exponential growth only occurs in four percent of patients per this dataset and therefore most patients' growth is linear and predictable.
Any next steps?
We still have a ton of work to do with this great dataset, which is exciting. We're currently looking at the volume, the tortuosity and other three-dimensional morphology features of the aneurysm, and seeing if those measurements can be used to also model growth. The clinical trial was able to collect biological specimens from patients, so we're also looking at biomarkers that might correlate with growth rates and patterns. Even though we found very few patients with staccato growth or with really fast growth at all, being able to look at those patients' biomarkers to see if there was something about what's happening in their body that might be associated with high growth intervals could help with monitoring future patients.
What are your plans for after medical school?
I'm definitely interested in some type of surgery. Beyond that, my interests are pretty wide open. This work was done with vascular surgery, my research at Northwestern for my AOSC is in liver transplant surgery, and then some additional research I've done is in pediatric surgery. So, I'm trying to keep exploring different spaces. But so far, I really loved the energy of the operating room and the enthusiasm all the surgeons have for improving outcomes of their patients. I'm excited to keep exploring my options in my third-year rotations!