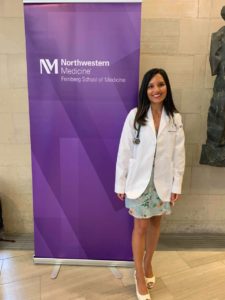 Originally from Germantown Hills, Ill., second-year medical student Mallika Patel says she considers Northwestern her second home. She attended Northwestern for her undergraduate studies, where she was a dual-degree student in flute performance and neuroscience. Since beginning medical school, Patel has continued to pursue her passion for music by performing with other healthcare providers and medical students in the Northwestern Medical Orchestra and the National Virtual Medical Orchestra.
During her time at Feinberg so far, Patel says she has gained valuable clinical exposure and research experience. Last spring and summer, she also had the opportunity to volunteer with the COVID-19 Med Supply Drive's Illinois chapter, a volunteer-based organization established by medical students that provides personal protective equipment (PPE) to frontline healthcare workers across the state.
Read a Q&A with Patel below.
Why did you choose Feinberg?
I went to undergrad at Northwestern and have a lot of family in the area, but more importantly, Feinberg has a large focus on early clinical exposure, and I have definitely found that to be true. I've loved my clinic and have gotten so much experience seeing patients, coordinating clinic schedules as an ECMH chief and learning from upperclassmen. Besides that, I think there's a big emphasis on wellness here. Faculty are super flexible, we have mentors for small groups of 20 people: Much of the core parts of being a Feinberg student are in a way wellness oriented.
What are your current research and clinical interests?
I'm most interested in internal medicine, partly because of my clinical experience with Dr. Jean-Jacques in her internal medicine and geriatrics clinics. Besides that, I did a research project last summer with Dr. Lindquist about the experience of home care agencies and professional caregivers during COVID, specifically regarding PPE and staffing shortages at the beginning of the pandemic. I'm also currently working on my Area of Scholarly Concentration (AOSC) project with Dr. Kandula, which is part of a larger study she's running about South Asian cardiovascular health, called the SAHELI study. It involves a 16-week lifestyle program where participants work on their diet and exercise habits, as well as their mental wellness and stress-reducing activities. We've been interviewing participants, community stakeholders and the health educators who lead the weekly sessions. Eventually, we're going to publish their perspectives so SAHELI can be implemented more effectively and hopefully one day can be adapted to a community-led approach in settings that don't have the same resources we have here at Northwestern.
Tell me about your involvement with Illinois' COVID-19 Med Supply Drive.
Med Supply Drive was started by medical students at Georgetown University and has blossomed into a nationwide program where people from all different states have created their own chapters. A childhood friend asked me if I wanted to help out and start an Illinois chapter. At the time, I was at home in central Illinois since Feinberg went virtual for first- and second-year students after spring break. My parents had been talking about how scarce PPE was and how they had a really rough time trying to find the bare minimum. With my mom being an infectious disease doctor, it was scary, to say the least.
When I got on board, we started making a lot of phone calls to different companies we thought might have anything to donate. There were a couple of instances where we got huge donations from in and out of state to central Illinois. It was really interesting to be involved in a supply chain that I had never really thought about until the pandemic happened. I got to work with other Feinberg students as well as people from other medical schools, and we ended up having people from all parts of the state get involved, too. It was interesting to see how a student-run organization can create change and hopefully, people will see how capable and valuable medical students are.
What are your plans for after medical school?
I'm hoping to figure that out in the next year while I'm doing rotations. I was shadowing a lot, especially in the fall semester, to get a better idea of all of these specialties I had never really gotten a chance to see. There are several that I think are really interesting, but something that's great for a day may not be when I have a four-week or eight-week rotation in it. So, I'm trying not to decide too quickly and end up changing my mind eight times.
What advice would you give to prospective medical students?
Do things that you genuinely care about. It's obvious when people are pursuing things they're passionate about, and who doesn't love that. Also, I think I've learned so much more in my second year of medical school because I've pushed myself to speak up more. I'm confident in not knowing everything, and that has genuinely changed my medical school experience.