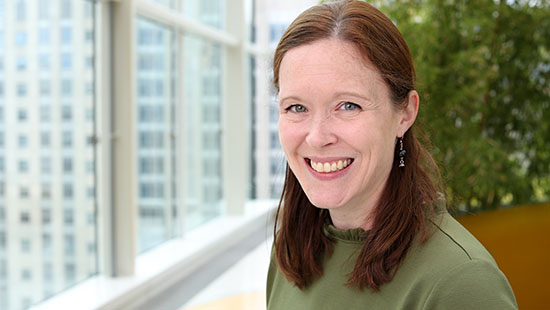 Mary McBride, MD, MEd, associate professor of Pediatrics and Medical Education, has been named director of the Feinberg Academy of Medical Educators (FAME), effective November 1. McBride succeeds Walter Eppich, MD, PhD, professor of Pediatrics in the Division of Emergency Medicine and Medical Education, who has led FAME for three years and will be joining the faculty at the Royal College of Surgeons in Dublin, Ireland.
McBride currently serves as associate director for FAME. In her expanded role, she will provide vision and strategy for faculty development, as well as oversight and direction of the many faculty education resources provided through FAME, including lecture series and workshops, online learning modules, and certificate programs.
"In this next chapter, I am looking forward to continuing the teaching and learning sessions that have come before me and continuing to adapt them to the virtual environment," McBride said. "Additionally, I hope to help faculty interested in medical education advance their scholarly careers."
Founded in 2010, FAME serves to recognize outstanding educators and encourage faculty to become more effective educators in all educational venues. Currently, FAME has several different categories of programming available to suit faculty needs.
"I am delighted that Mary will be leading FAME," said Marianne Green, MD, vice dean for Medical Education, president of the McGaw Medical Center and the Raymond H. Curry, MD, Professor of Medical Education. "She has been instrumental in FAME's success and growth while serving as associate director, and I am certain that her experience and vision will position FAME to become an even more critical resource and home for our education faculty."
Each year, FAME hosts Medical Education Day, an annual celebration of teaching and medical education scholarship, featuring workshops, presentations and teaching awards. Highlights of this year's event, held virtually to slow the spread of COVID-19, included faculty and guest lectures on institutional unsilencing, coaching, rapid-cycle delivery practice, promotion and more.
Read a Q&A with McBride who shared her thoughts about her career and her interest in medical education.
Why is faculty development important in medical education?
Historically, clinical care has been taught by apprenticeship, making use of techniques such as modeling. However, educational theory and application of that theory has evolved. While we have started this evolution in medical education, there is more to learn and study to continue to improve our teaching effectiveness.
Tell us a little bit about your career background.
I am a pediatric cardiac intensive care physician, so clinically, I care for the newly born to young adults who are critically ill with significant heart disease. When I am not caring for patients, I have spent my time teaching using simulation as well as small and large group workshops and didactic sessions. Early in my career, I earned a Master's degree in medical education and I used this to augment my abilities in teaching and learning. I have spent the last three years as the associate director of FAME, working with and learning from Dr. Walter Eppich.
What made you want to become involved in medical education and faculty development?
I always enjoyed teaching and supporting people in their development, but it was during my cardiology fellowship that an attending suggested to me that I should consider education as a focus to my non-clinical career. It had never dawned on me that a physician could make education the focus of their academic career. That casual and unsolicited conversation was life-altering for me. Thereafter, I started focusing time and scholarly work on resuscitation and simulation. That experience inspired me to attend graduate school focused on education. This, then, opened up opportunities to teach in venues other than simulation and ultimately led to faculty development.
What do you think makes a great medical educator?
Great educators are content experts who instill passion about specific topics and are concerned about the development and well-being of their learners.
What is your favorite part of teaching?
Watching learners discover something that is new and exciting to them.
What is your favorite piece of advice from a mentor or inspiring figure in your life?
You know what you want to be when you grow up when you discover the problems that you enjoy solving.