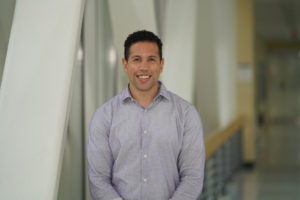 Maxwell Edmonds, a third-year medical student in the Medical Scientist Training Program (MSTP), recently defended his doctoral thesis on generating testicular organoids — living models of testes that could be studied to develop fertility treatments. Now, as he begins his final two years of medical school, Edmonds reflects on his time at Feinberg,
Read a Q&A with Edmonds below.
Why did you choose Feinberg?
I chose Feinberg for a variety of reasons. As an MD/PhD applicant, I was very focused on finding a medical school with a strong graduate program in biology. When visiting Northwestern, I was pleased to find many different research laboratories whose research I found interesting. Secondly, I really wanted to go to a medical school with a collaborative and clinic-focused curriculum. I believe that Feinberg has exactly that and there was a big focus on clinical skills training throughout the first phase of training.
Additionally, I really was impressed by how students at Feinberg had passions outside of medicine and how they incorporated their other skills into their growing identity as a clinician.
Lastly, and probably most importantly, I really vibed with several co-applicants and current students I met during my second look visit. At the end of second look, I was looking forward to being classmates with my new friends!
Where are you from and where did you attend undergrad?
I'm from East Greenwich, a small town in the center of Rhode Island. I went to the University of Rhode Island for my undergraduate studies where I earned a bachelor's of science in biological sciences and a bachelor's of art in French and francophone studies.
In my undergraduate thesis project, I explored themes of French existentialist philosophy through the medium of French poetry.
What are your medical or research interests?
Before coming to Northwestern, I was involved in pharmacognosy — drug discovery from natural resources — and medicinal chemistry research for several years. After arriving at Feinberg, I began exploring regenerative medicine and bioengineering.
This led me to find my graduate adviser, Dr. Teresa Woodruff, an expert in bioengineering the female reproductive system and its endocrine rhythms. Dr. Woodruff has recently moved to become the provost of Michigan State University, and continues to be an active mentor for me. Outside of my graduate studies, I have a big interest in meditation, mindfulness and contemplative practices. In particular, I am interested in how they empower human autonomy to preserve and enhance health, and how these practices shift the human condition and existential experience.
Clinically, I am excited to explore urology and obstetrics and gynecology. I am comfortable both at the bedside and in the operating room, but I do have a fondness for working with pediatric populations.
Can you tell me a little about your thesis? How was the defense?
In my dissertation work, I investigated engineering methods to maintain and recapitulate testicular tissue within the laboratory. This is a young and exciting field, which could help develop methods to derive gametes for use with clinical infertility patients, and to innovate functional testicular tissue models for use in pharmaceutical drug testing and developmental biology research.
Towards this vision, I used microfluidic culture platforms and static culture methods to explore ex vivo spermatogenesis and reproductive endocrine function in human and mouse testis explants. More recently, I explored multiple methods and fundamental paradigms within testicular organoid generation (engineered microtissues) and optimized a highly biomimetic and easily reproducible mouse testicular organoid model. My dissertation concludes with an in-depth discussion of necessary next steps and future visions between the intersection of human reproduction and bioengineering.
My defense was a peculiar one: I presented over Zoom! Not the typical setting that a graduate student expects for their final presentations, but it ended up going very well. In my private dissertation defense with my committee, I had a stimulating discussion on the current status and future trajectory of the testicular bioengineering field.
I have felt incredibly supported by my adviser and committee throughout my doctoral training. The public defense was also over Zoom, and I had a great showing with close to 80 attendees. It felt great to present my years of hard work to a heterogeneous audience composed of my scientific mentors, peers, friends and family.
Do you participate in any organizations or societies at Feinberg?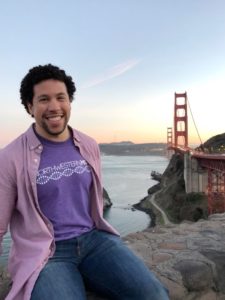 I have participated in multiple organizations and societies at Feinberg. I was a member, treasurer and eventually co-president of the Phi Rho Sigma Medical Society. Phi Rho gave me a wonderful opportunity to network with students across different years of medical school.
I was also the president of the MSTP Student Council. Beyond these two leadership positions, I have attended multiple diversity-oriented medical conferences on behalf of Northwestern and the MSTP over the past few years, including Annual Biomedical Research Conference for Minority Students (ABRCMS) and Stanford University Minority Medical Alliance​ (SUMMA). These conferences have given me amazing opportunities to advise undergraduates who are pursuing medicine and science for their career-path, as well as to advertise for Northwestern and share my experiences as a Northwestern MSTP student.
What has been your most rewarding experience?
One of my most rewarding experiences has been as a participant and organizer for the all-student run MSTP organization, "PRISM." PRISM is an after-school program run by MSTPs for high school students at a local Boys & Girls Club. Our focus is on exposing high schoolers to science and medicine topics and piquing their interests in these areas, as well as empowering them to pursue further science and medicine study as college students. I've had the opportunity to advise many high schoolers into a passion for science and healthcare, and onwards into college. In fact, some of my mentees from my first years in PRISM are now applying to medical school themselves!
What advice would you give to prospective medical students?
I could give a lecture on this topic, but I think I can distill the most important aspects down to a few tenants: First, meet some current medical students. Talk with them, hang out with them for a day or two, if possible. We are normal people just like anyone else and it really helps to see that firsthand.
Second, shadow doctors. See what it is like to work with patients, especially the sick, cranky and difficult to work with patients. See how physicians work on a team in the hospital or clinic. Could you see yourself being in a similar fast-paced collaborative environment?
Third, learn to love the pain in the process. For some people this is exams, but exams are bread and butter to the training doctor and studying for them is our way of life. For others, the pain in the process is time and energy-management. Being a physician or surgeon is a busy life; it is a skill to learn to be comfortable at this pace, and savor the rewards and joys tucked between the ever-growing list of tasks!
And for many individuals, the pain in the process is self-criticism. In medical school you are surrounded by peers who are just as intelligent and high-performing as you are. However, this is a great thing! Who better to rub shoulders with on a daily basis? Harness it as an advantage, and become comfortable being the least knowledgeable person in the room.
Use all of these discomforts to whittle down your ego, nurture your taste for challenges and cultivate your passion for growth through hard work and even-keeled introspection. Ultimately, there are thousands, millions of ways to lead a happy and productive life. Stay away from the things you don't enjoy, and what you're left with are a myriad of activities that can give you energy and make you smile each day.