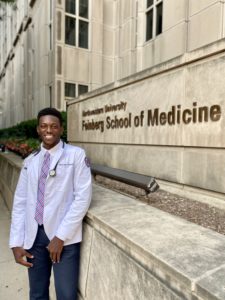 Michael Chidueme, a first-year medical student, is looking at his medical education a little differently. While the COVID-19 pandemic has modified his medical school experience — some socially distant and online classes, for example — it has also changed how he views the medical profession and the beginning of his journey to becoming a doctor.
Read a Q&A with Chidueme below.
Where are you from and where did you attend undergrad?
I was born in Maryland, lived in Nigeria from ages six to ten, but grew up mostly in Potomac, Maryland. I stayed in Maryland for my undergraduate education at the University of Maryland, College Park and majored in neurobiology and physiology with a minor in global poverty.
How did it feel to pick up your white coat? Has it sunk in yet?
Getting my white coat during COVID was not exactly what I expected, but nonetheless, the experience was surreal. This is something I've looked forward to for so many years. Donning that coat along with my very own stethoscope was like watching my childhood dreams come true. It didn't sink in that I was in medical school until the second day of classes when the instructor went over some cell biology and I realized there was no turning back, this is it. This is what I signed up for!
The first week was very relaxed and offered a lot of opportunity for me to settle into the Zoom sessions and get comfortable with waking up at 8 a.m. for lectures and learning. I think I've been impressed with how well everything has gone so far, taking the dire circumstances into consideration. I think Feinberg has some room for improvement but has definitely adapted well to the difficult circumstances.
Have you visited Chicago before? What do you think so far?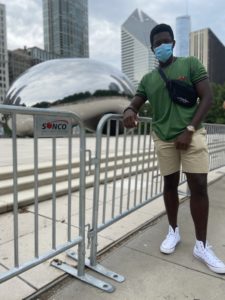 I actually visited Chicago for the first time during interview season and this is my first time living in another state within the U.S. So far, Chicago has become my favorite in the country. It's so gorgeous here — at least during the summer — and it has the big city vibe with tall skyscrapers, a grid system and a diverse range of amazing restaurants.
My favorite thing about Chicago is the presence of a body of water, Lake Michigan, that spans the city and rivers flowing through the middle of the city. I love biking along the lakeshore or chilling on a beach during a beautiful summer afternoon with friends.
Has the COVID-19 pandemic changed how you think about medicine?
The ongoing pandemic has changed how I view the future of medicine. Although it has been incredibly tragic — lives continue to be lost and social inequities were exposed — I think that the future for telemedicine has gotten much brighter and doors have opened for innovations in the way we practice medicine. COVID has forced us to create new doors, new avenues and I think we can only improve in those aspects in the future.
From a positive perspective, I'm thankful to be getting into the profession at this time because I believe that a spark of innovation has been struck and a brighter future is ahead for the world of medicine.
Outside of school, what are your hobbies or interests?
Outside of school, I love playing and watching soccer (Go Chelsea), hanging out with friends, trying new restaurants in Streeterville, biking around the city and picking up new skills.