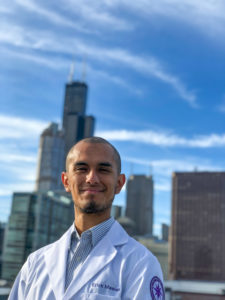 First-year medical student Erick Masias was excited to return home to Chicago and begin his medical school career at Feinberg. Even though the COVID-19 pandemic has changed what Welcome Week activities looked like this year for first-year students, Masias said he's nonetheless excited to start his medical school journey.
Masias, originally from Chicago's Rogers Park neighborhood, graduated in 2018 from Middlebury College in Vermont with a major in neuroscience. In his free time, he enjoys playing music (guitar, piano and singing), biking along Chicago's lakefront, baking bagels, and playing spikeball and softball.
Read a Q&A below to learn more about Masias' first week at Feinberg, why he wanted to go to medical school and what he's looking forward to doing over the next four years.
Why did you want to go to medical school? Why did you choose Feinberg?
From my experience, with my mom and her medical struggles and then also having mental health professionals help my family, I've really appreciated how medical professionals were able to help my family and I've come to have a greater appreciation for what doctors can do.
Out of all the medical schools I was considering, Feinberg stuck out the most when I spoke with current students. They talked about how they were supported here and that what drew them to Feinberg was the people. I've been seeing more and more of that now. I also grew up in Chicago and I felt like there was no better place to have a solid support system to get me through these next four years.
What was your first week of medical school like?
It's been somewhat of a letdown starting school virtually. Normally this is a time we'd be getting to form bonds with our classmates and peers in person. But as future healthcare professionals, we're keeping in mind why things have to be the way that they are, and starting medical school during a pandemic really reaffirms for a lot of us why we chose to take on this journey. So far, I've really appreciated when we get to have smaller group sessions on Zoom, to have spaces where we're allowed to be vulnerable with each other about our transition to medical school and about Feinberg's attempts to address anti-racism. I've gotten to meet some people through that and I feel like we'll be close friends for the next four years.
How did it feel to pick up your white coat?
It was exciting. I'm living in South Loop, so I got to bike to campus for the first time and it was cool to feel out what it would be like to go to campus. I think it was a thoughtful gesture and everything that the admissions team put in the little welcome package was nice, as well. It felt welcoming even though we didn't get to stay on campus for very long. It would've been nice to have an actual ceremony, but again we're all keeping in mind why things have to be the way they are.
What are you most excited to do or learn in medical school over these next four years?
During my gap years, I volunteered with an organization in Boston called Musicians On Call, an organization that brings live music to patient bedsides across the nation. They actually have affiliate sites on Northwestern's campus at Lurie and Shirley Ryan. Once they start taking volunteers at the hospitals again, I'm excited to get involved. I'm also excited to have clinical experiences through our ECMH sites in Chicago's neighborhoods.