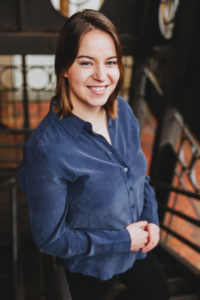 First-year medical student Kayla Giger said she always knew she wanted to go into medicine, and the opportunity to have clinical exposure early on is what ultimately drew her to choose Feinberg. Although this year's Welcome Week activities for first-year students were different than past years due to the COVID-19 pandemic, Giger has enjoyed kicking off her medical school career and getting to know her classmates virtually.
Giger is originally from Lebanon, Indiana and graduated from Georgetown University in 2018 with a major in health policy. She is currently considering specializing in Pediatrics and in her free time, Giger enjoys playing with her two dogs, playing music, biking along Chicago's lakefront and cooking.
Read a Q&A below to learn more about Giger's first week at Feinberg, why she wanted to go to medical school and what she's looking forward to over the next four years.
Why did you want to go to medical school? Why did you choose Feinberg?
I've always wanted to be a doctor since I was very young. After I graduated college, I actually took two years off and worked one year as an EMT and the other year at a public health research firm to see if medicine was really what I wanted want to do or if there was some sort of tangential path that could be equally as rewarding. I think those experiences helped me decide why medical school was the right choice for me, because it can be such a blend of so many different things. I also really enjoy watching people transform from a place of feeling lost and ill to being restored back to health. It's such a beautiful and inspiring thing to see.
There were a lot of reasons why I chose Feinberg, but definitely the early clinical exposure was a big part of it. I definitely believe that it has to make you more prepared for your clinical rotations and residency. For me, I thought that it would be very motivating to stay around patients while we're going through the preclinical ringer of all this academic material and it's very helpful for me to have some sort of real-world application. All throughout college, I taught middle school health and that was super grounding. I was learning all this material about health policy and I thought that the ECMH's had a similar effect where you can see how the information you're learning might actually help someone.
How did it feel picking up your white coat?
It was really nice. I did a Zoom call with my family and put on my coat and everyone got to congratulate me, which was sweet. I think for me, the feeling of medical school actually happening might set in more when we go into our ECMHs. Like I mentioned, I worked as an EMT, so seeing patients isn't super new to me, but being part of the professional physician side of things will be a big moment for me.
What are you most excited for over these next four years?
I was really struck by the fourth-year medical students that participated in the Introduction to the Profession Week. Everyone just seemed very poised and confident and I would've believed that they had already been through their residencies, so I'm looking forward to having that level of command over the science and developing the communication skills and ability to interact with different kinds of people with more ease.
Medical school is definitely going to be an adventure. I think everyone who matriculated this year is definitely up for an adventure, which is nice to know about all of my classmates. Everyone's willing to just figure it out as we go.