Wayne Stepping Down, Green Named New Vice Dean, New Associate Deans Named
After more than 23 years of distinguished leadership in medical education and following a trailblazing six-year term at the helm of medical education, Diane B. Wayne, MD, '91, the Dr. John Sherman Appleman Professor of Medical Education, has indicated she would like to step down as vice dean for medical education, chair of the Department of Medical Education, and president of McGaw Medical Center, effective September 1. A clinician-educator, she will continue serving on the faculty at Feinberg, as a physician in the Northwestern Medical Group, and as vice president of Human Resources at Northwestern Memorial HealthCare.
"We are tremendously grateful for Diane's transformational leadership in reshaping our approach to undergraduate and graduate medical education and her tireless dedication to supporting all our trainees during her tenure as Vice Dean," said Eric G. Neilson, MD, vice president for Medical Affairs and Lewis Landsberg Dean at Feinberg. "Her work has helped shape the current excellence and diversity at our medical school, and through other leadership roles during her remarkable career, has inspired a generation of physicians and trainees to aspire to their greatest potential."
"I have cherished my time leading Medical Education at Feinberg. It has been my greatest honor to mentor such an outstanding group of students, trainees, educators, and the talented leadership team in AWOME," said Wayne. "I am forever impacted by their dedication and passion, and know Northwestern will continue to train excellent patient-focused physicians and leaders in medicine."
Green Named Vice Dean for Medical Education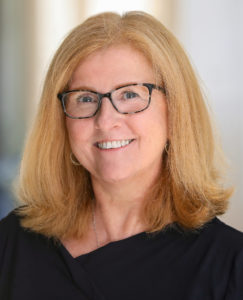 Marianne Green, MD, currently senior associate dean and the Raymond H. Curry, MD, Professor of Medical Education, will succeed Wayne as vice dean for medical education, chair of the Department of Medical Education, and president of McGaw Medical Center.
"We are so lucky Marianne is a perfect fit to serve as our new Vice Dean for Education based on her long record of excellence and innovation, her trusted leadership, and her extensive experience in medical education," Neilson said. "I have full confidence she will effectively lead us through our LCME reaccreditation this Spring and continue moving forward our ambitious vision to train and develop the physicians and scientists who will transform the profession to impact human health beyond the individual patient."
A practicing primary care clinician in the Northwestern Medical Group, Green started at Feinberg in 1997 as an instructor in the Department of Medicine, and has since served in many leadership roles, including associate program director of the McGaw Medical Center Internal Medicine Residency Program and director of the Primary Care Clerkship. She has been director of the combined baccalaureate-MD program and has also served as associate dean for medical education and Competency Achievement. She was also recently named co-director of the Center for Medical Education in Data Science and Digital Health within the Institute for Artificial Intelligence in Medicine at Feinberg.
Green was elected previously as an inaugural member of the Feinberg Academy of Medical Educators (FAME) and has received numerous teaching awards, including the Excellence in Teaching award for her teaching of primary care students in the Department of Medicine and the George H. Joost Outstanding Teacher Award at Feinberg, nominated by first-year medical students.
Green completed her medical degree at the University of Illinois at Chicago School of Medicine and her residency in internal medicine at Beth Israel Hospital at the Harvard Medical School. In 2014, she was appointed to the Board of Directors of the American Board of Internal Medicine (ABIM). She now serves as Chair of the Board of the Directors, and is a former member of the ABIM Council, having previously serving as council director.
"I am excited to take on this next role where I will have the opportunity to work with an exceptionally talented group of leaders and educators to fulfill Feinberg's mission to develop the next generation of healthcare leaders. Medicine is changing rapidly, and to keep pace we must equip our students and trainees to succeed in this evolving environment, that not only will include an emphasis on digital health, but also must take advantage of the passion and advocacy that this generation has for improving the inequities in our health care system.  Along with Dean Neilson, I am committed to creating an educational environment that provides opportunities for each and every learner based on passion and potential," said Green.
More Transitions in Medical Education
Two additional leadership changes in medical education are also effective September 1.
 Sanguino Named New Senior Associate Dean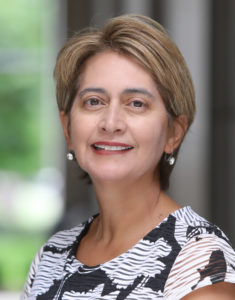 Sandra Sanguino, '93 MD, '96 '99 GME, MPH, currently associate dean for student affairs, will succeed Green as senior associate dean for medical education.
"As a medical student at Northwestern more than 25 years ago I never imagined I would have the opportunity to serve in the office of medical education of the medical school that so influenced my career.  It has truly been a privilege to serve as the student affairs dean for the last 11 years and I am looking forward to the opportunity to continue to work with our outstanding team of faculty and staff to innovate and enhance our undergraduate medical education program for our incredibly talented students," Sanguino said.
Sanguino has been at Feinberg more than 25 years, starting with her medical degree, and followed by a pediatric residency and fellowship at McGaw Medical Center of Northwestern University. She has served on faculty since 1996, and has specialized in the career advising of medical students throughout her time at Feinberg. Sanguino was honored in 2017 with the Exceptional Mentor Award from the American Medical Women's Association (AMWA).
Goldstein Named New Senior Associate Dean for Graduate Education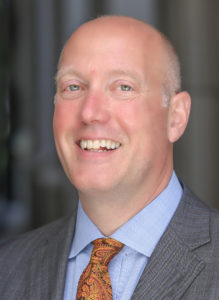 Joshua Goldstein, MD, GME '02, has been elevated to senior associate dean for graduate medical education.
"It is an honor and privilege to be able to work with our exceptional residents, fellows, and program leaders in graduate medical education," Goldstein said.
Goldstein, currently associate dean for graduate medical education and associate professor of Pediatrics in the Division of Neurology and Epilepsy, has served on Feinberg's faculty since 2002. In his clinical work, he focuses on pediatric neurocritical care especially as it pertains to epilepsy, status epilepticus, coma, brain injury, and neurophysiology. He received his medical degree from University of Rochester, along with a residency and internship at Saint Louis Children's Hospital, and a clinical fellowship at McGaw Medical Center of Northwestern University. As associate dean, Goldstein oversees all of McGaw's residency and fellowship programs. He frequently publishes peer-reviewed research and commentary on the topics of graduate medical education and the treatment of pediatric patients with neurological conditions.
"As we start the new academic year, the team in Medical Education remains well-positioned to provide exceptional academic experiences to our outstanding students and trainees," said Neilson.