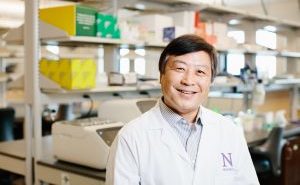 A cell signaling protein called tumor necrosis factor (TNF) may be used to enhance the sensitivity of medulloblastoma tumors to immunotherapy, potentially improving quality of life and decreasing toxicity for patients with the malignant pediatric brain tumor, according to findings published in Nature Neuroscience.
Medulloblastoma is the most common malignant brain tumor in children, starting in the back of the brain in the cerebellum and quickly spreading through cerebrospinal fluid to other areas around the brain and spinal cord.
Surgery, radiation and chemotherapy can improve patient outcomes, with a five-year survival rate of 70 percent. However, one-third of patients will remain incurable and survivors often suffer severe side effects from therapies, including long-term damage to the brain and endocrine system.
Over the last 50 years, the molecular understanding of medulloblastoma has advanced, including identifying four subtypes of the brain tumor, each varying in lethality. Yet over the course of this time, there have been no newly developed therapies, according to Xiao-Nan Li, MD, PhD, the Rachelle and Mark Gordon Professor of Cancer Research and a co-author of the study.
"We were determined to find a new therapy to improve patient survival and, at the same time, reduce toxicity," said Li, who is also a professor of Pediatrics in the Division of Hematology, Oncology and Stem Cell Transplantation and a member of the Robert H. Lurie Comprehensive Cancer Center of Northwestern University.
Previous work has shown that newly diagnosed patients with medulloblastoma who exhibit mutations in the TP53 gene have a nearly 100 percent mortality rate and that these mutations are even more common in recurrent medulloblastoma, making the development of new therapies for patients with this gene mutation a top priority, according to Li.
Immunotherapies have become a significant approach to treating cancer as they are able to enhance the ability of cytotoxic T-cells, which can kill tumor cells. This ability is dependent on T-cells recognizing certain antigens presented by a group of proteins on tumor cells called class I major histocompatibility complex (MHC-I) proteins. However, not all patients with medulloblastoma benefit from these therapies and the reason why that is has remained unknown, according to Li.
By analyzing highly accurate tumor cells in medulloblastoma mouse models, many of which were provided by Li's laboratory, the scientists were able to find that medulloblastoma tumor cells containing a mutation in the p53 tumor suppressor protein did not express MHC-I on the cell surface and, therefore, were resistant to the immunotherapy.
For MHC-I trafficking to occur, the p53 protein must regulate the expression of a peptide transporter called Tap1 and an aminopeptidase enzyme called Erap1. The scientists discovered that low doses of a cell signaling protein called tumor necrosis factor (TNF) can revitalize the expression of Erap1, Tap1 and MHC-I on p53-mutant tumor cells, ultimately enhancing the overall sensitivity of the tumors to immunotherapy.
"We hoped that using this model system would give us a better chance of success because our ultimate goal is to successfully treat our patients," Li said.
The findings are a significant advancement in the understanding of medulloblastoma, Li added, and suggest that patients should be screened for p53 pathway mutations or that ERAP1, TAP1 and MHC-I expression should be looked at directly before they're enrolled in immunotherapy clinical trials.
"We still have a long way to go, but the beauty of this is at least we got a lead in the right direction, a direction that is based on the very solid, scientific evidence," Li said.
Oren Becher, MD, associate professor of Pediatrics in the Division of Hematology, Oncology and Stem Cell Transplantation; of Biochemistry and Molecular Genetics; and a member of the Lurie Cancer Center, was also a co-author of the study.