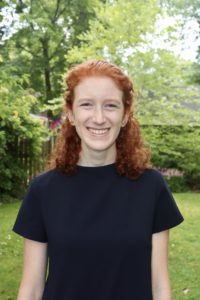 Emma Office, a rising second year medical student and co-leader of the COVID-19 student volunteer effort at Feinberg, recently helped organize a successful phone call outreach program for older adults at risk of experiencing social isolation during the pandemic.
The program, which involves Feinberg student volunteers calling older adults living in the community and in long-term care facilities throughout the Chicagoland area to talk about topics such as coping strategies, health, sources of support, and personal topics like family and friends, was detailed in a study published in Journal of the American Medical Directors Association.
Read a Q&A below with Office about her involvement with the outreach program, the impact of COVID-19 on older adults and why she chose to attend Feinberg.
What do currently know about the impact of COVID-19 on older adults?
In general, older adults are at higher risk of serious illness from COVID-19. For older adults, as with all people, physical distancing measures are essential to mitigate the spread of COVID-19. But at the same time, for over one-quarter of adults over the age of 60 that are living alone in the U.S., these same measures could also increase social isolation. We do know, in general, that social isolation is associated with many adverse physical and mental health outcomes in older adults, including increased risk of falls, reduced infection resistance and an increased risk of all-cause mortality.
Knowing this, Dr. Lindquist had the idea to design this phone call outreach program in hopes of providing companionship to older adults who might be more isolated during COVID-19, and also perhaps mitigate the risk of these outcomes that are tied to social isolation as the need for physical distancing continues over months and months.
How does the phone call outreach program work?
Several NMH geriatrics doctors and a community center coordinator referred older adults who they thought might benefit from check-in calls. Marissa Rodenstein, an M4, connected student volunteers to these adults, providing students with a sample script and ideas of conversation topics, as well as some educational materials about geriatrics in general. Volunteers reached out to the older adults to check in and have a conversation. About a third of the pairs also ended up scheduling follow-up calls. Afterwards, volunteers filled out a survey about how they felt the calls went.
What was the overall impact of the program?
Based on feedback from volunteers, the phone calls had a positive impact on both themselves and on the recipients. The older adults expressed appreciation for the calls and several students said they felt empowered or excited that they were able to make a difference. Overall, the program was easy to implement, seemed well-received by older adults, was educational for students, and might even have more significant effects in terms of helping reduce social isolation and the associated risks. An additional conclusion was that it doesn't necessarily require a huge amount of time and resources or clinical knowledge to be able to support patients and community members during the pandemic.
Why did you choose Feinberg?
I value the emphasis that Feinberg puts on learning beyond the classroom, especially with respect to the early clinical exposure we get through the Education Centered Medical Home (ECMH) and also with the opportunities to get involved with research. Getting to speak with patients and see what we've been learning about in the classroom firsthand, even from the very first few weeks of school, will be valuable when we move to the clinical phase of the curriculum. Going to my ECMH, a pediatrics clinic, every other week was definitely the highlight of my first year. The other reason that I chose Feinberg is that I was excited to be able to move back to the Chicago area, which is where I'm originally from, to be near family and friends again.
Has the pandemic taught you anything during your time at Feinberg?
I went into medical school with the hope of one day being able to make an impact on the lives of patients and help people in the community. But I didn't necessarily think that even in our first year that my classmates and I would be able to make a difference in peoples' lives. It has been exciting and inspiring to see the ways in which so many Feinberg students have designed initiatives and volunteered to support people all over Chicago during the pandemic; I am glad and honored to be a part of this community.