$15 million gift to name the Simpson Querrey Institute for Epigenetics at Northwestern University Feinberg School of Medicine
A new $15 million gift from University trustees and supporters Louis A. Simpson '58 ('96 P) and Kimberly K. Querrey ('22 P) will establish the Simpson Querrey Institute for Epigenetics at Northwestern University Feinberg School of Medicine, boosting the school's current efforts to study the effects of environment on the regulation of gene expression. This gift, combined with a previous gift of $10 million to start the institute as a center, brings the institute's funding to $25 million.
"Northwestern University could not be the global leader in research that it is without the vision and commitment of Kimberly Querrey and Lou Simpson," said University President Morton Schapiro. "They have strategically and generously funded advances in some of the most important emerging fields within science and medicine. The Simpson Querrey Institute for Epigenetics extends their extraordinary track record of investment in the future — a record for which Northwestern is deeply grateful."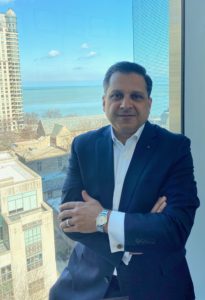 Led by Ali Shilatifard, PhD, the Robert Francis Furchgott Professor of Biochemistry and Pediatrics and chair of the Department of Biochemistry and Molecular Genetics, and having operated as the Simpson Querrey Center for Epigenetics since 2018, the new institute will expand Northwestern's investigation into how environmental factors can modulate the way genes are expressed without any change to the underlying genetic code of a cell.
A top-to-bottom integration of technical expertise, scientific techniques and specialized knowledge is the hallmark of the institute's approach. It brings together scientists from fields as diverse as biochemistry, molecular genetics, computational and foundational biology, epidemiology and clinical medicine.
The new Simpson and Querrey gift will support and expand the center's operations, seminar and symposium programs, pilot studies by Northwestern faculty, and the Feinberg Fellows in Epigenetics program. It will also provide funding for the new recruitment of outstanding investigators in the area of epigenetics.
"Epigenetics is the next great frontier of scientific discovery," said Eric G. Neilson, MD, vice president for medical affairs and Lewis Landsberg Dean. "Northwestern is truly leading in this rapidly expanding field, and we're fortunate to have Ali's visionary leadership, as well as Kimberly and Lou's passionate support of this vital endeavor."
Northwestern investigators have repeatedly pushed the boundaries of what is known about epigenetics, including discoveries in transcriptional regulation and gene expression, and critical insights into its influence on diseases like diffuse intrinsic pontine glioma, a rare and deadly pediatric cancer, and the role of immune cells in responding to lung damage from pneumonia.
Shilatifard's laboratory has been at the forefront of investigations into the epigenetic basis of pediatric leukemia and the function of the COMPASS family of transcriptional regulators, which play a critical role in transcription, the first step in gene expression where "instructions" to produce proteins and other molecules are read from the genome.
"I am grateful to Kimberly and Lou for their continuous support of Northwestern and Northwestern Medicine by providing us with resources for the building of the Simpson Querrey Biomedical Research Center, the state-of-the-art home for us to pursue our passion for biomedical research for the betterment of humankind," Shilatifard said. "The establishment of SQE, now an institute, will allow us to build a world-class epigenetic institute through the recruitment of top-tier faculty, updating our technological abilities, strengthening our bioinformatics and expanding the support of epigenetic research at Northwestern, all creating a synergy in moving science forward faster, making us a leader in this very timely area of science."
For more than a decade, Simpson and Querrey have consistently supported Northwestern. Through We Will. The Campaign for Northwestern, many new strategic initiatives have been made possible by their generosity, including the Louis A. Simpson and Kimberly K. Querrey Biomedical Research Center, a 14-story, 600,000-square-foot building opened in 2019 that significantly expanded Feinberg's biomedical research enterprise. The current gift brings their total giving to $223.4 million.
"Lou and I are honored to support scientific discovery at Northwestern that seeks to transform human health, and we are inspired by Ali's brilliant progress in epigenetics. We hope our gift to the Simpson Querrey Institute for Epigenetics ensures a legacy of breakthrough science for generations to come," Querrey said.
More information on We Will. The Campaign for Northwestern is available at wewill.northwestern.edu.