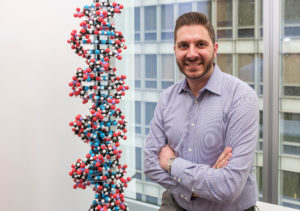 A new wrinkle in chromosome folding has helped solve the mystery of how dysfunctions in the process lead to cancer, according to a Northwestern Medicine study published in Molecular Cell.
Investigators led by Kyle Eagen, PhD, Feinberg fellow of Biochemistry and Molecular Genetics and senior author of the study, discovered that in the case of NUT carcinoma, mutated regions of chromosomes reach out and form "contact hubs," or aberrant genetic formations that may contribute to cancer.
"They're not separate isolated structures floating around the nucleus, they're actually sticking to each other," said Eagen, who is also a member of the Robert H. Lurie Comprehensive Cancer Center of Northwestern University. "These regions are highly transcribed and a lot of these genes are important for this cancer."
NUT carcinoma is a rare, highly aggressive cancer caused by BRD4 proteins incorrectly fusing to the namesake NUT protein, creating "megadomains," which are large regions of chromosomes painted with a unique chemical mark.
Using cells derived from a patient with NUT carcinoma, investigators examined the activity of these megadomains after the initial mutations. One clue was visible under a microscope, according to Eagen.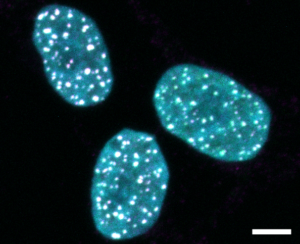 "When you look down the microscope, you can see these regions of chromatin actually form little blobs in the nucleus," Eagen said. "We knew something was going on."
Using three-dimensional genomic mapping, Eagen and his collaborators analyzed the "blobs," finding that the megadomains were actually reaching out and forming larger units; contact hubs.
"They are coming together, even if they're very far apart on the same chromosome," Eagen said.
While the exact mechanisms are still unclear, Eagen believes these contact hubs, which have many cancer-causing genes, help jump-start cancer by transcribing these genes at a higher rate than normal.
Further, the investigators applied a small molecule drug to the contact hubs, breaking them up and reducing transcription of cancer-causing genes. This hints at a new therapeutic approach, according to Eagen.
"It's the first demonstration of a drug that could manipulate chromosome folding in disease," Eagen said. "Normally we think about drugs as inhibiting an enzyme or protein, but maybe there's a possibility we can design therapeutics that alter or disrupt how the genome folds."
While Eagen's next plans are to examine these contact hubs in cells derived from more patients with NUT carcinoma, he believes similar structures may be present in other cancers, representing more therapeutic targets.
"As the technology evolves, we hope to be able to pick up these types of interactions in normal cells and other cancers," Eagen said. "We think this is just the tip of the iceberg."
This research was supported by a National Institutes of Health Director's Early Independence Award DP5OD024587.