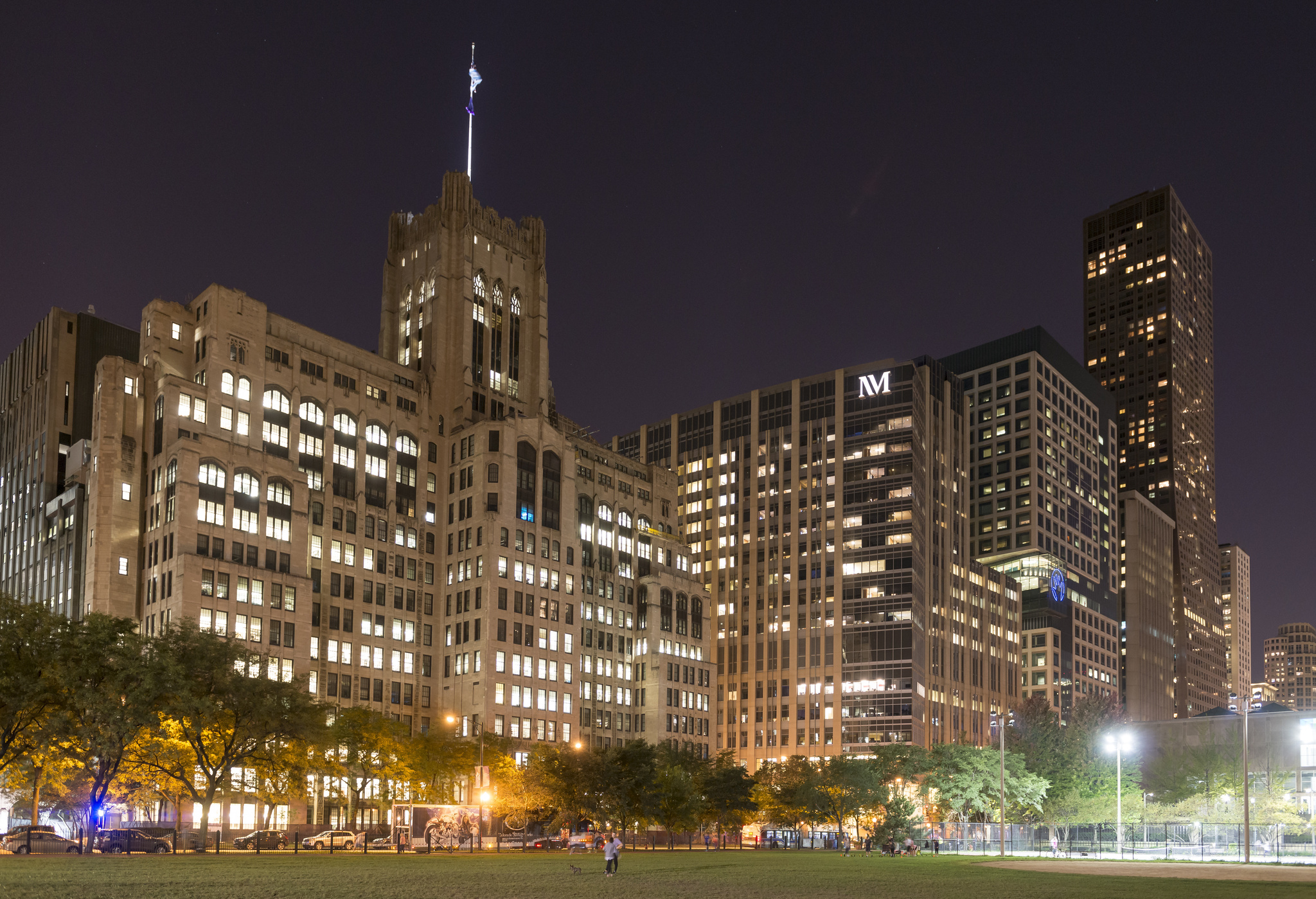 Feinberg has had an exceptional year in 2019. The medical school's research breakthroughs ranged from examining the most basic systems that make our bodies tick to developing breakthrough therapies and treatment strategies. Notably, the new Louis A. Simpson and Kimberly K. Querrey Biomedical Research Center, the largest new building dedicated to biomedical research at a US medical school, also opened this year.
Feinberg principal investigators secured a record-breaking $534 million in sponsored research funding and awards during the 2018-2019 fiscal year, a 10.2 percent increase in funding over 2018. Over 4,000 clinical trials and research studies were conducted at Feinberg, led by 652 principal investigators. And a total of 66 patents and five new start-up companies were established within the last fiscal year alone.
Feinberg's educational programs continue to showcase the most leading-edge innovations in medical education, attracting exceptional students from around the country to become the next generation of leaders in medicine. See below for a small selection of the honors, news, and achievements by Feinberg students, faculty, and staff over the course of 2019.
Academic News

A new and innovative active learning space on the Chicago campus has recently come online – the 4,800 square foot classroom was the result of years of development by the Office of Medical Education and Northwestern Information Technology.

---

Students who participated in the Education Centered Medical Home (ECMH) program — a four-year, team based clerkship that provides care to underserved populations — experienced superior primary care training compared to a traditional clerkship model, according to a study recently published in Academic Medicine.

---

Northwestern Simulation, which was recently reaccredited as a Comprehensive Education Institute by the American College of Surgeons, provides state of the art simulation-based training and education.

---

Second-year medical students shared results from their ongoing Area of Scholarly Concentration (AOSC) research projects at a recent poster session held Oct. 11 in Lurie Ryan Family Atrium, which showcased longitudinal research findings from 141 second-year medical students.

---

Feinberg's Medical Education Day, held this year on Friday, Sept. 27 at the Robert H. Lurie Medical Research Center, is an annual event dedicated to examining and advancing the future of medical education and celebrating outstanding educators at Feinberg.

---

Founders' Day, an annual ceremony held August 9 this year, welcomed first-year medical students to campus, honoring Feinberg's founders and marks the official start of the academic year. The class of 2023 attended the event with their family, friends and the second-year students who presented the freshman with their white coats.

---

Feinberg celebrated the class of 2019 at the school's 160th commencement ceremony, held at the Aon Grand Ballroom at Navy Pier on May 20, receiving their diplomas and doctoral hoods from a fellow physician, usually a mentor or family member.

---

Northwestern contributes to several programs that engage young learners in STEM (science, technology, engineering and math) education activities and helps them explore the many career opportunities in medicine and biomedical research.

---

On Match Day, an annual tradition held on the third Friday of March, all fourth-year students across the country learn — at exactly the same time — where they will train as residents for the next three to seven years.

Honors and Campus News

Northwestern has established the Center for Translational Pain Research, which aims to advance basic and clinical science relating to chronic pain and analgesic therapies, as well as develop novel treatments to treat chronic pain conditions.  A. Vania Apkarian, PhD, professor of Physiology, Anesthesiology and Physical Medicine and Rehabilitation, has been named director of the new center.

---

Building on years of research and collaborations dedicated to promoting informed decision-making and engagement for optimal health and well-being among seniors, the Institute for Public Health and Medicine has launched the Center for Applied Health Research on Aging, to be led by Michael Wolf, PhD, MPH '02, associate vice chair for research in the Department of Medicine and professor of Medical Social Sciences.

---

David Cella, PhD, chair and Ralph Seal Paffenbarger Professor of Medical Social Sciences; Susan Quaggin, MD, director of the Feinberg Cardiovascular and Renal Research Institute and chief of Nephrology and Hypertension in the Department of Medicine; John Rogers, PhD, the Louis Simpson and Kimberly Querrey Professor of Materials Science and Engineering, Biomedical Engineering and Neurological Surgery; and Catherine Woolley, PhD, the William Deering Chair in Biological Sciences in the Weinberg College of Arts and Sciences and professor of Neurology, have been elected to the National Academy of Medicine, one of the highest honors in the field.

---

In 2019, women comprise 52 percent of the MD entering class at Feinberg and 50 percent of incoming residents. Feinberg has 1,043 women faculty members, 155 of which are full professors. Women hold 93 senior administrative leadership roles in the medical school – the most ever in our school's history. In 2019, Feinberg celebrated the remarkable achievements of Northwestern's women faculty in medicine and commemorates their contributions to science, clinical medicine and society.

---

Talia Lerner, PhD, assistant professor of Physiology, has received the National Institutes of Health Director's New Innovator Award, an early-career grant supporting projects in the biomedical, behavioral or social sciences; Lerner's research is focused on discovering how dopamine circuits in the brain regulate reward learning and habit formation.

---

Northwestern has established the new Center for Food Allergy and Asthma Research, which will provide both investigators and patients more support while uncovering new discoveries from applied and basic science research, led by Ruchi Gupta, MD, MPH, professor of Pediatrics and Medicine in the Division of Academic General Pediatrics and Primary Care and the Division of Allergy and Immunology.

---

The medical school has announced the launch of the new Northwestern University Data Analysis and Coordinating Center (NUDACC), with the goal of synergizing all components of the clinical research study life cycle through interdisciplinary collaboration. Denise Scholtens, PhD, chief of Biostatistics in the Department of Preventive Medicine, has been named director of NUDACC.

---

Northwestern University Feinberg School of Medicine was recognized as one of the best research-oriented medical schools in the nation, rising one spot to rank 19th, according to the latest U.S. News & World Report rankings.

---

Four Northwestern Medicine hospitals have been recognized by U.S. News & World Report in its 2019-20 Best Hospitals rankings, with Northwestern Memorial Hospital ranking 10th on the prestigious Best Hospitals Honor Roll, the first year it has been ranked in the top ten, and the only hospital in Illinois to receive the honor.

---

Ann & Robert H. Lurie Children's Hospital of Chicago has announced that President and CEO Patrick Magoon has decided to retire after 42 years of service and 22 years in the top leadership role, and Thomas Shanley, MD, chair of Pediatrics and the Founders' Board Centennial Professor, has been selected as his successor.

---

The Louis A. Simpson and Kimberly K. Querrey Biomedical Research Center – the largest new building solely dedicated to biomedical research at an American medical school – officially opened June 17. The new 12-story Perkins+Will-designed building, with striking curved-glass exteriors and light-filled laboratory neighborhoods, adds more than 625,000 square feet of research space to the Chicago academic medical campus.

---

Luisa Iruela-Arispe, PhD, an internationally recognized vascular biologist, has been named the Stephen Walter Ranson Professor and chair of the Department of Cell and Developmental Biology at Northwestern University Feinberg School of Medicine, from the University of California, Los Angeles (UCLA), where she served as Distinguished Professor of Molecular, Cell and Developmental Biology.

---

Building on the international work of numerous faculty across Northwestern and unifying programs such as the center — until now embedded within the Institute for Public Health and Medicine (IPHAM) — and the Global Health Initiative Fund, Northwestern has established a new Institute for Global Health that aims to improve health in middle- and lower-income countries around the world and deepens the medical school's commitment to solving health problems worldwide.

---

More than 600 alumni and guests who gathered during Alumni Weekend on April 26 and 27 to reminisce, reconnect with classmates, and learn about the latest developments at the medical school, attending a variety of social and educational events, including class reunion dinners, continuing medical education sessions, visits to Chicago attractions, and tours of buildings around campus, such as the new Louis A. Simpson and Kimberly K. Querrey Biomedical Research Center.

---

More than 450 scientists, trainees, students and faculty presented posters and abstracts at Feinberg's 15th Annual Lewis Landsberg Research day — the largest celebration of scientific investigation at Feinberg to date. Attendees spread out across several exhibition spaces throughout the Robert H. Lurie Medical Research Center and Northwestern Memorial Hospital, perusing hundreds of scientific posters and chatting with investigators.

---

Hossein Ardehali, MD, PhD, professor of Medicine in the Division of Cardiology and director of the Medical Scientist Training Program, has been elected to serve as president of the American Society for Clinical Investigation (ASCI), an honor society of physician-scientists founded in 1908 to represent those contributing to clinical care, scientific investigation and education.

---

Ankit Bharat, MBBS, the Harold L. & Margaret N. Method Research Professor of Surgery, has been named chief of Thoracic Surgery in the Department of Surgery at Northwestern University Feinberg School of Medicine.

Research Breakthroughs

Northwestern Medicine scientists have used patient-derived neurons to develop and test a new strategy to treat Parkinson's disease by mitigating the effects of harmful genetic mutations, as detailed in a study published in Science Translational Medicine.

---

A recent Northwestern Medicine study found that patients with glioblastoma responded better or worse to immunotherapy depending on the presence of certain mutations in their tumors findings that could improve management of patients with glioblastoma, said Adam Sonabend Worthalter, MD, assistant professor of Neurological Surgery and co-senior author of the study.

---

Northwestern Medicine investigators have identified a protein that can enhance the repair of acute injuries by more than 50 percent, according to a study recently published in the Journal of Clinical Investigation; by using microscopy, the scientists observed that annexin A6, a protein previously identified as a genetic modifier for muscle injury and disease, facilitated muscle repair in mouse models with acute muscle injuries.

---

Northwestern Medicine scientists have created a small molecule that reduces expression of MYC, a cancer-causing protein that has been implicated in a wide variety of cancers. The protein's unorthodox structure has bedeviled drug development for two decades, but this new molecule may finally represent a breakthrough, according to the study's authors.

---

Measuring atrial fibrillation (AF) through implanted devices like pacemakers can identify patients at risk for stroke, according to a Northwestern Medicine study published in Circulation, findings that could help clinicians make better treatment decisions.

---

Women surgical residents suffer more mistreatment than men, which leads to a higher burnout rate and more suicidal thoughts among female residents, according to a new Northwestern Medicine study that surveyed trainees in all accredited 260 U.S. general surgical residency programs, published in the New England Journal of Medicine.

---

For the first time, prostate cancer has been treated based on the genetic makeup of the cancer, resulting in delayed disease progression, delayed time to pain progression, and potentially extending lives in patients with advanced, metastatic prostate cancer, according to a large, international phase 3 trial.

---

Deep learning — a form of artificial intelligence — was able to detect malignant lung nodules on low-dose chest computed tomography (LDCT) scans with a performance meeting or exceeding that of expert radiologists, reports a new study from Google and Northwestern Medicine, published in Nature Medicine.

---

A large new Northwestern Medicine study published in JAMA reports adults who ate more eggs and dietary cholesterol had a significantly higher risk of cardiovascular disease and death from any cause; egg yolks are one of the richest sources of dietary cholesterol among all commonly consumed foods.

---

An interdisciplinary Northwestern University team has developed a pair of soft, flexible wireless sensors that replace the tangle of wire-based sensors that currently monitor babies in hospitals' neonatal intensive care units (NICU) and pose a barrier to parent-baby cuddling and physical bonding.

---

A new lipid nanoparticle drug designed by Northwestern Medicine scientists helped make tumor cells more vulnerable to therapy, significantly prolonging survival in models of glioblastoma. The drug platform seeks and destroys immune-suppressive mechanisms in a subset of tumor cells, and this new delivery mechanism could be quickly translated to the clinic, according to the study's authors.

---

Low- and moderate-intensity exercise improved muscle, heart and breathing function in an animal model of Duchenne Muscular Dystrophy (DMD) – the most common and severe form of muscular dystrophy, a group of genetic diseases that cause progressive weakness and loss of muscle – according to a Northwestern Medicine study.

---

Northwestern Medicine scientists have identified a new therapeutic target that may help protect kidney function in patients with diabetes. The study, published in the Journal of Experimental Medicine, demonstrated in a preclinical model that inhibiting a protein called VE-PTP preserves microvascular and kidney function in diabetic mice.

---

A Northwestern Medicine study has discovered new details of a mechanism that facilitates white blood cells traveling from blood vessels into tissue, according to findings published in the Journal of Experimental Medicine.