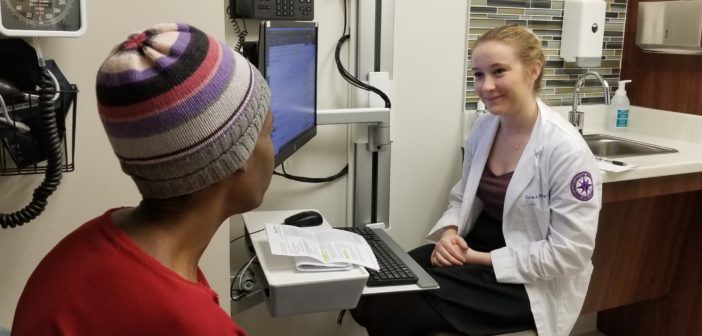 Since it was established less than a year ago, Northwestern's Operation Warm Blanket (OWB) — a collaboration between Northwestern Medicine's Transitional Care Clinic, Emergency Department, the social service agency Thresholds and the affordable housing property Lawson House — has helped nearly 100 patients experiencing homelessness in Chicago by providing wrap-around services, supportive housing resources and medical care.
The program, established on Valentine's Day of this year, operates one day per week and all year round out of Northwestern Medicine's Transitional Care Clinic with the help of Feinberg medical student volunteers and Northwestern Medicine staff alongside community health workers from Thresholds. Patients referred by the Northwestern Memorial Hospital Emergency Department are provided with food, clothing, medical care, social support, enrollment into an entry housing program and a referral to local shelter services or supportive housing.
"We wanted to do better with our deeply disenfranchised patients," said Caroline Teter, a physician assistant at Northwestern Medicine's Transitional Care Clinic and staff leader for OWB. "We found that patients who were experiencing chronic homelessness as well as severe mental illness were often unable to follow through with treatment plans, frequented the emergency department for their basic needs and often exhibited worse clinical outcomes. Operationally, we wanted to reduce our no-show rate and transition the high emergency department utilizers into primary care," according to Teter.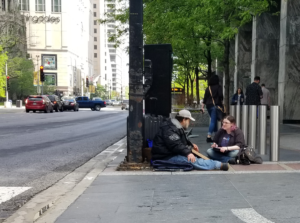 The program sees about five patients every Thursday morning of which two to three are new to OWB. The average OWB patient is 50 years old with two thirds being male. Many patients may face barriers to navigating the healthcare system as well as distrust of physicians and hospitals. Patients receiving care at OWB on the other hand, can choose which services they are interested in receiving, even if it's as simple as having breakfast or talking to a volunteer about their day.
The program encourages walk-ins, as many patients use the program as their only source of medical and psychiatric care, according to Teter. OWB staff and ECMH medical students help patients keep track of their medication, understand their medical conditions and develop self-management skills for their chronic mental and physical problems.
"When you are traumatized, sometimes all you want is to be comforted; wrapping a warm blanket around our patients was the image that best reflected how we wanted them to feel," Teter said.
In September, medical students from Feinberg's Education-Centered Medical Home (ECMH) program, led by Jennifer Bierman, MD, associate professor of Medical Education and Medicine in the Division of General Internal Medicine and Geriatrics, joined the volunteer staff at OWB. ECMH provides Feinberg students with early exposure to team-based medicine while serving underserved populations in Chicago.
"Students who have worked with OWB tell me that they thought they understood how homelessness was a barrier to care, but after talking to these patients they realize how the current medical system fails them," Bierman said.
In addition to providing medical care, students connect patients with community resources, help them with their basic needs and empower patients to seek employment opportunities. In turn, students involved with OWB develop deeper understanding of how social determinants of health affect patients' abilities to manage their acute and chronic medical and psychiatric conditions.
"OWB is an opportunity to get back to the basics and give back to the community," said third-year medical student and OWB student leader Gautham Upadrasta. "The biggest thing that medical students can learn is that the empathy and humanism that led many of us to pursue medicine can be just as impactful as our medical acumen."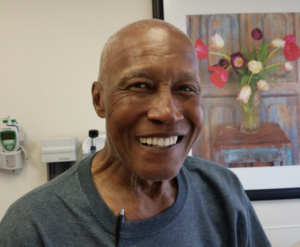 As a student leader, Upadrasta provides other medical students interested in OWB with more information about the program and what a typical day at OWB entails.
"With most of our patients being homeless, they face challenges that many of us couldn't imagine, regarding food, housing, and personal safety," Upadrasta said. "It is understandable that sometimes their health can become a secondary thought after these basic human needs."
He admits that while getting patients to follow-up with OWB and establish care at long-term clinics is challenging, is it incredibly rewarding when patients finally welcome and accept their help.
"One of my most memorable moments was a conversation I had with a patient, who had been homeless for several months. Through his positive outlook, he taught me a lot about the strength of the human spirit. After listening to his story, I was able to convince him to start taking his diabetes medication again, informing him that if he ate a healthy diet and exercised, he could come off some of his medications in the future, and potentially eliminate them altogether," Upadrasta recalled.
Teter said estimated there are 500 people experiencing homelessness on or near the Northwestern campus alone, according to Teter.
"The most important lesson that I have learned from the time I have spent with OWB is to always work to meet patients where they are," said third-year medical student Jeffrey Fuchs. "Although I may have my own idea of what the most important problem is to address when working with a given patient, OWB has pushed me to address problems that are most important to the patient and also to prioritize the problems that have the biggest impact on the patient's overall health."
Currently, there is a limit of patients referred from the Emergency Department to OWB because of limited resources for the program, but OWB strives to tend to as many patients as possible, according to Teter.
"Being involved with OWB has taught me that there are so many social barriers to health," said third-year medical student Cindy Wu. "We learn about it in medical school but that concept is brought to life when I'm actually taking a patient's high blood pressure reading and then telling them that they need to take their medications daily because it's important while the patient's priorities are completely different, like trying to figure out where they'll sleep tonight."
OWB was made possible with funds provided by Northwestern Medicine Community Initiatives and Northwestern Memorial Hospital. Additionally, Northwestern Medicine recently received additional funding from the PNC Foundation to support OWB for a second year.