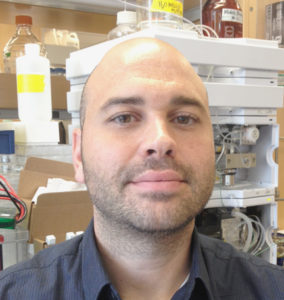 A one-of-a-kind drug created to treat a single patient passed a crucial test at Northwestern, according to a study published in the New England Journal of Medicine.
Mila, an eight-year-old girl from Colorado with a rare neurological disorder called Batten's disease, was deteriorating fast, as reported by the New York Times. Once a bright and talkative child, the disease had rendered her blind and unable to hold up her head or feed herself.
A group of scientists, led by Timothy Yu, MD, PhD, assistant professor of Pediatrics at Harvard Medical School, raced against the clock as they developed and obtained approval for a unique gene-editing treatment to slow Mila's progression. Joseph Mazzulli, PhD, assistant professor in the Ken and Ruth Davee Department of Neurology Division of Movement Disorders and a co-author of the study, dropped what he was doing to perform valuable experiments that directly led to Food and Drug Administration (FDA) approval.
Mazzulli recounts his experience in the Q&A below.
Can you give me a little background on Batten's disease?
Batten's disease is a lysosomal storage disease caused by loss of function mutations in the CLN7 gene. We're not sure exactly what the function of the CLN7 protein is yet, but we think it somehow regulates lysosomal function. In any case, these mutations lead to lysosomal dysfunction, and cells are unable to clear out "junk" — a combination of lipids and proteins. This builds up, eventually causing neuronal dysfunction and the symptoms seen in Mila, like vision and balance problems.
What was different about Mila's case?
In her case, the pathology and clinical workup suggested Batten's disease, but when they genotyped her they only found one CLN7 mutation — you need two to get this disease. Mila's doctors connected with Tim, since he has expertise in genomic analysis with the capability of performing whole genome sequencing. After obtaining and genotyping her samples, they found that the other mutation was sort of hidden in a non-coding region of her CLN7 gene. But they were able to identify the mutation in just ten days after the sequencing was completed — pretty amazing.
What was the next step?
Now that they had pinpointed the mutation, they had some leads on how they might fix it. It's tricky because it's in a non-coding region of DNA, but they were familiar with a strategy used to fix similar mutations in other types of disease. Mila's problem was a premature stop codon: a mutation that tells the DNA to stop making a protein. So, Tim and his collaborators designed this oligonucleotide, a small piece of RNA, to cover this premature stop codon and restore normal protein production.
Initial tests showed that it patched up the DNA, but they didn't know if it was actually producing a functional protein. As I said before, the lysosomes are dysfunctional in this disease. They have a hard time degrading lipids and proteins. If you put this oligonucleotide into a cell, the lysosome theoretically should improve its function. That's where we came in: Tim needed someone to perform these functional assays.
Because of the urgency of the situation, we immediately reduced our efforts on other projects that we were working on at the time, to help test Tim's strategy. Tim gave us Mila's cells, and we started culturing these cells in our laboratory. Nandkishore Belur, a talented technician in our lab, was able to put the repair mechanism into Mila's cells and perform our functional assays. He found lysosomal activity was going up, and those protein and lipid accumulates were going down.
We put two other lab members on this, including Kristina Fredriksen and Iva Stojkovska, so we could get the results out in a few months, because Mila was really sick. It was amazing because the repair mechanism was working great independent of who was performing the experiment— there was no question that it was having an effect. From there, the drug was approved by the Food and Drug Administration, and in January 2018, Mila received her first dose.
How did it feel to be directly impacting patient care?
Well, the important point is that she seems to be stable now, and to have some role in that is just an incredible thing. As for the experiments: It was very different. A lot of times what we're doing is very basic, early stage science. This was going all the way from basic science to the end point in a patient within a year. I feel like we were really lucky to be able to contribute.
This is the kind of project that makes you feel like you're doing something that matters. It was pretty incredible, and we are thankful to Tim and Mila's family for the opportunity to help out.