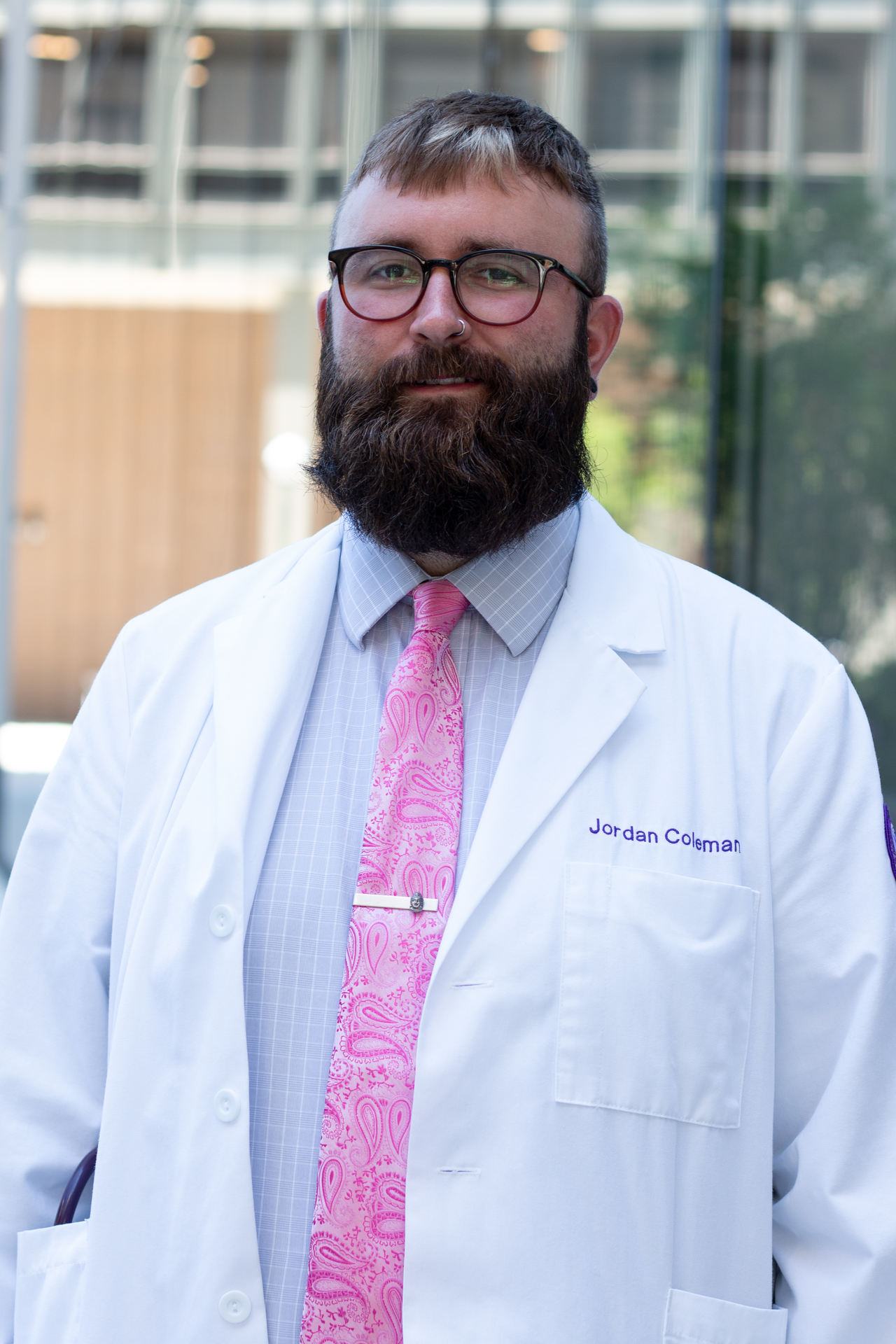 Jordan Coleman took a unique path to medical school. After graduating from Stanford University, Coleman began his career working for a start-up in Silicon Valley. He eventually entered into a Master of Divinity program at Harvard and, following graduation, served as a chaplain in prisons, homeless shelters and hospitals — an experience that he says bolstered his growing interest in medicine.
Today, as a third-year medical student, Coleman continues to thread community work and advocacy into much of his clinical, research and leadership experiences at Feinberg.
In this Q&A, Coleman discusses how his background in chaplainry enhances his clinical encounters, his advocacy for LGBTQ and homeless populations in Chicago, and his plans for the future.
Why did you choose Feinberg?
I wanted a school that was actively involved with its community, as well as one based in an urban environment. A lot of schools I interviewed at would talk at length about their social programming, but then when I dug into it, the initiatives were pretty surface level. At Feinberg, people were really excited to talk about opportunities available in the community and how the school is working to shape the city and make it a better place all around.
What were you doing prior to medical school?
Prior to medical school, I was working as a chaplain. I actually took quite a lot of time between undergrad and medical school — about eight years in total. I initially worked in Silicon Valley for a couple of years at a small start-up company, where I was mostly focused on marketing. I then initially started on track for a PhD in religion at Harvard, with a focus on how stories get canonized differently across religions. But I was also heavily involved with community work, which is what led me to eventually transfer to the Master of Divinity program, a degree much more focused on activism and community leadership, especially at Harvard. As a chaplain, I worked mostly in prisons and homeless shelters, but then I spent a year at the NIH Clinical Center, which is what got me much more interested in medicine — although it was something that I was already considering while in divinity school.
My time as a chaplain definitely changes the way I interact with patients, especially in how I think about their systems of support and the interaction between mental/spiritual health and overall well-being.
Last year you won an M2 Student Service award for your work with Chicago Medicine Street Outreach (CMSO). Could you tell us about this organization?
CMSO is an organization that serves individuals experiencing homelessness in the Chicagoland area by creating opportunities to connect them to healthcare. It also provides medical students exposure to the unique needs of this population. The organization spearheads a number of different projects and is actively working to create a street medicine program, which would send students and physicians directly to the streets to meet people where they are and deliver primary care.
My main responsibility was managing a weekly blood pressure clinic that took place during a charity dinner. I found it extremely rewarding to build relationships with people who would come every week and use the opportunity as a way to take control of their health and learn about what they can do to maintain their well-being. Recently, this program has been expanded to include many other medical services and an additional night at a different facility was started, which is very exciting in terms of getting Feinberg involved with healthcare for individuals experiencing homelessness.
You've also been on the board of Queers and Allies (Q&A) and involved in Safe Space Training. How do these groups enrich the Feinberg community?
Q&A is a group that helps students learn about the various issues affecting the queer community in a deeper way than through lectures and small group activities. This community has a very complicated relationship with healthcare in general, and it is important that practitioners be sensitive to this and learn how to create a welcoming space. This is where Safe Space training comes into the picture. Developed by medical students a handful of years ago, this training is meant for care providers and administrators, and helps explore topics of identity, labeling and other issues that queer people deal with daily. Ultimately, participants learn how to be more sensitive and open with their language to avoid alienating anyone.
What other activities have you been involved in while at Feinberg?
I recently finished a research project for my Area of Scholarly Concentration (AOSC), looking at the effects of early incarceration on cardiovascular health later in life. The paper, which I completed with Dr. Mark Huffman, hypothesized that early incarceration would have an association with higher cardiovascular events later in life, which held true only for certain populations and not others. We are hoping to submit the manuscript for publication in the next couple of months. I also worked on another research project at the University of Chicago that investigated strategies for getting black and Latino men and women with HIV more involved with shaping and developing the programs meant to serve them.
I have also been involved with Physicians for Social Responsibility. This group was originally created to combat nuclear armament, but we decided that we would also use it as a vehicle for keeping Feinberg students politically informed and giving them the tools they need to become more civically involved, which is especially important in this challenging political time. For example, during last November's midterm election, the group created a "cheat sheet" for local candidates and organized drives to get people registered to vote in Chicago or learn how they could vote as an absentee in their home districts.
Outside of school, I spend a lot of time hiking with my dog, an Akita/wolfhound mix, and I make time to see live music as often as possible.
What are your plans for the future?
I'm not positive about my future plans so far. I came to medical school most interested in hematology/oncology and palliative care, which plays off of my former work in chaplaincy. However, I also have a strong interest in queer health, prison/jail health, and homeless health, so I may end up pursuing those passions as a career. I'm hoping the right path becomes more clear as I work my way through clinical clerkships this year.​